Pinot in the City
We've written a lot about Oregon Pinot Noir in the past year or so. Well, last month, the Willamette Valley came to Los Angeles for the Pinot in the City event. We approached the tasting in our usual random fashion and, to our surprise, we wondered if something was wrong with our palates. The Pinots from the first four wineries we tasted (mostly but not exclusively from the 2010 vintage) had almost no fruit flavor. We were stunned. We looked at each other and asked whether it was us, or whether something strange was happening. Well, in short order, our concerns were allayed. Turns out, we just randomly stopped at some tables with wines that really had very little fruit flavor. Most of the remaining Pinot Noirs in the two large tasting halls were excellent. In fact, the initial experience made the rest of the tasting event thoroughly enjoyable.
There were more than 60 wineries represented at the event and many of the Pinots were poured by the winemaker or owner or the winemaker/owner. So, it was an excellent opportunity to talk about the wines and the vineyards and the differences between wines from vintages ranging mostly from 2009–2012. With more than 200 wines on hand, we didn't have the opportunity to sample them all. Many of the wines merited a "very good" notation (a top rating from us). We'll just highlight a sampling of the very best of the great wines we tasted that day (with their suggested retail prices noted). All of the Pinot Noirs mentioned below had excellent structure, balance and fruit flavor.
Brian O'Donnell, owner/winemaker of Belle Pente (Yamhill-Carlton AVA; Belle Pente means "beautiful slope") poured his 2010 Belle Pente Vineyard Pinot Noir ($38) and 2009 Estate Reserve Pinot Noir ($48). With his wife, Jill, Brian produces about 5,000 cases per year from his 16–acre hillside vineyard and some grapes sourced from the Dundee Hills AVA (for the Pinot) and other local AVAs for his white wines. The Belle Pente estate vineyard rises from 240–500 feet altitude and has south, south–east, and south–west exposures. Brian also poured a very nice lightly–oaked 2009 Belle Pente Vineyard Chardonnay ($35).
Danielle Ball, Director of Sales for Patton Valley Vineyard (Willamette Valley AVA) provided their 2011 10 Acre Pinot Noir ($50) and 2011 West Block Pinot Noir ($50). Derek Einberger is their current winemaker and vineyard manager, having joined Patton Valley in 2010. The vineyard's dry–farming technique must be working very well. They currently produce about 4,000 cases per year, with plans to increase to about 6,000 cases per year within the next two years. This winery is definitely one to watch in the coming years.
Ellen Brittan, co-owner (with husband, Robert) of Brittan Vineyards (McMinnville AVA), was on hand to share their 2010 Basalt Block Pinot Noir ($48), 2010 Gestalt Block Pinot Noir ($55) and 2010 Estate Syrah ($40). Brittan Vineyards produces a precious 1,500 cases per year (all estate wines), yielding a relatively low 20 tons from 20 acres of Pinot Noir grapes last year. I'd have to give a slight edge to their 2010 Gestalt Block Pinot Noir, although both wines were very, very good. I would expect their wines to be that good, since Robert was winemaker and estate manager at Stags' Leap Winery in Napa for 16 years and spent about as much time at Far Niente and Saint Andrews before Stags' Leap Winery. Ellen has a financial background and worked at wineries ranging from small, family operations to places like Rudd Winery in Oakville. Both had earlier roots in the Pacific Northwest, so it was not unexpected that they wound up in Willamette Valley. Their daughter, Chelsea, and golden retriever, Katie Belle, also work in the vineyard.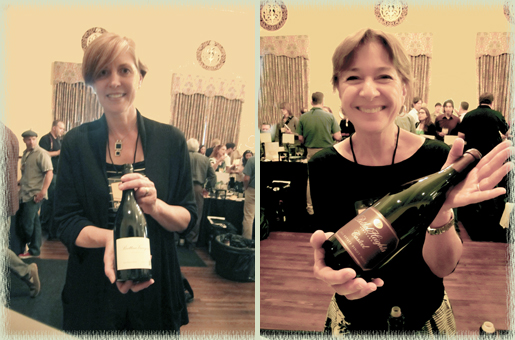 Of the wineries discussed above, the only one we have previously visited in Willamette Valley is Bethel Heights (Eola–Amity Hills AVA), which is owned and operated two related families— Pat Dudley and husband Ted Casteel, Terry Casteel and wife Marilyn Webb, and Pat's sister Barbara. Pat poured their 2011 Casteel Pinot Noir ($60; just recently selected as #1 in Portland Monthly Magazine's annual 50 Best Wines edition) and 2010 Estate Pinot Noir ($35) as well as their 2011 Estate Chardonnay ($26). At the risk of sounding like a broken record, all of their wines were very, very good—as usual.
We also want to mention the 2010 Bryan Creek Vineyard Pinot Noir ($70) from Adelsheim Vineyard, the 2011 Estate Pinot Noir ($62) from Penner–Ash Wine Cellars, the 2010 40th Anniversary Reserve Pinot Noir ($60) from Ponzi Vineyards, the 2011 JacobᰫHart Vineyard Pinot Noir ($65) from Rex Hill Vineyards, and the 2011 Homer Pinot Noir ($86) from Shea Wine Cellars, all of which were very good. The bottom line is that Oregon's Willamette Valley continues to deliver tremendous Pinot Noirs and other varietals on a consistent basis. For the most part, the wines presented at this event were excellent.

Disclosure: We were granted complimentary media credentials for this event.