Kawaba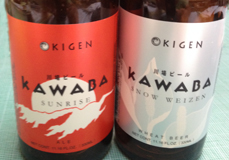 Although we don't normally write about beer at the Wine Imbiber, we've always enjoyed beer and have tasted quite a few over the years from many countries. These days, we normally order beer with sushi (or Japanese food in general) as well as Chinese food. Mexican food is another cuisine that finds us asking for a brew (although Leah typically orders a margarita). And, of course, there's nothing much better than a burger, fries and an ice–cold beer when we barbeque. Although we love our wine, beer is inevitably our choice to accompany sushi. After all, beer is the most popular alcoholic drink in Japan (no surprise). For as long as I can remember, our sushi beer of choice has been Kirin, Asahi or Sapporo, in that order. I typically don't stray from that list. So, I was intrigued when I recently received two sample bottles of microbrew (or craft beer) from a local representative of Kawaba. Ka-What?
I had never heard of Kawaba, which is produced by the Denen Plaza Kawaba Brewery of Kawaba Village in the Gunma prefecture (roughly in the middle of Japan, not too far from Tokyo). They use crystal clear water from Mt. Hotaka to produce their beer. I tasted the Kawaba Sunrise (an ale) and Kawaba Snow Weizen (a wheat beer). The Snow Weizen is unfiltered and has an almost creamy mouthfeel. It begins as a brew of medium heft with plenty of hops and caramel and citrus notes—its yeasty flavor lingers for a long finish. The Sunrise ale, also unfiltered, is a sturdier drink, with ample malt and yeast. It is quite substantial, but not overpowering. Both brews would be a great accompaniment to sushi or sashimi as well as a broader variety of foods.
Kawaba is imported by Pacific International Liquor, Inc. under the Kigen brand (which includes a range of sakes and other liquors). It is available at various markets, major retailers and restaurants (both Japanese and Western). I'll be looking for it on the beer list the next time I order sushi!

Disclosure: We received complimentary samples of the beverage described in this post.