What's New in Italian Wines?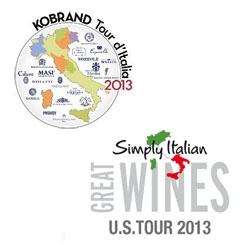 We love Italian wines and, not content to simply drink Italian wines, we decided to get out and see what's new. So, we recently attended some seminars and tastings to see what we could discover. Among our targets were the Kobrand Tour Italia 2013 and the Simply Italian Great Wines US Tour 2013. The Kobrand seminar featured a discussion of seven great wines and winemaking philosophies, followed by an open tasting of a range of wines the presenters and some others had on hand to offer. The Simply Italian event included several seminars (covering topics from wine regulation to regional wine information) throughout the day as well as an open tasting of wines from the Veneto region. And we learned a lot!
The Kobrand seminar was led by Jennifer Simonetti–Bryan, the fourth woman and among only 30 people in the USA to ever attain the international title of Master of Wine. Jennifer pointed out to us that Amy Christine, the newest and 10th woman in the USA to achieve the Master of Wine title, was also in attendance that day. The presenters were also impressive and we think this was one of the best tasting seminars we've ever attended. Jennifer gave us some interesting statistics that day. Recently, wine consumption in Italy has declined from about 160 bottles per year (about one bottle every two days) to about 50 bottles per year (or about one bottle per week), and the USA now consumes more Italian wine per year than Italy does—about 33 million cases per year. And about one–third of that consumption is Pinot Grigio! Well, we weren't there just to taste Pinot Grigio that day.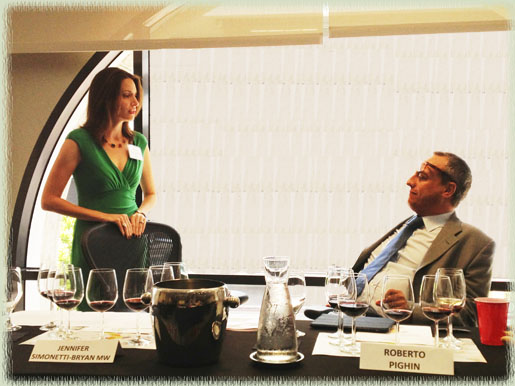 The wines we tasted (and suggested retail prices) were: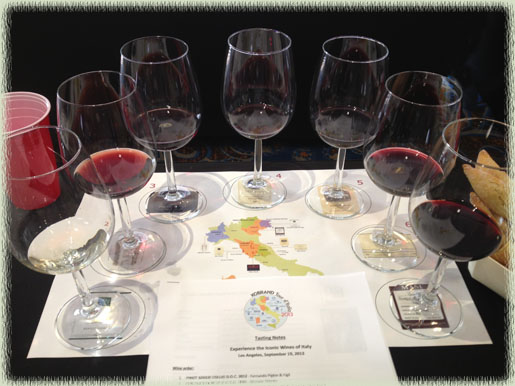 The Pinot Grigio that led off the discussion was quite good, produced from a hillside vineyard that used to be under the Adriatic Sea. The red wines presented were sublime. Of course, these are not everyday wines for most budgets, but you really can't go wrong with any of these wines even if you only have them for a special occasion. It would be difficult to pick a favorite from among these great wines.
The Simply Italian seminars were packed with information. Paul Wagner, who teaches at The Culinary Institute of America in Napa Valley as well as Napa Valley College's Viticulture and Enology department, was one of the moderators throughout the day. Dr. Riccardo Ricci Curbastro of Franciacorta also spoke. Riccardo is the President of Federdoc, which is the National Confederation of Voluntary Consortia for the Protection of the Designations of the Italian Wines (or the Federation of DOCs—Federdoc for short). Established in 1979, it represents more than 80% of all Italian wine production. Italian wines are subjected to their testing and analysis that certifies their compliance with the requirements of the specifications for the particular wine. In essence, it is a control system to certify compliance with established standards and enable traceability in order to give consumers an enhanced degree of confidence in the origin and some aspects of the wines.
While standards for Italian wine have changed over time, the system from 1992–2009 used three classification levels (revealed on the stickers attached to the bottlenecks)—IGT (indicates that the wine has typical geographical indications, or is typical of a particular area—the simplest designation of origin), DOC (controlled designation of origin) and DOCG (controlled designation of origin guaranteed—the strictest indication of origin). From 1963–1992, the IGT level was "DOS" (simple designation of origin). Wines that did not meet these classifications were merely wines without indication of origin. It isn't really an indication of quality or that a wine is somehow better than some other wine. However, it does impart useful information about a wine, if you know what it means. Really, it is more a designation of authenticity—the wine is what it says it is (assuming you know—or look up— what are the specifications behind the designation for the particular wine in question). So, you can appreciate why you can't just read the labels and conclude that one type of wine (say a Barolo) having a DOCG designation is better than a different type of wine (say a Pinot Grigio) bearing the DOC designation. Furthermore, you can't even set two bottles of a particular type of wine from two different producers or vintages side by side and conclude that the DOCG wine is "better" than the DOC wine.
There has been a parallel system in place for various Italian foods. For example, you've probably seen some olive oils designated "DOP" (Designation of Place). Well, wine is food and as of August 2009, the two systems are coming more into sync. In essence, the DOC and DOCG designations are now combined in "DOP". The IGT designation is now "IGP". However, just to help wine consumers who are accustomed to the previous scheme, wine producers are permitted to use the old designations alone or to use both the old and new designations together. With some research, you should be able to get some information about a wine from the designations it carries, just as you could previously.
And now that you understand that, be aware that Chianti has another scheme overlaid on it due to the peculiar history of that wine. We've written previously about the history of Chianti, and confusion over the Chianti "Classico" and "Superiore" designations and the eight Chianti sub–zones. But I guess that isn't much more confusing than what side of the river your Barolo comes from. Chianti Classico is now moving to three new classification levels—Annata (with new technical and organoleptic parameters), Riserva (minimum 24 months aging, including 3 months in the bottle) and Gran Selezione (single vineyard; minimum 30 months aging, including 3 months in the bottle). And, just for fun, as of February 2013, the famous Chianti Black Rooster (or Gallo Nero) had a facelift. There is a new rooster in town.) The likely has something to do with the Chianti Consorzio's loss of the trademark lawsuit brought by the USA's Gallo family.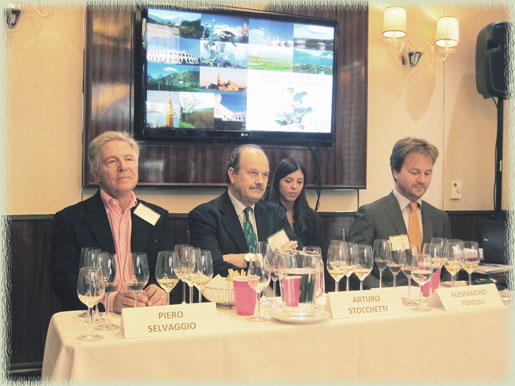 Designations, classifications, zones and colored cocks aside, there simply are many great Italian wines. But we've exceeded our space limits now and so we'll just highlight a few wines that really stood out to us that day. In the seminar on Veneto region wines, we really enjoyed the Roncolato Antonio 2008 Carnera Amarone Valpolicella Riserva DOC. In the walk–around tasting, we came across Federico Simoni of Cantine Monfort from the Trentino Alto Adige area (think high altitude—great for white wines). We loved their crisp, balanced and refreshing white wines, particularly their 2011 Casata Monfort Blanc de Sers (Vigneti delle Dolomiti IGT), 2012 Maso Cantanghel Sauvignon "Vigna Piccola" (Vigneti delle Dolomiti IGT) and their 2012 Casata Monfort Pinot Grigio (Trentino DOC), imported into the USA by Tricana Inc. of New York. These are wines you'll want to find.

Disclosure: We were granted complimentary media credentials for these events.