Oregon Wine Country Tour (Part One)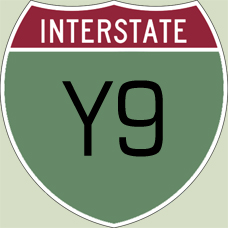 This past October we returned to Oregon to get a handle on the latest Pinot Noir offerings from the Willamette Valley. We took our previous tour during the summer in June 2009. This time, we decided to make the trek in the fall, when harvest was in full swing in the vineyards. The forecast was threatening a strong rain storm, so we prepared for the worst. Yet, we were pleasantly surprised that we barely experienced a sprinkle during our three day adventure. In fact, the weather was mostly sunny and warm the entire time. While the prospect of heavy rain had vineyard managers in a panic to pick their grapes as quickly as humanly possible, that fortunately didn't cause any slow–down of tasting room activity throughout the Valley.
With the boys in school and the daughter working, it was just the two of us for this trip, giving us extra degrees of freedom to visit wineries and take in some great cuisine. Our trip began at LAX where we had scheduled an early Monday morning flight so we could salvage the majority of Monday in the wine country. Bacchus, however, wasn't with us, as this was the day that Alaska Air's entire IT systems (both primary and secondary) were taken down just as we were had boarded our flight. The bottom line was that no flights could take off until the systems were back up. So, after much delay, we lost most of Monday's prime winery hours. We were relieved and relaxed by the time we reached our destination.
Wine Enthusiast recently selected Willamette Valley as one of its top 10 best wine travel destinations for 2013, highlighting many of the places we visited on our tour. For our base location, we selected the Chehalem Ridge Bed & Breakfast located near Newberg at the top of Chehalem Mountain overlooking the Northern end of the Willamette Valley. This charming B&B has only four rooms—three upstairs and one on the entry floor (where we stayed). While the walls aren't thick, the inn is quiet, the proprietor is friendly, the views are stunning and the drive to the wine trail is brief. Since we were located less than an hour's drive from Leah's parents, brother and sister—in—law (who live at the Southern end of the Valley around Salem), we had ample opportunity to cross the Valley and stop at several wineries each day, still managing to work in a few visits with the relatives.
After a quick check–in, we still had time to visit a couple of wineries that day. Our first stop was nearby REX HILL, built around an old fruit and nut drying facility. We were greeted by Wendy Phoenix, the hospitality liaison, who offered up tastes of their 2010 Jacob Hart Pinot Gris ($30) which was crisp and refreshing, 2010 Willamette Valley Pinot Noir ($35), 2007 Reserve Pinot Noir ($48) which was a higher–acid year and was tasting very good, and 2011 Semi–Sparkling Oregon Muscat ($22). Wendy told us about Pinot 365, a group of destination wineries in the Willamette Valley open every day throughout the year and told us of some nearby restaurants that would waive corkage fees for anyone who brings one of the member winery's wines for dinner. We particularly liked the Pinot Gris (perhaps, in part, because it was the beginning of our tasting after a long travel day) so we purchased a bottle to share at dinner that evening. She also gave us recommendations for some winery visits that we might otherwise have missed.

One of the Pinot 365 members Wendy mentioned was boutique winery VIDON Vineyard. So, we were off in a hurry as time was running late. We made the short drive in good time and arrived at VIDON just before official closing time. The only person we could see there was a gentleman high atop a large machine going about his daily work. We called out to him and he came down to meet us. That's how we met Don Hagge who, together with his wife, Vicki, founded the winery which combines their two names. Despite our relatively late arrival and our interruption of his routine, Don was very gracious and spent a lot of time talking with us about his history and his many wines. Don enjoyed a career as a NASA physicist and later as a technology entrepreneur. During his post–graduate study in Paris, his interest in Burgundy wines was piqued and it was reinforced during his time working in Northern California (where he also had earned his BS and PhD degrees in Physics at UC Berkeley).
Don's "rocket scientist" background is evident in the great deal of experimentation (but not manipulation) he does with his grapes. Don makes complex, layered premium wines of a unique character, and he enjoys mixing various clones to get just the right flavor experience. The result is a wide variety of Pinot Noirs produced in very small lots, which makes them even more special. That day, we tasted his 2011 Dundee Hills Pinot Gris ($25), 2011 Dundee Hills Chardonnay ($25), 2009 Chehalem Mountains 3 Clones Pinot Noir ($40), 2010 Chehalem Mountains 3 Clones Pinot Noir ($40) which was our favorite, 2011 Chehalem Mountains 3 Clones Pinot Noir ($40) which had been bottled only two weeks before our tasting but by now is excellent, and 2009 Chehalem Mountains Barrel Select Pinot Noir ($80). Each wine is quite good and certainly unique. You can tell from the look in Don's eyes when he talks about his wines that he is driven by a genuine artistic passion.

To finish off the day, we decided to dine at JORY at The Allison Inn, an upscale restaurant in a stunning resort facility including a spa and about 100 rooms on four levels surrounded by views of vineyards and hillside. The restaurant, named after the red clay jory soil prevalent in the Willamette Valley (which was officially adopted as the state soil of Oregon in 2011), is elegant but casual—a very relaxing atmosphere. The cuisine is varied and delicious as the chef uses local, seasonal ingredients, and the wine list is extensive. They also list some interesting cocktails. After our stroll around the property after our dinner, we decided to make a point of staying at The Allison Inn on our next trip to the Valley.
See Part Two and Part Three of our Oregon Wine Country Tour.
Comments (2)
January 22, 2013 at 3:22 pm
Dave said:
we will definitely use your recommendation of the Allison Inn. We enjoyed an afternoon at the Sokol Blosser Vineyard, you might want to check out next time in Oregon

January 23, 2013 at 10:36 am
Rich
said:
Dave, Sokol Blosser looks like a great winery. Will check it out next time. Thanks for the tip.