Time for Truffles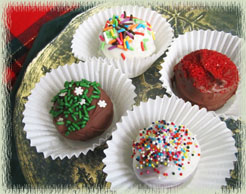 I'm usually all about from–scratch baking (especially this time of year, when most of my baking efforts end up as gifts). The rest of the year, I appreciate the control of ingredients that homemade baking affords since I try to prepare foods in the healthiest way possible given all the consequences that poor diet choices create. But let's face it…most holiday indulgences are bad for you from the get–go. All that sugar, saturated fat and alcohol adds up quickly in the calorie department (among other places), and rarely is it recommended as part of a healthy eating regimen. Unless, of course, you're talking about red wine, which wine imbibers like us still proclaim as heart–healthy and justified in drinking every night with our dinner no matter what time of year it is!
Sometimes, though, you have no choice but to embrace the convenience of store–bought mixes and pre–made items and ignore any future health consequences. After all, holidays come but once a year and are made for enjoying, right?! I'm sure you're familiar with the products I'm speaking of; the ones that I normally turn up my health–conscience nose to as I reach past them for the "good stuff." These products sure can make holiday life a lot easier when you want to make home–baked goodies that no one will be the wiser about after you've applied your own creative finishing touches.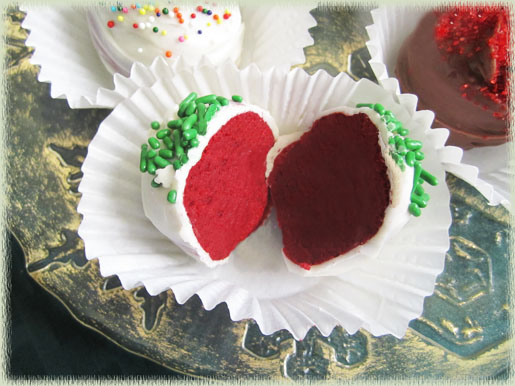 Enter this recipe for Red Velvet Cake Truffles. If you're already familiar with Cake Pops, the only other thing you need to know about this recipe is it's exactly the same thing, but you don't need the sticks. It's even simpler! (Not that inserting lollipop sticks in cake balls requires all that much effort!) The amazingly creative cake pop designs I've seen do require some tedious handiwork though. These truffles, on the other hand, not so much. Sprinkling and drizzling skills are sufficient to create some decently decorated morsels.
Use whatever you have on hand to match the holiday theme. I made these for Christmas, hence the red and green colors. But, these would also be great for upcoming New Year's parties. There are plenty of decorating options out there that would be suitable—colored sanding sugars, glitter flakes and edible gold dust to name a few. Check out the internet for baking supply stores that will give you even more options and decorating ideas.
WI wine recommendation: Champagne, Champagne and more Champagne! Check out our most recent bubbly discoveries on our last post.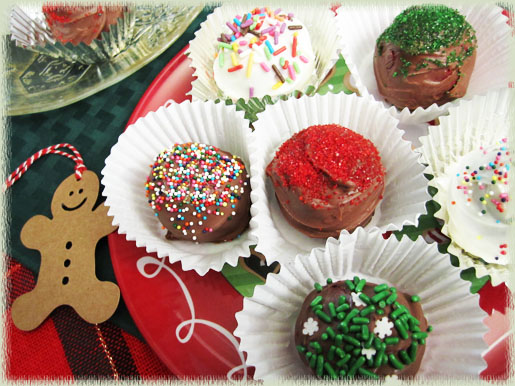 Red Velvet Cake Truffles

1 box red velvet cake mix, plus ingredients to make the cake
1 (16 ounce) can prepared cream cheese frosting
1 pound candy melts, white or dark chocolate
Sprinkles or small candies to decorate

Prepare and bake the red velvet cake mix according to the directions of the package for a 9 x 13 cake. Once baked, allow the cake to cool completely.
Crumble the cake into a large bowl and work it with your hands until it is in small pieces. Alternatively, break cake into chunks and run through a food processor until crumbly.
Spoon three–quarters of the frosting into the bowl with the crumbs and stir with a rubber spatula until the mixture is well–combined. Or, if you used a food processor, spoon the frosting into the processed crumbs and pulse just until the frosting and crumbs blend together and it becomes fudge–like in consistency. It should be very moist and hold together if you squeeze a ball of cake between your fingers, but not too wet or greasy. If the cake mixture is still a bit dry, add more frosting to get it to the desired consistency.
Using a small ice cream or cookie dough scoop, create small balls of cake and roll them between your palms until they become round. Place the cakes balls on a baking sheet covered with aluminum foil, waxed paper or a Silpat and freeze them until firm (about an hour).
Place the candy coating in a medium microwave–safe bowl and microwave it until melted, stirring after every 45 seconds to prevent overheating. Note: Be sure to have all of your decorations lined up and ready to use. The candy melts set quickly once applied to the cake balls and the decorations won't adhere to the coating if they aren't applied soon enough.
Using dipping tools or a fork, submerge a cake ball in the melted candy coating. Remove it from the coating and place on a lined baking sheet. Smooth over any coating imperfections and quickly sprinkle on decorations. If you choose to make decorative drizzles, first wait a couple of minutes to allow coating to harden completely before drizzling. Repeat with remaining cake balls.
Place completed truffles into cupcake or candy liners. Store them in airtight containers for up to a week in the refrigerator. These cake truffles are best served at room temperature.