Oregon Wine Country Tour
Eleven days ago, we made arrangements with neighbors to watch our house and three dogs and we packed up the family and headed for Oregon. Leah's dad had just turned 90 and it seemed a good reason for a visit. Another good reason for the trip is that her parents and brother (and his family) live in Salem, Oregon's capital, which is right in the middle of the Willamette Valley, home to some of the finest Pinot Noir and Pinot Gris vineyards in the world. I hadn't been in the area for nearly a decade and it was time to see what the Oregon wine country had to offer.
You can't visit all the really good wineries in just a few days. A great website and planning tool is the Willamette Wines website. They have a map that you can get free at various wineries or order it directly from them for free. (Oregon Wine is another great resource for all wineries throughout Oregon—not just the Willamette Valley.) Leah's brother and sister–in–law compiled a list, I compiled a list and we combined the lists. Of course, we couldn't get to them all. With a nod (or maybe a finger) to the recession, we visited mostly wineries offering Pinot Noirs in the $40 to $80 range (although some were lower and some were higher than this range). Almost all the wines we tasted were really good, and we found a few surprises along the way.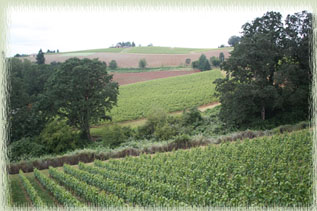 The Willamette Valley (pronounced with emphasis on the ăm in the middle) follows the Willamette River in Western Oregon, from Portland in the north to Eugene in the south. Salem is roughly two–thirds the way down from Portland towards Eugene. We had limited time, so we didn't venture south of Salem. June is a nice time to visit the area. The weather had lows in the mid–50s and highs in the mid–70s and, despite the clouds from morning to mid–afternoon, rainfall was very light and intermittent. As you may know, Oregon gets a lot of rain in most months and can get quite hot in the summer months starting in July. The 45th parallel runs through Salem, just as it runs through Bologna in northern Italy. The Oregon weather, in general, contributes to the intensity of the wine grapes which, in turn, makes it possible to produce some very complex and flavorful wines.
In general, the wineries in Oregon are scattered throughout the area in clusters, most situated on their vineyard land. In that respect, they are more "spread out" than the wineries of Napa and Temecula, but not as much as the wineries in Italy. I think the closest comparison would be the Santa Barbara County wineries, which also produce a lot of Pinot Noir due to their location between the ocean and desert, their hilly terrain and their microclimates. Because Oregon's wineries are not located together in a row along one major road, you need to plan your day wisely and then embrace the rolling hills and curvy two–lane roads. Some of the best wineries and views are located on long gravel roads, up on the hilltops. While Oregon has become very well–known for its wines, it hasn't yet become overrun with wine tourism. You can still experience a leisurely day and spend time talking with the winemakers in detail, without feeling rushed or crowded. Many of the wineries have spacious, modern tasting rooms, making the experience even more relaxing.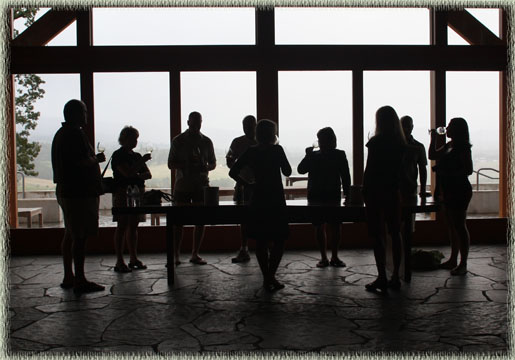 We visited some wineries right in the Salem area in what is referred to as the Eola–Amity Hills AVA, including Bethel Heights Vineyard, Cristom Vineyards, St. Innocent Winery and Witness Tree Vineyard. We spent most of our time, and found some of the best Pinot Noirs, in the area about halfway between Salem and Portland, bounded by Dundee, Dayton, Lafayette, Carlton, Yamhill and Newberg. That area includes the Ribbon Ridge and Dundee Hills AVAs and parts of the Yamhill–Carlton District AVA. In the Ribbon Ridge AVA, we visited Beaux Frères. In the Dundee Hills AVA, we visited Archery Summit, De Ponte Cellars, Domaine Serene, Erath Winery and Torii Mor Winery. In the Yamhill–Carlton District AVA, we visited Penner–Ash Wine Cellars, Soter Vineyards and WillaKenzie Estate. I had wanted to visit The Eyrie Vineyards, founded by visionary David Lett, the first to plant Pinot Noir vines in Oregon and the first to plant Pinot Gris vines in America. Unfortunately, the tasting room was closed when we arrived. We did, however, get to visit a current visionary, winemaker Gino Cuneo of Gino Cuneo Cellars, who originally founded Cuneo Cellars (now Cana's Feast Winery). Gino is pioneering Italian varietal wines in Oregon under his new Tre Nova label, using a state–of–the–art winemaking facility in Dundee. He explains that he is producing wines in the Italian style with American soil. I'll be writing more about Gino and some of the wineries mentioned above in the coming weeks.
In addition to Grandpa's 90th birthday and the winetasting, we did two other things on the trip that are worth noting. We spent part of a day at the Portland Japanese Garden, which is authentic, beautiful and tranquil. We also visited Debbie Rios' Santiam Wine Co., a premier wine shop in Salem with a great wine selection. Debbie is extremely knowledgeable and throws wine tastings for her customers (some of which are complimentary). Finally, we found two great
places to have lunch while winetasting in the area. The Dundee Bistro, right in Dundee, serves a fantastic array of interesting dishes using local ingredients. If you are in Carlton, try The Filling Station Deli for a gourmet sandwich or other house specialty. Nice people, great food and wonderful wines in a relaxing atmosphere. Life doesn't get much better!
Comments (5)
June 29, 2009 at 7:55 am
Twitted by TopWineNews
said:
[…] This post was Twitted by TopWineNews […]

June 29, 2009 at 3:57 pm
Steve said:
Hi, I recognize those shots. We chatted with you at Cristom. And there's no mistaking the photo of the tasting room at Penner Ash. It looks like you hit a lot of nice wineries in the Carlton area. Drop us a line the next time you make it to the area and we can help you find the more obscure but equally great winemakers.

June 30, 2009 at 7:08 pm
Rich
said:
Steve, it was great meeting you on the wine trail. Thanks for all your suggestions!

July 1, 2009 at 7:14 am
Michael Gregory
said:
Very nice piece on the Willamette Valley wine country. Many of the wineries that you describe are our clients' favorites!

July 11, 2009 at 1:10 pm
Carolyn Jung
said:
Oregon Pinot Noirs are among my very favorite ever, and I'm a Californian. I love the wonderful balance of lush fruit and earthiness they have. You picked a good time of year to visit, too, as all of Oregon's lushest berries also are in season.