Walk the Plank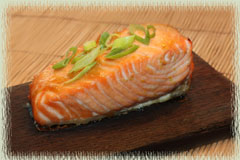 I've been noticing a lot of recipes lately for grilling meats, fish and even veggies on wooden planks. It can be done outside on a barbecue or inside in the oven. Most recipes call for cedar or alder wood, but I found a set of wine soaked oak cooking planks that I tried with salmon that worked nicely. They're available from Wine Country Woods (which happens to be one of the providers for our Weekly Prize Giveaway). They are simple enough to use and smell wonderful as they cook. You can also use wood chips or blocks to flavor the food. Planks will impart less smoke to the food than using wood chips that burn during the cooking process. Check here and here for basic plank grilling information.
For this dish, I used wild salmon, rather than farm–raised salmon. Wild salmon is much more expensive than farmed, but it has a better flavor and texture, is less fatty and is natural and more sustainably harvested. Since you are paying a much higher price for wild salmon, go to a store you trust to give you a fresh salmon that is indeed wild.
I came up with an easy, Asian–inspired sauce with on–hand items from my pantry and refrigerator. Nothing too exotic, although I think the honey I used (Miele Millefiori from Italy) really imparted a unique flavor along with the wine–soaked oak. I'm looking forward to trying other seafood (like shrimp and scallops) on cooking planks. Since planks can be used in ovens, you won't be limited to summertime barbecuing to produce smoke–flavored delicacies. So, walk the plank yourself and give them a try…you'll be pleasantly surprised with the results!
WI wine recommendation: A Sauvignon Blanc or Pinot Noir pairs nicely with this dish. If you try a Chardonnay, select an unoaked one, so it doesn't conflict with the oakiness of the salmon.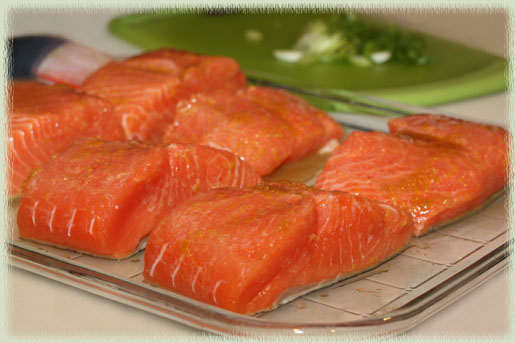 Planked Salmon with Honey Mustard Sauce

Plan ahead: Allow 60–90 minutes soaking time for wood planks
1–3/4 lbs salmon filets (preferably wild salmon)
2 tablespoons honey
2 tablespoons Dijon mustard
1 tablespoon lemon juice
2 teaspoons rice vinegar (unseasoned)
2 teaspoons lemon zest
Salt & pepper to taste
1 green onion (sliced thinly diagonally)

Cut the salmon into 6 filets. Place them on a platter and set aside.
Mix the next 5 ingredients together in a small bowl. Brush the sauce onto the filets.
Preheat barbecue to 400° F (medium–low).
Set pre-soaked planks on grill rack. Close the lid and heat for 2–3 minutes.
Turn the planks over and place 2 salmon filets on each of the 3 planks.
Close the lid and cook for 13–15 minutes (or until salmon turns pink and opaque). Try not to open the lid more than necessary while the salmon is cooking, as you will lose some of the smoke. Do not allow the planks to flame up–spritz them with water if necessary (well–soaked planks used at the recommended temperature should not catch fire).
Remove the salmon to serving plates. If desired, brush on any remaining sauce. Garnish with the green onion slices and serve.
Note: I served these with potato chive cakes, which were a nice foil to the sweet, tangy salmon sauce. Any kind of potato dish would work well with these, but we also liked the way the crispiness of the cakes contrasted with the salmon.
Comments (1)
July 6, 2009 at 1:02 pm
Bettie Infante
said:
Can't wait to try this recipe! I have cedar planks and was wondering if I could soak them in wine? Of course, I would'nt want to use my expensive wine. Just a thought. Always enjoy new recipes. Thanks!!