Oregon Wine Country Tour (Part Two)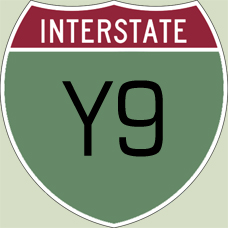 In Part One of this series, we wrote about some of the wineries in and about the Chehalem Mountains AVA in Oregon's Willamette Valley. Moving south, we next visited the Dundee Hills AVA. We have three great wineries to highlight and a great place for dinner in nearby Dayton to recommend. On this tour, we departed from the approach we took on our previous tour in 2009. Instead of rushing to visit as many wineries as possible, we decided to visit only a few each day, and we tried hard not just to visit our previous favorites. Well, on this day, we visited two old favorites and one new discovery. I said we tried hard—not that we succeeded for the most part.
Founded in 1989 by Ken and Grace Evenstad, Domaine Serene takes its name from the Evenstad's daughter, Serene. Ken and Grace had a vision to produce the world's finest Pinot Noir and they are certainly in the top echelon of Oregon Pinot Noir producers, with wines routinely scoring in the 90s. Domaine Serene is situated in an architecturally–interesting building (where they relocated in 2001) on a gently sloping hillside surrounded by a stunning green expanse of grass and vineyards. It is truly…well, serene. You can't help but relax as you stroll the grounds and enter the tasting room (open to the public since 2005), which is also…well, serene. At least it was when we visited on a weekday. We tasted four of their wines—the 2010 Clos du Lune Chardonnay ($65, their highest elevation Chardonnay), the 2009 Yamhill Cuvee Pinot Noir ($45, a lighter–bodied, fruit forward Pinot), the 2008 Evenstad Reserve Pinot Noir ($65, their flagship wine which was, not surprisingly, our favorite of the tasting) and the multi–vintage Rockblock "SoNo" Syrah ($35, a non-estate wine using grapes from south and north sources in Oregon's Walla Walla area to the north). Tasting the wines reminded us why we wanted to return to this winery.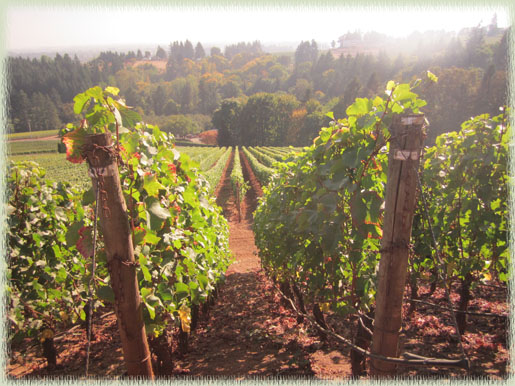 Next on our list of return visits was Archery Summit, one of our favorite Oregon wineries. In addition to having beautiful grounds and an intimate tasting room adjacent to its south–facing Archery Summit Vineyard, it offers some of the fuller–bodied, intensely–concentrated Oregon Pinot Noirs. The female duo of Vineyard Manager Leigh Bartholomew and Winemaker Anna Matzinger manage the operation. All cultivation, farming, and harvesting is performed by hand, and the results show it. During this visit, we sampled their 2011 Vireton Rose ($24, produced using the juice of grapes from all five of their vineyards in the saignée or "bleeding off" method), 2010 Premier Cuvee Pinot Noir ($48, a blend from their five Pinot Noir vineyards), 2010 Renegade Ridge Estate Pinot Noir ($85, the only Eastern facing vineyard; very full&#8211bodied), 2009 Looney Vineyard Pinot Noir ($85, Looney Vineyard is in the Ribbon Ridge AVA, just north of the Dundee Hills AVA), 2010 Looney Vineyard Pinot Noir ($85) and 2010 Red Hills Estate Pinot Noir ($85, a perfect wine for a Thanksgiving dinner due to its various spice notes). This truly is one of our most favorite Oregon wineries.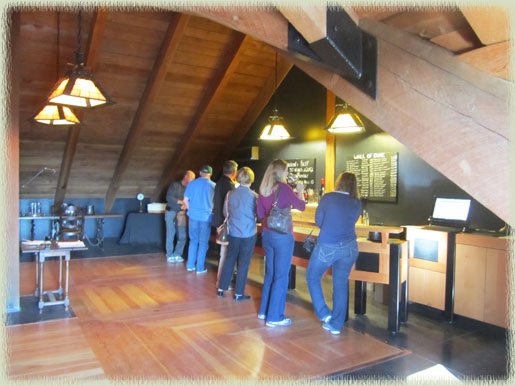 Leah's brother tipped us off to White Rose Estate and what a find it was for us. The tasting room has a high–pitched ceiling and is made of dark wood, reminiscent of a mountain lodge. It is stylish and subdued, in keeping with the style of their Pinot Noirs. White Rose produces wines of a bit lighter variety, a real contrast with Archery Summit, but no less interesting. In fact, Leah, who prefers reds on the lighter side, raved about these wines, and I really enjoyed them, too. The bonus is the setting of White Rose, which overlooks the Willamette Valley. Hint: Pack a picnic lunch to enjoy while studying one of the most astounding views of the Valley below. We tasted their 2010 "Dundee Hills" AVA Pinot Noir ($50), 2010 "Chehalem Mountains" AVA Pinot Noir ($50) and 2010 "Luciole Vineyard" pinot Noir ($55). These are all estate wines and each is elegant. White Rose is owned by Greg Sanders, a student of Burgundian wine whose passion is to produce artisanal, hand–made wines of great quality (he purchased the property in 2000 and began making wine there in 2001). The winemaking is managed by Jesus Guillen, head winemaker since 2008 (although he's been there since 2002). White Rose will definitely be on our return–visit list, with picnic basket in hand.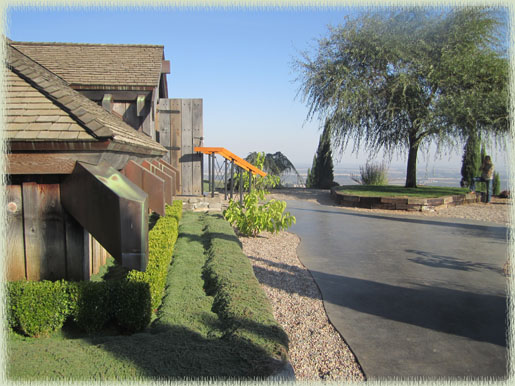 During our visit to White Rose Estate, we picked up a couple of Oregon Pinot Noir glasses. Yes, Oregon has its own Pinot Noir glass. Does it make a difference? Well, yes, it does. They are flared at the top and this makes you position the glass so that the wine lands on the back of your palate and runs along the sides of your tongue, instead of the wine hitting the front of the palate and running down the middle of the tongue. But be careful—the wine really does jump to the back of your palate and, as a result, Leah's brother inhaled his first sip from the Oregon glass, causing him to choke. He quickly recovered to observe, "The wine is great." The glass takes a sip or two to get used to, but the result is worth it because the positioning of the wine enhances your experience of the fruit flavor. Get yourself an Oregon Pinot Noir glass and test it against the typical Burgundy glass. Tell me you don't notice the difference. And for those of you who visit a doctor who tells you to have one—but only one—glass of red wine per night, I strongly suggest you view this video which shows how to really use the Oregon Pinot Noir glass effectively.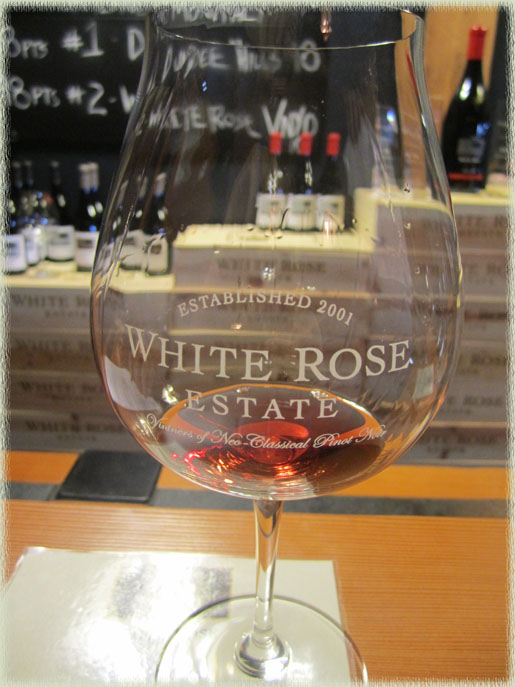 For dinner, Leah's brother and his wife recommended that we join them at the Joel Palmer House, located in Dayton, just south of the Dundee Hills AVA. Joel Palmer, a pioneer who worked in Indian Affairs for the Oregon Territory, founded the town of Dayton in 1848 and built his house there in 1857. Christopher Czarnecki's parents purchased the house in 1996. Chris, a fourth generation restaurateur and chef whose great-grandfather, Joseph Czarnecki, opened Joe's Tavern in 1916 in Reading, Pennsylvania, owns and operates the restaurant and his cooking revolves around wild mushrooms and truffles which he gathers locally (just as his grandfather and father did in Reading). He calls his cooking "freestyle" because he draws inspiration from the cuisine of various cultures. Most of his dishes are based on mushrooms (or have mushrooms as a main ingredient) in one form or another and, naturally, they pair very well with Oregon Pinot Noir. The food is terrific and the presentation is creative. The setting is intimate as a few tables are set up in each room of the house. We highly recommend the Joel Palmer House if you are in the area (and even if you aren't).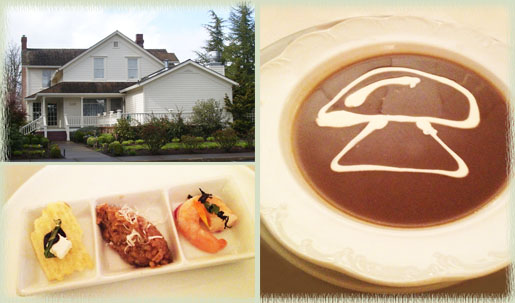 (Joel Palmer House restaurant entrance photo courtesy of Wikimedia Commons)
Willamette Valley's Dundee Hills AVA is home to some of the best of Oregon's best wineries. It's no coincidence that Dave O, in his comment on Part One of this series, recommended Sokol Blosser, another Dundee Hills winery, as a great one to visit. Of course, Oregon has wonderful wineries in other parts of the Willamette Valley as well, some of which we wrote about in Part One, and we'll tell you about more of them in upcoming Part Three of this series.
See Part One and Part Three of our Oregon Wine Country Tour.
Comments (3)
March 11, 2013 at 1:00 pm
ChapAlice CRONQUIST said:
Is Part One of your Oregon Wine Country Tour available?

March 11, 2013 at 1:02 pm
ChapAlice CRONQUIST said:
We're looking forward to our visit, and your Part One might be halpful . . so?

March 11, 2013 at 1:02 pm
ChapAlice CRONQUIST said:
One more time . . .?