Valentino's Briziarelli Dinner
A couple of weeks ago, we were invited to attend a wine tasting dinner at Valentino's in Santa Monica. Valentino Proprietor Piero Selvaggio graciously greeted the guests and, after a brief session sipping sparkling wine and tasting the chef's salumi selection, we found ourselves seated for the evening. The main festivities commenced with a brief presentation by noted food journalist Luigi Cremona, who is traveling with our evening's host in the USA and introduced us to the wines of Cantine Briziarelli.
Cantine Briziarelli is located in Umbria, a landlocked region of Central Italy nestled between Tuscany and Le Marche. Briziarelli produces wines with Sagrantino, a grape varietal grown only in the area around the village of Montefalco, which is in the Umbrian province of Perugia (famous for its Perugina Baci hazelnut chocolates). Luigi explained that Umbria is known for its meats, cheeses, mushrooms, truffles (both black and white) and olives as well as its wines that accompany those foods. Sagrantino de Montefalco, which was given DOCG status in the mid–1900s, is a very tannic red wine and, historically, was produced in a manner very similar to that of the Recioto wines of Valpolicella. Recioto is produced through desiccation—drying the grapes after harvest so that the majority of the juice evaporates and the sugars are concentrated. Recioto is only partly fermented, so the sugars in the wine remain high and the wine is quite sweet. Sagrantino was produced in the same manner until the past 20 years. More recently, producers have fermented Sagrantino more fully for broader market appeal, resulting in a powerful, dry wine that is quite tannic. That is part of the reason most people outside Italy are less familiar with this varietal. Luigi added that total annual production of this varietal if now about two million bottles.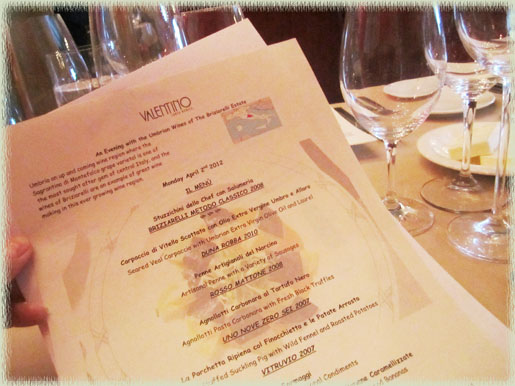 Barbara Briziarelli, the family lawyer, provided some background on Briziarelli. Barbara's grandfather acquired their land around 1906 to form a company that made clay roof tiles and bricks for the construction industry. His company prospered after World War II, but wine production is a recent activity at their estate. Although they have not been wine producers for very long, they have four very nice red wines produced from a vineyard of 17 hectares (about 42 acres). Many of the Briziarelli family members live on the estate and work together to produce and market their wines.
We started with their 2010 Dunnarobba, paired with seared veal carpaccio. While Sagrantino is very tannic, this wine is only 20% Sagrantino, with the other 80% split evenly between Merlot and Sangiovese. This wine was very balanced. We followed that with their 2008 Rosso Mattone (which means brick red), which is mostly Sangiovese, with Cabernet and Merlot but only 15% Sagrantino. It was paired with artisanal penne with a variety of sausages, which called for this full–bodied wine. The third wine was their 2007 Uno Nove Zero Sei (a reference to 1906, the year the family acquired their land), which is equal parts Syrah, Merlot, Cabernet and Sagrantino, paired with agnolotti pasta carbonara with fresh black truffles, which was perfect with the intensity of this wine. The final wine was their 2007 Vitruvio (a tribute to the Roman architect and writer who lived in the second half of the first century B.C.), 100% Sagrantino to accompany a variety of cheeses. Although the Vitruvio is their most intense wine, I found it very approachable (though I somewhat favor wines that are highly tannic).
We enjoyed the Briziarelli wines and the interesting food from executive chef Nico Chessa and made some new friends as we talked through the evening. While these wines are clearly not household names in the USA, the quality of the wines is very good and they are as interesting and unique as those of some of the more traveled wine regions of Italy. Briziarelli is attempting to bring its wines to the US market and, when you get an opportunity to sample them, take advantage of it. For now, however, you may have to visit Umbria, which is an even better idea.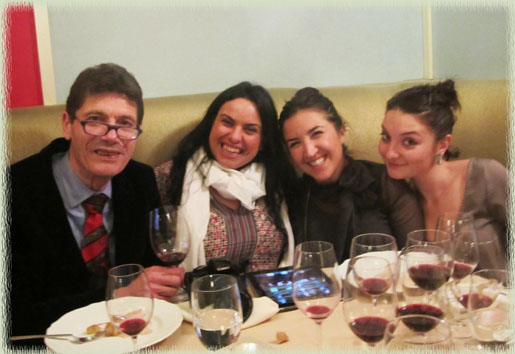 Disclosure: We were invited guests to this wine tasting dinner.