Stars of Cabernet 2011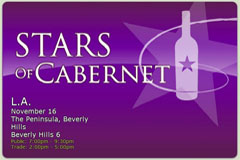 As with wine, a journalist's notes improve with age. Well, not really, as you'll see. Last November, Ian Blackburn of Learn About Wine invited me to his press luncheon before the opening of his most recent Stars of Cabernet wine tasting event. It was a great opportunity to spend some time over a very nice meal to hear from representatives of a few top Cab producers and discuss their wines and industry trends with them and some sommeliers and other media folks. The winery folks included Henry Patland, owner of Patland Estate Vineyards of Napa, Pam Harter, Director of Sales & Marketing for Rocca Family Vineyards of Napa, David Arthur Long, owner of David Arthur Vineyards of Napa, and Justin Baldwin, Founder of Justin Vineyards & Winery of Paso Robles. So, let's just skip over the fact that the wines were all terrific and get to the useful 411.
I'm always interested in where people came from and how they found their way into the wine business. David Long grew grapes near Chappellet and now produces wine from his 19 acres. Mary Rocca was a dentist who moved to Napa in the 1980s with husband, Eric Grigsby, an anesthesiologist, and, in 1999, they purchased what is now known as the Grigsby Vineyard, in the heart of the Yountville appellation. Justin Baldwin planted his vineyards in Paso Robles in 1981 and sold his business to Fiji Water in 2010, but is still very involved in their business. Henry Patland emigrated from Russia to San Francisco with his parents, grew up in the City, earned an computer engineering degree from UC Santa Cruz and succeeded in the high-tech industry before acquiring some acreage (though he mostly sources his grapes) and snagging a wine maker from the Hess Collection Winery. Quite a diverse group.
We started with the David Arthur Chardonnay (100% ML fermentation, but with great acids) before moving on to his 2008 Elevation 1147 (100% Cab in 100% new French oak), which retails around $135–$150 a bottle. The label resulted from a friend suggested that he name the wine after the elevation of the grapevines that produced the wines, "seventeen rows of our best grapes", he explained. When asked about his pricing, David revealed his methodology, "Each year, I pick out the new car I want and divide by the production to back into the pricing." But seriously, he explained, "When you pay so much for grapes, like $3,200 per ton for Chardonnay, and up to $1,200 per new French oak barrel, you don't have much flexibility on pricing." The economics of winemaking is a bitch! Henry Patland poured his 2007 and 2008 Cabs from Stagecoach Vineyard (his favorite grape source), which retail for $80 and $90, respectively, per bottle. Justin offered up his 2009 Cab ($25) and 2008 Isosceles ($60+), which are consistently great from year to year. But I have to say, considering taste and value, my favorite all around wines that day were the ones from Rocca.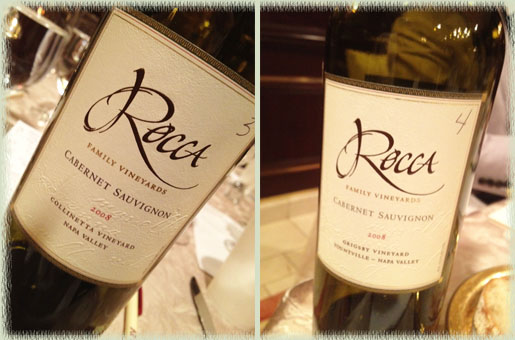 Pam Harter presented Rocca's 2008 Collinetta Vineyard Cab ($85) and 2008 Grigsby Vineyard Cab ($75). The Collinetta is flavorful, but also balanced and elegant. The Grigsby (583 cases produced) is rich and deep, with velvety tannins that make this wine a real pleasure to experience—again, balanced and elegant. These wines represent the Cabernet profile that I love. They were perfect with the luscious beef tenderloin that sat briefly in front of me. Mmmmmm.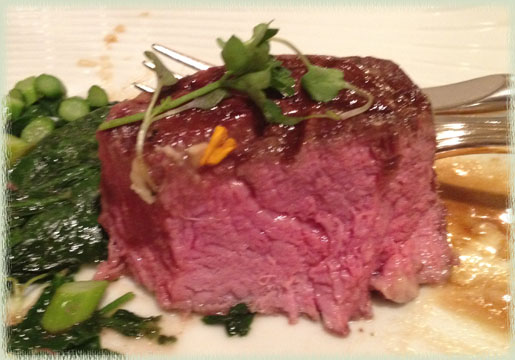 As I stated above, proprietor Mary Rocca, a former dentist, and her anesthesiologist husband, Eric Grigsby, acquired their vineyard in 1999. To see who would get to "retire" to the wine business, they flipped a coin. Mary won the toss, so she sold her dental practice in 2000 to devote her full time and attention to wine. Years later, Eric says he found the double–headed coin in Mary's purse. It takes a lot of ingenuity and cunning to be in the wine business. Eric specializes in pain management, so it probably makes more sense for him maintain his skills to help Mary out on occasion.
We talked a bit about the wine business in the past few years and it is clear that the recession is taking a real toll on the market. For those who aren't small producers, export sales have become more significant, but Canada and the UK seem to continue to be the biggest export markets for US wines. Pricing at the top end has been maintained to some degree by the somewhat steady reductions in yields in the past few years due to factors such as the weather. Yet, everyone remains optimistic about the future of the industry. Who wouldn't feel that way while sipping on such fantastic wines?
After the luncheon, we slipped into the main event (the trade tasting before the public tasting), where over 40 Cab producers were pouring their wines for an eager crowd. This is where the "notes" problem comes in. I tried most of the wines, but set my notepad down for a moment and then it was gone. I can only assume that a busboy picked it up as a piece of trash. Fortunately, my luncheon notes were taken in a separate log. Yet, I can confidently say that most of the Cabs I sampled that day were quite good. Some notable memories include the Cabs from Heitz Wine Cellars, Jaffe Estate, Joseph Phelps Vineyards, Kathryn Kennedy Winery, Lail Vineyards, Lancaster Estate, Porter Family Vineyards and Signorello Estate, just to name a small subset. Anyway, who needs my scribbled details when you have so many great Cabs to choose from?

Disclosure: The luncheon and tasting were hosted by Ian Blackburn of Learn About Wine, and I attended with a complimentary media credential.