Valpolicella Nights
We spent the last two nights of our June Italy adventure in Valpolicella, a viticultural zone situated in Italy's northern Veneto province, famous for Valpolicella, Recioto, Amarone and other red wines. A short drive west of the city of Verona, Valpolicella is bounded on the north by the Lessinia mountains, on the east by the hills that separate it from Verona and Valpantena, on the south by the Adige River and on the west by Lake Garda (Italy's largest lake). Valpolicella consists of seven municipalities—Pescantina, San Pietro in Cariano, Negrar, Marano, Fumane, Sant'Ambrogio and Sant'Anna d'Alfaedo—although a few other towns are sometimes also included. Valpolicella isn't really a single "valley"; it is a collection of parallel valley-like impressions on the terrain resulting from a series of small rivers and the ravages of time.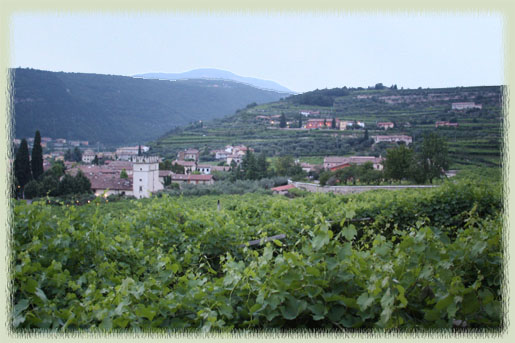 100 million years ago, the land was underwater. After the land emerged, glaciers created the hills and impressions on the landscape. While many sources claim that Valpolicella likely means "valley of the many wine cellars", I tend to agree with other scholars, such as blogger Jeremy Parzen, whose research and analysis indicate that it really means "valley of alluvial deposits". (Check out Jeremy's thoughtful blog post on the topic for details.) To me, this is more in line with the geological and political history of the zone. As for weather, most of Italy was suffering from a major heat wave when we were there—they called it "Il Grande Caldo". Normally, however, the Alpine hills to the north send their cold wind down into the area in the evening and the sun reverses the airflow in the morning. All things considered, Valpolicella has a microclimate and soil designed for excellent wine.
Classic Valpolicella, Amarone and Recioto are made mostly from the same three grapes—Corvina, Rondinella, and Molinara—but can contain a small percentage of other grapes, such as Croatina, Sangiovese, Dindarella and others. The principal difference among the wines is how the grapes are processed. Valpolicella Classico is a very pleasant, often fragrant, drinking wine whose grapes do not undergo a drying process. Amarone and Recioto are produced through desiccation—drying the grapes after harvest so that the majority of the juice evaporates and the sugars are concentrated. Recioto is only partly fermented, whereas Amarone is more fully fermented.
Amarone and Recioto have an interesting history. While Recioto dates back to pre-Roman times (more than 2000 years ago), Amarone was born in the 20th century (60-70 years ago). Fermentation is stopped early, resulting in a sweet wine. In contrast, Amarone really isn't sweet (the literal translation of Amarone is "big bitter"). Legend has it that a Recioto producer forgot the wine in some of his barrels and fermentation continued until all the grape sugar turned into alcohol. Expecting the wine to be sweet, he declared it bitter when he tasted it. He concluded that Amarone is "Recioto gone wrong". Well, that's a matter of opinion and today Amarone production and prices surpass those of Recioto. Due to its more complete fermentation, Amarone has a minimum of 14% alcohol (some go up to 17%). If you haven't heard of Amarone, you can blame it on Hollywood. In the novel The Silence of the Lambs, Hannibal Lecter enjoys liver with fava beans and a "big Amarone", rather than the Chianti used for the film version.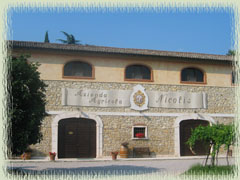 I was fortunate to arrive at Nicolis, located in the town of San Pietro in Cariano, before they closed for the day. I had thoroughly enjoyed a bottle of their 2000 Amarone Classico earlier in our trip in the village of Bosco Chiesanuova and I wanted to see what else they offered. Besides having a strikingly beautiful winery and a very knowledgeable staff, Nicolis has some outstanding wines. The winery was founded by Angelo and Natalia Nicolis, who had four sons can three daughters. Sadly, Angelo and one of their sons, Pierluigi (a patient and passionate winemaker), passed away in the early 1990s, but Natalia and their other three sons—Giuseppe (winemaker), Giancarlo (agronomist) and Massimo (who helped build their exports)—have shared responsibilities for Nicolis ever since. (The four daughters followed other career paths.) They export 80% of their production, with the USA being their largest export market.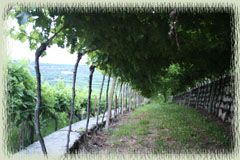 Driving through the vineyards, I noticed that the vines were all planted so that they grew about five feet above the ground, which I was not used to seeing. Laura explained that the grape vines used in Recioto and Amarone production are grown higher off the ground to reduce absorption of humidity from the ground, which makes it easier to dry them in the 3-4 month desiccation process. Laura poured a variety of Nicolis' award-winning wines, including their 2006 Valpolicella Classico, 2006 Valpolicella Classico Superiore, 2004 Valpolicella Classico Superiore "SECCAL" (a single-vineyard wine), 2003 Amarone Classico (a very good vintage due to the hot, dry summer—Nicolas has older vines, which were able to draw enough water from the ground to make excellent grapes—in contrast, they skipped the 1999 and 2002 vintages because the years were too rainy), 2003 Ambrosan Amarone Classico (which notably won the Gambero Rosso Tre Bicchieri award for its 1993 and 1998 vintages and was in the finals for its 2000 and 2001 vintages), and 2004 Recioto Classico.
I loved the Nicolis Amarones, but I want to give special mention to their 2004 TESTAL Rosso del Veronese, which is not one of their more expensive wines and may be lesser-known. This wine is designated "Testal" ("testa" is Italian for "head") because they use only grapes from the perimeter of the grape vine rows (which get better sun and air exposure). The grapes are harvested three weeks after perfect maturation and then hang in the sun for a couple of weeks at the grape vine from which they are cut. Aged for 16 months in medium-toasted tonneaux (small oak casks) and 6 more months in the bottle, this wine (94% Corvina, 3% Merlot and 3% Cabernet Sauvignon) was very smooth, with a hint of sweetness. Thoroughly enjoyable!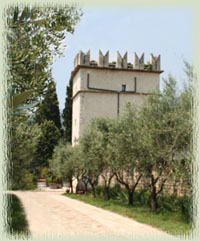 We were lucky enough to experience the final two nights of our Italian adventure in the town of Fumane at Corteforte, a working vineyard and spectacular winery with a collection of beautifully-appointed rooms connected to a fort tower dating back to the 1400s. Because there were six of us, we stayed in a separate residence hidden away deep inside their terraced vineyard. Our hosts, Carlo and Barbara Cerutti (and their son, Carlo), were a highlight of our visit. The other highlight was their wine.
While our children played outside with Carlo, Jr. on our final night in Italy, Barbara entertained us (and a couple from Austria on their eighth visit) in their beautiful tasting room. In between bites from a huge wedge of scrumptious Parmesan cheese and crisp sesame bread sticks, we sampled their range of delicious wines. First up was their 2005 Valpolicella Classico Superiore Ripassato, a special vintage from their "Podere Bertarole" vineyard, which recently won a silver medal in the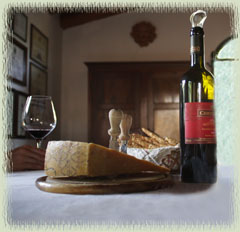 International Wine Challenge in London. Their 1998 Amarone Classico "Vigneti di Osan" (single vineyard) recently took the gold medal in the same event. We also enjoyed their 2001 Amarone Classico, 2000 Amarone Classico "Vigneti Di Osan" (most excellent!) and 2000 Recioto Amandorlato (which means "center of almond", in reference to a subtle bitter almond taste). I can recommend all of their wines. For those of you in America, Corteforte's wines can be found in some of the finer shops and restaurants. I recently spoke to their US importer, who is working on plans for broader availability, so if you need any help finding these wines in the meantime, feel free to contact us.
The Corteforte estate is tastefully decorated with antiques from its winemaking history. Listening to Barbara in those surroundings, I could feel a real connection between their wines and the centuries of agricultural passion that Valpolicella represents. Well into the evening, our side discussion turned to life and health and the events that cause some people to reach a turning point in their life—changing their focus from the relentless pursuit of material goods to the things that can bring true happiness. As Barbara put it so well, "It is good when people take the time to enjoy family, food, wine and love." We couldn't agree more. After our leisurely wine tasting, we retreated to our separate residence for a home-cooked meal of pasta ragout with fresh vegetables and a garden salad. The night was accented by a three-hour electrical storm that thundered in the distance and lit up our room every few seconds with the pale blue glow of lightning. A most wonderful way to complete our Italian journey!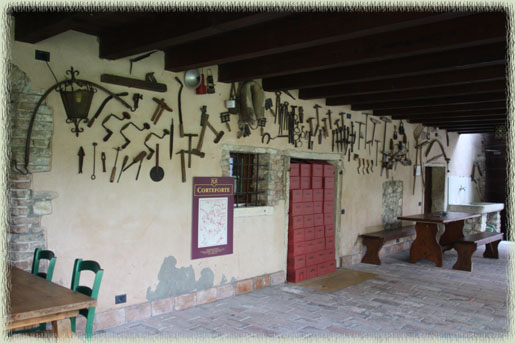 Comments (2)
July 29, 2008 at 2:51 pm
Jeremy Parzen
said:
Rich, great post and great photography as always. Dr. Sandro Boscaini of Masi believes that Amarone comes from the place name, Armaron, one of the appellations oldest and best growing sites. There's no definitive evidence pointing to the toponym as the origin of the word but my linguistic intuition tells me that Dr. Amarone, as he likes to call himself, is right.
Great post… Blog on! Jeremy

July 30, 2008 at 10:40 am
Rich
said:
Jeremy,
Thanks for the further insight. I find word origins to be a fascinating topic.
Rich