TJT: Tortellini en Brodo
It's Tuesday again (funny how that happens every week) and you know what that means. Time for another monthly installment of Trader Joe's Tuesday! We've been back from our trip to Italy for a month now. I have many fond memories of the meals we consumed there. Even as we were eating our way through the country, I found myself contemplating how I could recreate some of the dishes we enjoyed with minimal effort and only a few ingredients (my prerequisite for a TJ's Tuesday recipe). Well…I found my answer in Bologna—my new favorite foodie mecca.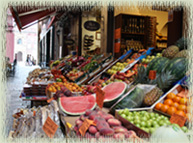 If you ask an Italian to choose a city where the local restaurant scene is consistently good and above the rest, Bologna is most often the answer you'll receive. "Li si mangia bene!", which means that the eating's good there (and they mean it!). Bologna is the capital of the Italian food-producing region of Emilia-Romagna. Its many restaurants and markets get their choice products from the surrounding cities and small towns. We couldn't believe the beautiful fruits and vegetables available at little stands we came across while just meandering in and out of back alleys. And the salumerias—mama mia! I felt like we were touring contemporary art museums (with sausages and prosciutto dangling in front of our faces instead of paintings).
Being the culinary capital that it is, it's not hard to believe that Bologna is considered the birthplace of many staple items and exceptional dishes. On the day we visited, it was our mission to seek out one of these specialties—tortellini.
I had read about a salumeria that is supposed to be the most famous in the region, not only for its cured meats but for its 90 different cheeses and 95 pasta shapes. The masterpiece of the store, though, is its homemade tortellini. Tamburini makes theirs by adhering to a strict recipe, using very specific, high-quality ingredients—prosciutto, parmigiano cheese and lombo (flank of Italian pork). They produce their tortellini in small batches to maintain quality and refuse to export them. I can understand why, as they even warned us to cook and eat them within 10-24 hours or the taste and quality would be compromised. Tradition dictates that tortellini be served only en brodo (in broth). Otherwise, the delicate flavor of meats, cheese and spices would be lost.
I only wish I could find tortellini of this caliber in Los Angeles. TJ's carries various dried and fresh pastas, but one thing I've learned since trying the real thing in Bologna, never use dried tortellini! There really is no excuse for this stuff to exist when perfectly good fresh versions are found around the corner in the refrigerated deli aisle. Though you'll be hard-pressed to find fresh, meat-filled tortellini like I had in Italy (usually they're cheese or mushroom-filled), at least you'll have a choice of fresh tortellini at TJ's.
This recipe is really easy to throw together. When it comes to choosing the chicken broth, I recommend using a clear broth. This means you should get either the non-fat variety or the liquid concentrate version (available as 12 pouches in a 4.06 oz box). I also cook the tortellini separately from the broth, to avoid overcooking them and also to prevent clouding up the broth.
WI recommends: We enjoyed our Tortellini en Brodo with a bottle of Cantina Gallura's Canayli Vermentino Di Gallura, a crisp, dry white wine from Sardinia to complement the dish without overpowering it.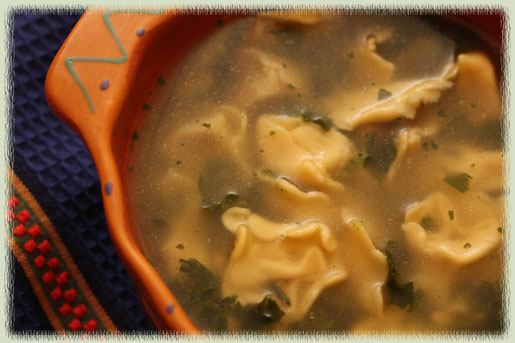 Tortellini en Brodo

2 quarts chicken broth
1 (16 ounce) bag frozen chopped spinach
3 peeled garlic cloves, thinly sliced
2 (9 ounce) packages fresh tortellini
Salt and pepper to taste
Freshly grated parmesan cheese

Pour the broth into a large saucepan or stock pot. Cover and bring to a boil over high heat. Remove cover and reduce to a simmer. Add the garlic slices and as much of the chopped spinach as you like. Continue simmering. Meanwhile, cook the tortellini according to the package instructions (cook al dente). When ready to serve, taste the broth and adjust the seasoning. Place the tortellini into serving bowls and ladle the broth over them. Top with the freshly grated parmesan and serve.
Comments (3)
August 8, 2008 at 12:45 pm
Craig said:
Here in the states, arguably the best real Italian salumeria is SALUMI in Seattle. Owned and run by Armandino Batali, father of Mario Batali (of Molto Mario fame) and it's right in the Pioneer Square area. People start lining up at around 10 am to get in for lunch – they usually walk up and down the line giving free samples to the waiting patrons. Armandino is a retired Boeing employee and decided to open up his own hand-crafted salumeria – visit it at salumicuredmeats.com

August 9, 2008 at 8:04 pm
Leah
said:
Thanks for the info, Craig. I didn't realize that others in the Batali family had a flair for authentic Italian cuisine. Mario is so passionate about cooking on his show that most think he was born and raised in Italy (his roots are actually in Seattle). It wasn't until after he had 3 years of intensive training in Northern Italy that he decided to return to the US to begin his thriving restaurant empire. We've tried one of his restaurants here in LA (Pizzeria Mozza) and had some of the best authentic Italian fare ever (especially the pizzas!). I even found them to be better than the ones we had recently in Italy. It sounds like Batali senior knows his stuff, too!

August 20, 2008 at 1:23 pm
food librarian
said:
Thanks for visiting my blog! We could start a club of Los Angeles Canon Flash owners! I also purchased the macro lens ($400!!!) and that has been so wonderful and worth it (economic stimulus check went there). I don't drink wine, but I'm enjoying your website for the recipes – especially this one!!