What Pairs with Jury Duty?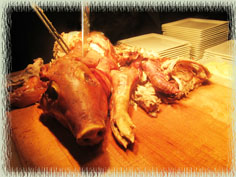 I was on call for jury duty the other week. I had called in each evening for four days (that's how it's done in LA) and was told not to report the following day, but on Thursday evening (the final night for calling), the recording ordered me to report downtown on Friday morning. So, I reported as ordered and sat through the juror orientation. Then, with all the other prospective jurors, I waited. Around 2:00, the lady in charge said we probably would not get called, so I thought I was going to be released shortly. At about 2:45, however, my name was called to report to a court, along with about 35 other people. This was serious because I had invitations to two enticing wine tasting events scheduled for the next Tuesday afternoon. Well, I thought, maybe this will be an interesting case. In court, the judge told us the defendant was charged with a misdemeanor crime—graffiti—and they expected the trial to last five or six days. How could that be? I started to feel my wine events slipping away as the judge and lawyers jumped right into their voir dire, the process of asking questions of the first 18 prospective jurors to ferret out who might be biased one way or the other or not a good choice for their side. I was number 29 of the group, so it still looked like I'd make the wine tastings on Tuesday.
At 4:30 sharp, the judge said the day was over and that we should report back on Monday morning at 10:45. Monday morning, one of the prospective jurors was late, so we waited. Around 11:45, the bailiff said we should go to lunch until 1:30. Yes, the wheels of justice do move slowly at times. I spent Monday afternoon sitting in the back of the courtroom, listening to the prospective jurors answer questions. Then, the judge and lawyers dismissed or accepted each juror, one by one, until they needed more victims. Finally, late in the day, it was my turn to come up and be grilled. Even worse, because they had already accepted twelve jurors, I was only eligible to serve as an alternate, not as one of the twelve official jurors.
They only got through a few questions when the clock struck 4:30 and the judge told us to report back Tuesday morning, when the questioning would continue. Would this torture never end? Now, the stakes were getting high because the wine tasting events were Tuesday afternoon. The questioning resumed Tuesday morning at 10:30. Finally, they picked the two alternates, but I wasn't off the hook yet because one of the alternates wanted to talk privately to the judge. After their discussion, he was dismissed, so they picked yet another alternate juror. I was thinking about wine when the new, replacement alternate said he couldn't understand the juror's oath. (Interesting, because he had answered all of the many voir dire questions.) So, he was excused and the judge and lawyers had to pick one more alternate from among the few of us remaining. It was ten minutes to noon when the final alternate was chosen and I was excused. So much for the civics lesson. I ran off to pick up Leah.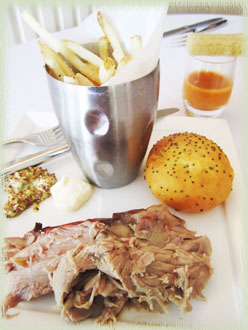 The first event that afternoon was Sonoma in the City (Los Angeles), a tasting of the wines of Sonoma at The London in West Hollywood. As we entered the hall, there was a large buffet table where we encountered our porcine friend in the picture at the top of this post. (What was Gordon Ramsay thinking? A more appealing picture of the food is to the left.) It made me think. I couldn't help wondering what was happening to the defendant back in court. Was he skewered? More importantly, I wondered what wine or spirit pairs best with jury duty? Is it Pinot Noir, well–balanced like the scales of justice? A Chardonnay or Sauvignon Blanc to complement the acidic edge of the prosecutor? Or a forgiving Merlot for the defense? I'd have to taste a few wines to be sure.
The wines from Sonoma were generally quite good, but a few stood out from the rest (though we didn't taste all of them in the short time we had). Patz & Hall from the Sonoma Coast appellation served us their 2010 Dutton Ranch Chardonnay and 2010 Jenkins Ranch Pinot Noir, both excellent. We had an earlier vintage of the Dutton Ranch Chardonnay on our wedding anniversary last year that was just perfect. Hanzell Vineyards of the Sonoma Valley poured their 2009 Chardonnay and 2009 Pinot Noir, again both excellent. We've enjoyed their Chardonnays previously, but this was our first taste of their Pinot Noir. We had never tasted the wines of Gundlach Bundschu, also from the Sonoma Valley, and they were all very good, including their 2010 Chardonnay, 2009 Pinot Noir and 2008 Cabernet (all estate wines). Their 2008 Merlot (also estate) stood out that day because it is a much more substantial wine than many Merlots on the market and definitely one to try. Their marketing director told us that they are the oldest family owned and operated winery in Sonoma, established in 1858, a fact I didn't know. We also enjoyed the Russian River Valley Pinot Noirs of Gary Farrell (Russian River Selection, Hallberg Vineyard and Stiling Vineyard, all 2009s) and Inman Family Wines (OGV Estate and Thorn Ridge Ranch, both 2008s). I've been drinking a lot of Pinot Noir lately and the ones listed above are among the best.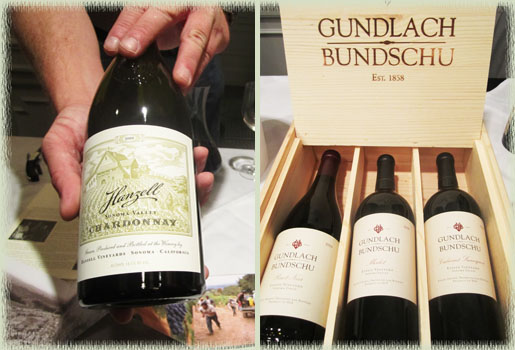 Mindful of having been in court for days, I was sipping and spitting the wines. So, when the time came, we safely drove over to the Century Plaza Hotel for the Wine Warehouse's Annual Spring Tasting. While we like so many of the wines they distribute, we decided to take a different approach at this event. We focused on spirits and a few really stood out. The first was Roberto Cavalli Vodka, which was the main ingredient in the interesting cocktail concoctions served up by none other than The Drink Chef, Blake Donaldson. We tried his Cucumber Mint Martini (with cucumber & mint flakes) and his Cantaloupe Martini (with melon balls, cilantro flakes & maple smoked bacon), which was our hands–down favorite. The vodka is also excellent all by itself.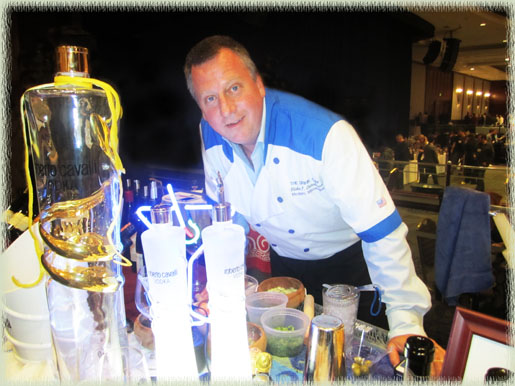 Another interesting find was the range of spirits from pür spirits, including their pear liqueur, elderflower liqueur and blood orange liqueur, which we tasted that afternoon. These liqueurs are produced by "a 3rd generation artisan distiller in a remote village in southern Germany". I can't convey in words the purity of flavor of these liqueurs. I love fresh pears and, I have to tell you, the pear liqueur evoked a flood of pear memories for me. I could literally taste and feel the soft graininess of my favorite pear when sipping that liqueur. And the other flavors were equally amazing. These liqueurs are just beginning to arrive in California, according to their rep. I'm planning to follow up and write about these liqueurs after I try some cocktails designed for them. (Maybe I'll ask Blake to design some.) I can't wait. The same rep was also pouring Macchu Pisco, which Leah really liked (she's a Pisco fan).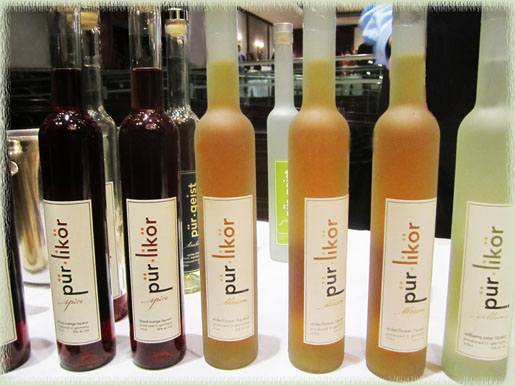 So, what started out as a dreadful few days in court turned into a positive experience as we discovered some new beverages to enjoy. So, the question remains, what wine or spirit pairs best with jury duty? Would it be the Roberto Cavalli Vodka, because it is so clear, like the convictions people hold? Or would it be pear liqueur from pür spirits, because, well, it would pear nicely? Or would it still be a particular wine. I'm not certain, but after spending two and a half days at court, just to be excused, I guess I'd have to sentence myself to 15–25 years—aged single malt scotch that is, with one over–sized ice cube. Now that's a verdict I could embrace!