Our First Day in Chianti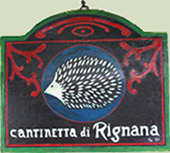 In a previous post, I gave you a brief history of Chianti and then promised to tell you about some of the best Chiantis and food we discovered on our travels through the Chianti Classico countryside this past June. Our first day in the Chianti countryside started out with cloudy weather as we rushed up the superstrada 2 towards Florence. After working our way towards the northern end of the Chianti Road, we turned south around the town of Strada. We had researched some of the Chianti Classico wines ahead of our trip, but we hadn't made any reservations for tastings. We decided to equip ourselves with a little knowledge, but still leave the day somewhat unstructured so we would be open to exploring the great unknown.
Our first stop was the Castello Vicchiomaggio tasting room located near the village of Le Bolle on the Chianti Road. We didn't have enough time to pay a visit to their nearby castle, the site where Leonardo da Vinci painted the Mona Lisa. We did, however, enjoy tasting their wines while our three boys chased some ducks in a nearby field. The best of the tasting was their 2004 Riserva La Prima, a Chianti Classico made entirely from Sangiovese grapes. A great wine to start our day!
Working our way south, we stopped at two more wineries and then decided to see if we could tour the Bonello grappa distillery near the village of Greti (just north of the town of Greve). Bad luck—the distillery is closed on weekends and today was Saturday. Anyway, it was time for lunch. Our pre–trip research yielded some vague directions to a restaurant that looked interesting—at least on the internet. So, we turned right (west) at the Esso station in Greve and proceeded on a narrow road that eventually turned into a winding gravel drive, but we kept following the periodic signs for the restaurant. At about 4 kilometers from Greve, I was wondering if I had made a mistake. Maybe we should have asked the locals for a restaurant recommendation instead of relying on the internet. At 5 kilometers, we finally arrived at La Cantinetta di Rignana, a traditional Tuscan restaurant surrounded by a peaceful, picturesque vineyard guarded by the watchful eye of their resident feline sentry nestled in a window flower pot. But what would we find inside?
Despite the increasingly dark clouds, we decided to dine on their covered patio so we could take in the vineyard view. The service was very welcoming and the meal was among the best we enjoyed during our time in Tuscany (and we had a lot of really good meals there). After we lingered over a traditional Tuscan meat and vegetable plate, some burrata cheese with acacia honey and a generous glass or two of Prosecco, we were ready to get down to serious business. Some 2001 Poggio Rosso Chianti Classico Riserva (San Felice) for me and 2006 Bolgheri Vermentino (Antinori) for Leah.
These wines were perfect with our meals. As the rain began to tap on the patio cover, I experienced Cinhiale alla Chiantigiana (wild pork Chianti style) for the first time in my life and was immediately hooked. Leah was transported by the Taglierini alle Noci (thin noodles with walnut sauce) that was out of this world. The boys inhaled Taglierini al Ragù di Manzo (thin noodles with beef ragout), Ravioli di Patata Pomodoro e Rucola (potato ravioli with tomato and arugula), Zuppa di Verdura (vegetable soup) and Prosciutto e Melone (prosciutto and melon). It was an amazing, very traditional Tuscan lunch experience. A group of guys at the next table went "caveman", sharing what looked like several pounds of Bistecca alla Fiorentina (Florentine T-bone steak), served by the hectogram (100 grams) in the traditional rare style. As we dug into our Dolci (dessert), the rain retreated and we were ready to face the Chianti Road once again.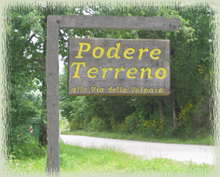 Eventually, we departed the Chianti Road and drove southeast towards the town of Radda in the heart of the original Chianti Classico region. Going north from Radda, we found ourselves near Volpaia. It was late afternoon when we happened upon Podere Terreno by chance, turning down a gravel drive in the Volpaia area—but what a find! Lola and Napoleone, the wine dogs in residence, met us in the driveway and escorted us up the steps of their beautiful 400–year old stone farmhouse, where we met Pier Francesco, son of owners Marie-Sylvie and Roberto who were away on holiday. Pier Francesco's wife, Federica, had recently given birth to their first child, Jacqueline, so Pier Francesco was busy in the kitchen cooking dinner for their lodging guests while the phone was ringing off the wall. Nevertheless, Pier Francesco graciously poured their Podere Terreno 2004 Chianti Classico and visited with us between phone calls and interruptions from the kitchen.
Podere Terreno Chianti Classico is organically produced using 90% Sangiovese and 10% Canaiolo grapes and is aged in 1500–liter Italian oak barrels for about 14 months and then aged further in the cellar after bottling. It has excellent structure and balance and a full fruit finish with cherry overtones. It is one of the finest Chianti Classico wines we had ever tasted. They also have a 2004 Riserva that we didn't have a chance to try. Their 2005 and 2006 vintages are sold out, but the 2007 will be released this coming year. They currently export their Chianti Classico to some east coast locations in the USA and they are in discussions to get it direct to the west coast and mid–west as well. We can't wait!

See also Our Second Day in Chianti
Comments (2)
October 13, 2008 at 5:27 am
Esping
said:
Great reading. You really transported me all the way to Toscana. I will most definatly look out for Podere Terrenos wines. Sounds like a Chianti that actually tastes like a Chianti. Not so easy to find these days

October 13, 2008 at 10:39 am
Rich
said:
Thanks. Podere Terreno Chianti Classico is a great example of traditional Chianti and is really excellent. In a future post, I'll be writing about our second day in Chianti and at least two more interesting Chiantis and their wineries as well as another great restaurant we discovered.