Our Second Day in Chianti
In a previous post, I gave you a brief history of Chianti and then promised to tell you about some of the best Chiantis and food we discovered on our travels through the Chianti Classico countryside this past June. Our first day in the Chianti countryside started out with cloudy weather. Five days later, the weather was sunny and hot as "Il Grande Caldo" (a big heat wave) blanketed the whole of Italy, making the weather unusually hot, even for June. While Leah and our daughter slept in, the three boys and I started the day with a guided tour of the extensive gardens at Tenuta di Spannocchia, a Tuscan agriturismo near Siena where we stayed for the week. The kids wanted to stay on the farm that day and we were happy to oblige, since we had some real work to do in the Chianti countryside. By 10:45 a.m., Leah and I were on the winding SR429 road heading northeast from SR222 (the Chianti Road) and our thirst was growing stronger each kilometer as the mercury began to rise in the local thermometers.
By mid–day, we passed through the town or Radda, part of the original Chianti Classico zone. Having made no reservations, we decided to tour a winery near Radda, have a leisurely lunch and then see what other wines we could find. So, just after noon, we found our way to PoggioantinorA, about 4 km outside Radda, far up a hillside on a gravel road. As we approached the winery, we watched the owners' young son, Francesco (who will undoubtedly be the 31st generation of Brandani family winemakers at their estate), watering the plants in his red rubber boots, looking very official. We were greeted by Angela, who offered us their Chianti Classico 2005 "Il Masso" (their "new age" label) and their Chianti Classico 2002 Pèghera di Baccio Riserva (their "traditional" label). The Il Masso had a deep red color and a very nice structure and balance with nice tannins and was very smooth. PoggioantinorA's website describes the Riserva as "a wine produced from 1992 in the old 'ricasoliana' way, with a percentage of white grapes (Malvasia del Chianti and Trebbiano). It is a ruby—red to garnet–red color (with a tint of orange) and has a flavoured scent and a delicate, velvety and balanced taste." Their description is very accurate. PoggioantinorA's wines are available in the USA through Tuscany Wines in Florida. We lingered in the shade on that warm, sunny day at PoggioantinorA's hilltop tasting patio, looking over the Chianti countryside in the early afternoon and talking with Angela who recounted the history of the winery. She also invited us to explore their wine museum inside the farmhouse and asked us to give our opinion on some new wine label designs they are considering for their export market.
By 2:00 p.m., we were back in Radda, walking around and searching for a place to have a relaxing lunch and some excellent local cuisine. Luckily, we happened upon La Perla del Palazzo, a ristorante operated by the Magagnano family in the Palazzo Leopoldo Hotel. The setting was light and airy with a slight breeze ventilating the room through the windows and the door to the garden area. After an appetizer of prosciutto wrapped around warm pecorino cheese on a bed of rucola (arugula) with carrot strips and tomato slices, we had one of the most elegant luncheons in all of Tuscany. Leah enjoyed a bowl of white bean soup while I devoured the rolled lapin (rabbit) on a bed of white Tuscan beans. This meal was enhanced with a glass of 2006 Albo from a winery named Colle Bereto. While we lingered after lunch over a glass of Altesino's Brandy di Brunello, we decided that we had to make a pilgrimage to Colle Bereto.
Before departing Radda, we walked through the village and inspected some of the shops. We dropped into the tasting room of Caparsa, a wine estate operated by Paolo Cianferoni and his partner Gianna, producing about 20,000 bottles per year. Their red wines are unfiltered and their production philosophy emphasizes traditional methods and special respect for the environment. We were able to sample their Vino Bianco di Caparsino 2004 (using Trebbiano and Malvasia grapes), Chianti Classico "Caparsino" 2005, Chianti Classico Riserva "Caparsino" 2000, and Chianti Classico "Doccio a Matteo" Riserva 2003. The highlight of the tasting was their Chianti Classico Riserva "Doccio a Matteo" 2000 (a Gambero Rosso Tre Bicchieri winner in 2004).
We were ready to resume the pilgrimage. A short drive east of Radda took us to the estate of Colle Bereto. It was 5:00 p.m. on a Thursday afternoon and the parking area was empty. The sun was just above the hills, casting a golden hue across the beautiful grounds and winery buildings. The temperature was becoming pleasant, but there was no one in sight. As we snooped around between the buildings, we came across a woman who motioned for us to wait for a moment. Shortly afterwards, Bernardo emerged from the office building to greet us and took us to the main winery building for a tour.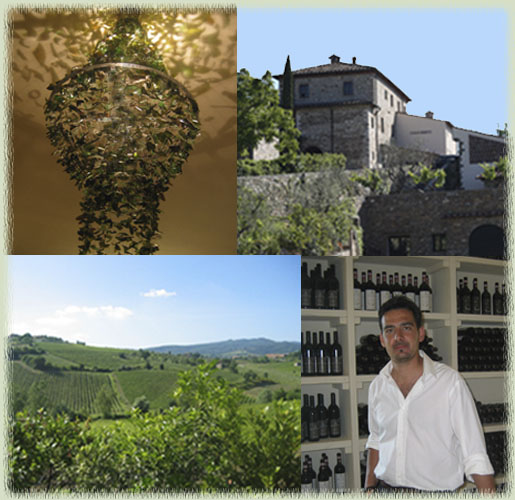 Colle Bereto has ancient origins—it was first mentioned at the beginning of the 11th century when it was donated to the church of San Lorenzo in Coltibuono by a wealthy Radda landowner. Colle Bereto describes itself as the place "where nature meets the traditions of an ancient land, equilibrium becomes perfection." Bernardo explained that "colle" means hillside and the vineyard is quite high in altitude for the area at 550 meters above sea level (it snows in the winter). The soil is a mixture of galestro (limestone) and albarese (clayey calcareous stone) on a rocky subsoil. The nights are cool and the days are warm—"good for Pinot Noir", a passion at this winery. Typically, they harvest the Pinot Noir (or Pinot Nero) grapes in mid–September, the Merlot grapes in late September and the Sangiovese grapes in the first week of October. They use traditional, natural farming techniques, paying great attention to detail. Bernardo also showed us their olive oil processing techniques. During the discussion, he observed, "We don't just grow olives, we cultivate them. It is a passion for us." Bernardo explained that the owners of Colle Bereto came from the fashion and design business and their impeccable taste is reflected in every detail throughout their facilities. They decorated one of their aging rooms with chandeliers made from broken wine bottle glass, casting a soothing hue over the entire area.
After the tour, we talked with Bernardo in their attractive tasting room, learning only then that they normally give tours to small groups who book in advance. Apparently, we had just experienced the wonderfully warm hospitality typical of Italy, having dropped in unannounced, expecting (or at least hoping for) a tour. Despite our faux pas, Bernardo had been very gracious, pointing out that Colle Bereto has a wine bar in Radda where you can sample their wines and olive oils. He went on to apologize that he couldn't open wines on the spot for us that day, but he gave us a bottle of their 2004 Chianti Classico (97% Sangiovese; 3% Colorino) to take with us to enjoy later on during our journey. And we did—it was a delightful, traditional Chianti; very smooth and flavorful. Their current importers in the USA are mainly on the East Coast—Cantina Italiana in Florida, Suprex International in Virginia and Grand Cru Imports in Pennsylvania.
The sun set as we drove back to the farm for our final evening in Tuscany for this trip. We arrived back home in time to make the kids a homemade meal of pasta and salad, using ingredients grown on the farm. We sat by the fireplace in the evening, perfectly content, even though we knew we had to pack up in the morning and head north.