The World's Best? Says Who!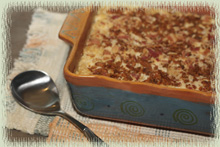 I just made the best macaroni & cheese tonight (notice I didn't preface with "The World's"?). I'm not so egotistical that I think my unique combination of ingredients should rate such a ubiquitous honor. Well, yes, I am that egotistical. I just manage to contain my moments of cooking glory to my own kitchen, not the entire universe. If all of my spawn manage to request the same meal on the same day, then I must have something good goin' on (that, or Mercury is in retrograde and a meteorite is about to blast through my kitchen ceiling).
Mac 'n cheese is one of those dishes otherwise known as comfort food (i.e., highly caloric and fattening). You know…some of the stuff that is making America's population obese and diabetic. What I really want to know is, how come Italian's don't receive the same grief as we do for eating all of the pasta dishes they're infamous for? We, on the other hand, have one pasta dish that's endemic to America and someone has to go and classify it as a food that you eat when you're in pain and need consoling. How about it's just plain good and makes a great meal when combined with a crisp, green salad and a nice glass of wine? I don't think anyone will argue with me on that one!
Granted, there are plenty of ways to glam–up mac 'n cheese. Most of the recipes I've tried that require special cheeses, herbs and flavorings just don't get high marks from my family. And believe me when I say that I've tried a lot of them. They usually just read better than they taste. I finally came to the conclusion that it's best to keep it simple and use straightforward ingredients that my family customarily enjoys in other dishes. And that, my friends, is the secret to my best mac 'n cheese recipe.
WI wine recommendation: An oaky Chardonnay or medium-bodied Chianti goes well with this cheese-based dish.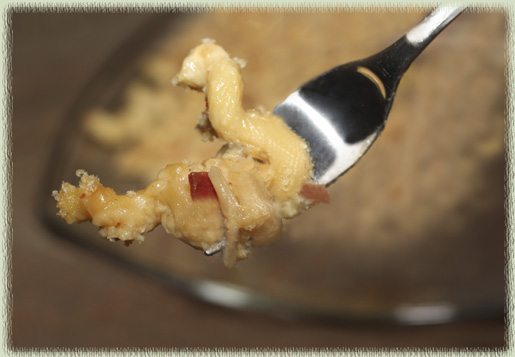 Best Mac 'n Cheese

5-6 tablespoons butter, divided
2 medium to large sweet onions, thinly sliced
1 teaspoon sugar
1/4 teaspoon salt
1 tablespoon garlic powder
1 pound uncooked macaroni or other noodles
1 teaspoon dried mustard
4 cloves fresh garlic, minced
1/4 cup dried, minced onion
1/4 teaspoon cayenne or other pepper
6 tablespoons all-purpose flour
3-1/2 cups milk
1 can (14-3/4 ounces) low–sodium chicken broth
8 ounces grated sharp white cheddar cheese
8 ounces grated fontina cheese
1/2 cup grated parmesan cheese
1/2 to 1 cup Japanese bread crumbs (panko)
1/4 cup french fried onions
6 slices smoked bacon, cooked crisp and chopped

Preheat oven to 400° F. Butter a 9×13–inch baking dish.
Melt 2 tablespoons of the butter in a large pan over medium heat. Add onions, sugar, salt and garlic powder. Cook, stirring often until onions caramelize, about 10–15 minutes. If mixture is too dry, add an additional tablespoon of butter. Set aside.
Bring a large pot of lightly salted water to a boil. Add macaroni and cook until al dente, 5 to 6 minutes. Drain, cover and set aside.
Melt the remaining 3 tablespoons butter in a large pot over medium heat. Mix the dry mustard into the butter along with the minced garlic, dried onion and cayenne pepper. Stir until fragrant, about 30 seconds. Sprinkle in the flour and cook until golden, about 1 minute. Slowly whisk in the milk and broth. Bring to a simmer stirring constantly until the mixture is slightly thickened, about 5 minutes.
Remove the pan from the heat and stir in the cheddar, fontina and parmesan cheeses until melted. Stir in the caramelized onions. Add the drained macaroni and stir until blended. Pour into the prepared baking dish and top with panko.
Bake until golden brown and bubbling around the edges, 25 to 30 minutes. A couple of minutes before you remove the dish from the oven, sprinkle the french fried onions and the chopped bacon over the top of the panko and continue baking (be sure to watch carefully so the toppings don't burn). Let cool for 5–10 minutes before serving (if you can wait that long!).
Comments (1)
September 29, 2008 at 9:22 am
Jen said:
I agree. The simpler the better when it comes to ingredients for comfort foods. I've seen recipes for mac 'n cheese that actually called for using blue cheese! Yuck!