Santa Barbara Harvest (part 1)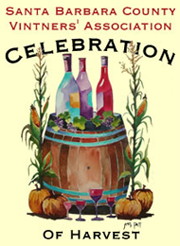 It's harvest time in the Santa Barbara wine country and the Santa Barbara County Vintners' Association was hosting their annual Celebration of Harvest on the scenic grounds of Rancho Sisquoc Winery in Santa Maria Valley, so we dropped by to see what was happening. It was a beautiful, sunny day as we escaped the wild fires burning in Los Angeles and enjoyed the drive up the California coast. We arrived just as the festival was getting started and we immediately noticed the difference from the Association's annual spring Vintners' Festival held each April to celebrate the new wine releases. You could sense a different kind of excitement in the air as this harvest festival marks a time of frenetic harvest activity in the area (we'll write more about that in part 2).
Traffic was lighter than we expected and we found ourselves on Foxen Canyon Road a little earlier than planned, so we stopped at Zaca Mesa along the way for a quick tasting. We arrived at the festival just as it began. Parking was in an open field that hadn't been graded, so the uneven terrain helped to put us in the mood right away as we made our wobbly way to the festival entrance.
Well over 100 Santa Barbara area wineries and more than 20 specialty food purveyors were on hand to showcase their wine and food. We sampled many of our old favorites and we can't write about all of the excellent ones, but we made a special effort to seek out those that were new to us and deserve a mention. In particular, we had our first tasting of Baehner Fournier Vineyards 2005 V3, a Bordeaux-style blend of Cabernet Sauvignon, Merlot and Petit Verdot. Owners Bob and Vickie Baehner purchased their vineyard property in 1999 to be closer to Vickie's ailing mother. They employ sustainable farming techniques, reflecting their respect and love for nature and work with winemaker Drew Horton, who contributes his expertise, resulting in a really nice wine that is winning a lot of medals. We'll look forward to more great results from this relatively new winery.
As for the food, we were really happy to see that Global Gardens is still going strong, with an ever-growing line of organic and natural specialty food products.
They used to show case their products in a local winery tasting room, but established their own store and product tasting room in Los Olivos a couple of years ago. There were many other repeat performers in the food category that we enjoyed again that day, but new to us was Bacchus Restaurant at Storybook Inn from nearby Solvang that served up a very tasty cold Roasted Pepper and Corn Bisque with Reposado Tequila that really hit the spot. We'll make it a point to visit their restaurant the next time we are in the area.
Music from local bands and a wine auction rounded out the festival activity. All considered, this Celebration of Harvest was a thoroughly enjoyable afternoon and appeared to be a great success.
Comments (1)
October 15, 2008 at 9:46 am
Janelle said:
We loved the Harvest wine festival this year! So many great wines to taste (we could barely get to them all!). The food was good too, but there seemed to be more of it at the Spring festival. All in all, a nice way to spend a beautiful autumn day.