Elevating Zinfandel

California Zinfandel dates back to at least the 1800s and, by the end of that century, was the most widely planted varietal in California. The Zin vineyards survived Prohibition by selling grapes for the "home market" and religious ceremonial use. By the 1970s, a Zin production accident resulted in a sweet White Zinfandel wine that became a consumer craze almost overnight. But Zinfandel, whether red or white, lacked critical acclaim as Cabernet Sauvignon and Chardonnay surpassed it in the fine wine category. That landscape has changed more recently, as top Zinfandel winemakers have consistently produced Zinfandel of ever–higher quality, and we were cordially invited to sample some of the greatest of the great ten days ago at the "Elevating Zinfandel" wine tasting event hosted by Ian Blackburn's wineLA organization at Republique on South La Brea Avenue.
The event was limited to fifteen top Zin producers (most of whom also produce other varieties of wine) from various California wine areas using grapes from as far north as Alexander Valley to Paso Robles to the south and extending from the Santa Cruz Mountains to the Amador County Gold Country at the foothills of the Sierra Nevada Mountains. Of course, the majority clustered around the Healdsburg–Russian River–Napa–Sonoma area. The first thing to know is that all of the roughly 50 wines on hand were very good to excellent. We can confidently say that the odds of a Zin fan not liking a wine from these producers are zero (or nearly so). An added plus at this relatively intimate event was the opportunity to meet and talk to the winemakers. We don't normally list all of the wineries from a particular tasting, but this event is an exception. The wines poured that day were from:
We can't list all of the Zins we sampled that day (and we sampled each and every one), but we'd like to list a few and impart some information we found interesting, while emphasizing that we'd be very happy to drink any of the Zins from any of the producers listed above. Some producers have been favorites of ours for many years. Clay Mauritson of Mauritson Wines poured their 2014 Rockpile Ridge Vineyard and 2014 Cemetery Vineyard (both bold with great tannins), while Ted Seghesio of Seghesio Family Vineyards poured their great 2013 Rockpile (Sonoma Valley) and 2013 Cortina Vineyard (Dry Creek Valley), and Christina Turley of Turley Wine Cellars poured her father's very good 2014 Juvenile (various California vineyards), the very full 2014 Kirschenmann Vineyard (Lodi) and bright 2014 Dusi Vineyard (Paso Robles). We really loved the nose on Ridge Vineyards' 2014 Geyserville Zinfandel Blend (Alexander Valley) and also fell for their 2014 East Bank Dry Creek and 2013 Lytton Springs.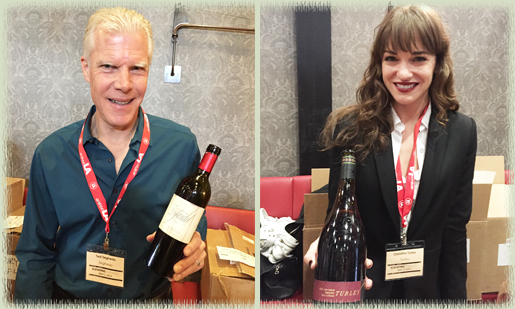 Some of the producers were less known to us, so we took the opportunity to get to know them a bit. We really enjoyed the range of wines poured by Jeff Cohn of Jeff Cohn Cellars, including his deep, dark and delightful 2013 Shake Ridge Vineyard (Amador County), deep and complex 2013 Hayne Vineyard (Napa Valley) and multi–experiential 2013 Imposter (red blend of 45%% Zin, 26% Syrah, 9% Petite Sirah, 8% Grenache, 5% Carignane, 3% Mourvèdre, 2% Alicante Bouschet and 1% each Black Muscat and Viognier from various vineyards). Jeff sources his grapes from many places and produces his wines in Oakland. So, if you live in town and don't have the chance to get out to the vineyards, Jeff is very accessible and it is worth a visit just to enjoy his dry sense of humor.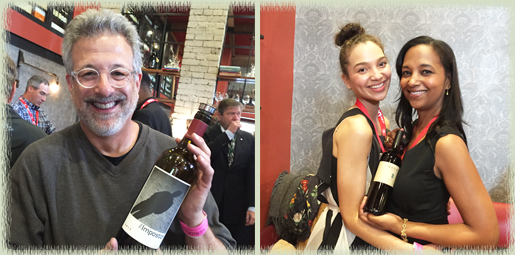 We've known Ian Blackburn for many years and, for several years, he has produced his own Zinfandel under his Beekeeper Cellars label in collaboration with Clay Mauritson. Ian poured his 2013 Madrone Spring Vineyard (grapes from the Mauritson family vineyards in the Rockpile AVA, straddling the ridge between the two arms of Lake Sonoma), 2014 Montecillo Vineyard (grapes from vines planted in 1984 by Mike Lee, Founder of Kenwood Vineyards) and 2012 Black Sears Vineyard "Old Vine Reserve" (nicknamed "Black Bee", produced from grapes of the Black Sears Vineyard on Howell Mountain in Napa Valley). These Zins are bold, dark and beautiful in structure, tannins and acidity. Note from the image below, the 2014 Montecillo Vineyard Zinfandel bears Ian's new label design, which is really attractive.
Zinfandel is a great California wine and those of you who haven't focused on Zinfandel for some time should make it a point to try some from these great producers. In his own way, Ian Blackburn has done a lot to elevate Zinfandel—from his own Beekeeper Cellars winemaking venture to hosting events such as this one, organized by Ian and his wife, Alice. Congratulations and many thanks, Ian and Alice and your entire team.

Disclosure: We were granted complimentary media credentials for this event.