Spring to Loire
The third annual Loire Valley wine tasting titled "Spring to Loire", sponsored by Loire Valley Wines, took place last week at the Smogshoppe. It seemed a bit smaller (in terms of wines poured as well as the number of people in attendance) than last year's event, but there were many very good wines on hand.
There were several Sauvignon Blanc wines we rated highly, particularly the Domaine Thierry Merlin Cherrier 2013 Sancerre Le Chéne Marchand, which had outstanding grapefruit notes, and the Michel Redde 2013 and 2011 "La Moynerie" Pouilly Fumé which also had refreshing grapefruit and melon notes. (Michel Redde is a small producer carried by Kobrand.) We also enjoyed the Langlois–Château 2014 Sancerre and the Chaumeau Balland 2014 Sancerre.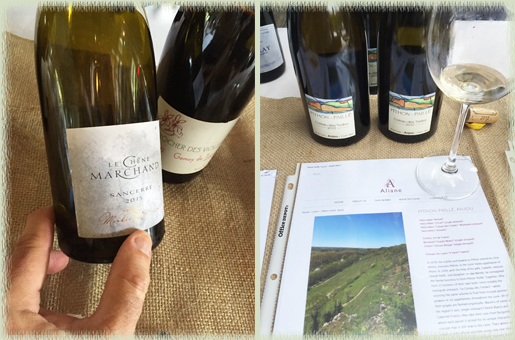 We both also love Chenin Blanc and there were many being poured that day. Chenin Blanc is a dry wine, though some have a little bit of sweetness. This year, many of these wines had some sweetness. Of the ones without the sweetness, we preferred the Clos du Gaimont 2014 Vouvray. Of the ones with some sweetness, we particularly liked the Domaine Vincent Carême 2010 "Le Clos" Vouvray, which showed complex fruit and a little bit of sweetness (in a good way), the Marie de Beauregard 2014 Vouvray and the Clos du Gaimont 2014 Vouvray. Leah particularly liked the Pithon–Paillé 2012 "Coteau des Treilles" Anjou because of its understated oakiness. We also enjoyed the Barton & Guestier 2014 Vouvray, the Pascal Laffourcade 2013 Savenniéres, which exhibited caramel and vanilla notes, and the Denis Breussin 2012 Vouvray Sec, which was nicely balanced. Last but not least, the Domaine des Gauletteries 2012 Jasnières was very nice.
One of the great finds of the day was the Domaine la Potardière 2014 Muscadet Sèvre et Maine (Melon de Bourgogne imported by Nomadic Distribution), which was bright and refreshing. The Barton & Guestier 2014 Rosé d'Anjou (Grolleau and Gamay) had a surprising (and nice) sensation of sweetness. The Alain Gueneau 2014 Sancerre Rosé (Pinot Noir) and the Sauvion 2015 Rosé d'Anjou (Groslot and Gamay) were also very good. The Domaine Dupuy 2010 Sparkling Touraine Rosé was very good and refreshing, as was their 2013 Touraine Noble Jouè Rosé (Meunier, Pinot Gris and Pinot Noir). We also appreciated the Domaine des Fontaines 2013 Cabernet d'Anjou "La Vignerie" Rosé which has a light flavor of strawberry.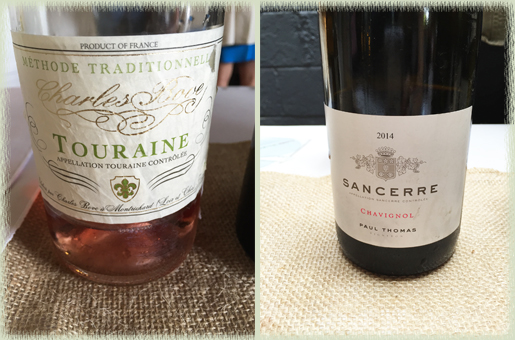 Did we sample any red wines that day? Yes, we did, and we thought the Domaine de Noire 2011 "Caractère" Chinon was terrific (a classic Chinon—easy drinking and very nice). The Domaine Paul Thomas 2014 "Chavignon" Sancerre (Pinot Noir from the village of Chavignon) had round tannins and nice fruit. One of our favorite red finds of the day was the Domaine Rocher des Violettes 2012 Gamay de Touraine which was very satisfying. The Chateau Tour Grise 2013 Chenin–Noir (Pineau d'Anuis from AOC Samur Puy Notre Dame) had an interesting nose and flavor.
There were many other great wines on hand to sample that day. If you haven't explored the wines of the Loire Valley, it's time you did.

Disclosure: We were granted complimentary media credentials for this event.