STARS of California Wine

On May 25th, we attended the STARS of California Wine tasting event in Beverly Hills, hosted by Ian Blackburn's wineLA organization. We enjoyed some excellent California wines that day, but our favorite wine of the tasting was the one we tasted first and last that day.
Some of the most notable wines, for us, at the tasting included the Fathers & Daughters Cellars 2014 Ferrington Sauvignon Blanc (very refreshing), the Bougetz Cellars 2014 Rutherford Sauvignon Blanc (Leah loved the pineapple notes), the Round Pond Estate 2015 Rutherford Sauvignon Blanc (full and balanced), the Workman Ayer 2014 Central Coast "Ipso Facto" Viognier (refreshing), the Tolosa Winery 2014 Edna Valley "Pure" Chardonnay (unoaked), the Carmel Road 2015 Barrymore Rose of Pinot Noir (best celebrity wine in a long time), the Westerly Wines 2014 Santa Barbara Bentrock Chardonnay, 2012 Sta. Rita Hills Pinot Noir and 2012 Santa Barbara Côte Blonde (three very balanced wines with great aromas), the Bougetz Cellars 2013 Jovana Napa Valley Merlot/Cabernet Franc (powerful & balanced), the Groth Vineyards & Winery 2012 Oakville Reserve Cabernet Sauvignon (bold and beautiful), the Calcareous 2012 Signature Cabernet Sauvignon (nicely oaked), the Beekeeper Cellars 2014 Sonoma Valley Montecillo Vineyard Zinfandel, and many other excellent California wines. Above and beyond that, our favorite wine of the tasting was from Chateau Margene.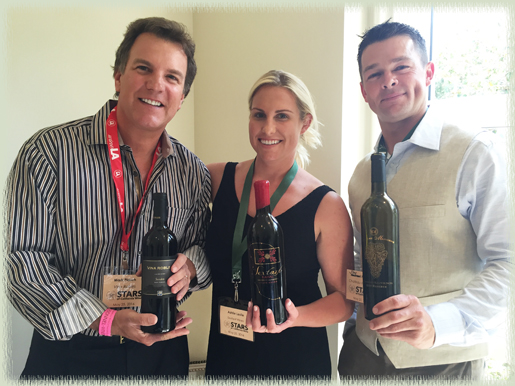 One of the great things about the "STARS" tasting series that wineLA hosts (and, frankly, all of their large tasting events) is that you get to meet, greet and talk to the winemakers (or close family members) directly. It had been a few years since we visited Chateau Margene in Paso Robles, but we remember how much we enjoyed their wines. When we arrived at the tasting event, the first table we encountered was the one for the Paso Robles Cab Collective, a group of distinct and very good to great wines from a dozen Paso Robles winemakers, represented that day by a few key people from that area. Jon Mooney stood out, not only for his professional presentations but also for the wine he brought from his Chateau Margene, the winery founded and operated by his winemaker father, Mike, and his mother (after whom the winery is named). Jon, who also works at the winery, is also a rising winemaker in his own right, working on some wines we can't wait to taste in the coming years. That day, however, he represented Chateau Margene's 2013 Reserve Cabernet Sauvignon, with its dark, luscious fruit, nicely balanced oak and lingering finish. We recalled visiting the winery's satellite tasting room that was opened at Vineyard Drive on Paso Robles' west side for five years (now closed) during their brand expansion, adding the Mooney Family and El Pistolero labels. Noticing that we really liked the wine, Jon suggested we visit the winery's Creston tasting room (which we had never visited) and try some of their other wines and maybe even some barrel samples. As luck would have it, we had already planned to be up his way in early June.

We departed Friday, June 10th, with another couple we know (who appreciate great wine and food and all things relaxing). After stopping for lunch at Bell Street Farm in Los Alamos (a "must" lunch spot stop if you are anywhere near there at midday), we made our way up to our home base (a two–suite rental with a huge chef's dream kitchen) with our friends' home grown vegetables, pizza dough and a host of other fresh ingredients we jointly contributed to the enterprise. The rental had a Bella pizza oven outside and so we spent that evening making and eating pizzas and other goodies and sampling some wines we brought with us. The next day, we had an appointment to meet with Jon and Mike at their winery.
We arrived late morning at the winery in the Paso Robles AVA's Creston District, on the east side of Highway 101. In case you aren't familiar with the Paso Robles area, it is pretty much halfway between San Francisco and Los Angeles and straddles the north–south Highway 101 around where it intersects the east–west Highway 46. Historically, the flatter area east of Highway 101 was home to a lot of bulk wine producers and, in more recent years, some very good wine producers. In the 1990s, some of the "better" wine producers settled or migrated to the west side of Highway 101, known for its hillier topography and more difficult growing conditions. This mystique of the Paso Robles "east–west dichotomy" is dissipating over time as some great winemakers have farmed the east side, using best practice techniques and limiting quantity in order to enhance quality. Mike Mooney brought us into their barrel room and explained why he selected the land that is home to Chateau Margene.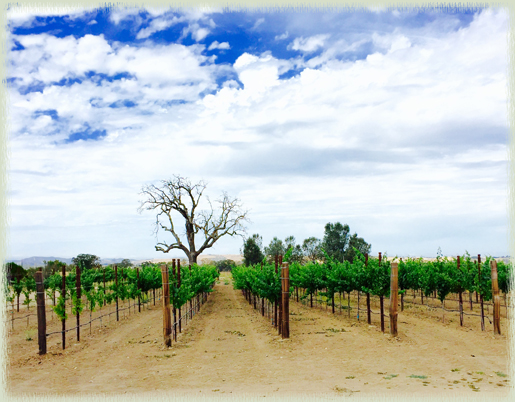 Mike liked the particular land in Creston because it has four distinct soil profiles and because it has what Mike calls "unspoiled grape–growing potential", since he grows his grapes and makes his wine using natural and organic methods. He hasn't obtained "organic" certification because he feels the cost of certification is unjustified, but since his family lives on the land, he doesn't want to use chemicals or other harsh agents that would adversely affect the land or his family's health. So, he follows organic practices.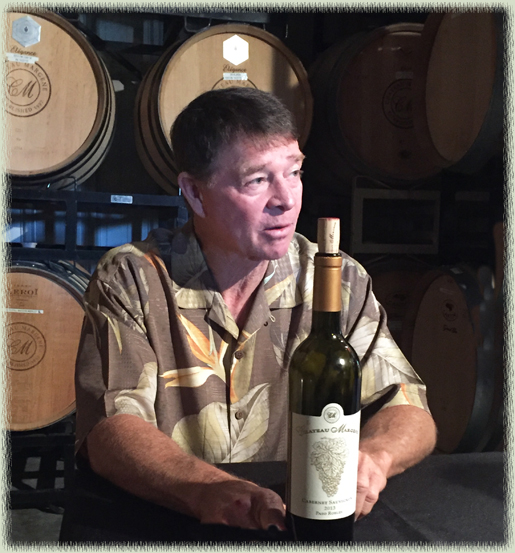 Mike clearly isn't a textbook wine grape farmer or winemaker, telling us he's never attended a class or sought instruction on winemaking. He had a dream to start a winery and so, in his mid-30s, he walked away from a successful sales and business development career to start his venture and established Chateau Margene in 1997. He talked to some experienced people and read up on the subject, but to this day, Mike says he tends his crops and times his harvests based on what he sees, feels and tastes, rather than on any scientific measurements. To illustrate his point, Mike explained how he looks for the darkness of the grape seeds and then chews some seeds to make sure their texture is similar to that of a toasted almond. If there is any softness to the seeds, he waits longer to pick the grapes. That doesn't mean he doesn't take any measurements to check on his work. He doesn't mind the pH level rising a bit above 3.5 (3.8–to 3.85 sounds good to him).
Mike and his crew hand pick, hand sort and gently process their grapes using a gravity–flow system he designed. He even came up with a unique sorter shelf that separates the small green berries from the ripe fruit using what is essentially a large ramp with particular sized holes in it. He also developed his own special tool for "punching down" the caps, which are essentially the solid masses of grape skins, stems, and pips (seeds) that float to the top of the fermenting vessels during fermentation. The caps need to remain moist during fermentation and so the crew has to break up each cap and push it back down into the wine at various times during the fermentation process. This introduces some oxygen to activate yeast cells that convert grape sugar into alcohol, prevents formation of bacteria and mold and enhances the color, flavor, tannins and other phenolic compounds of the end product. This tool is quite heavy; Mike says it provides a great workout for him and his son and other crew members (which helps to explain their great physical fitness).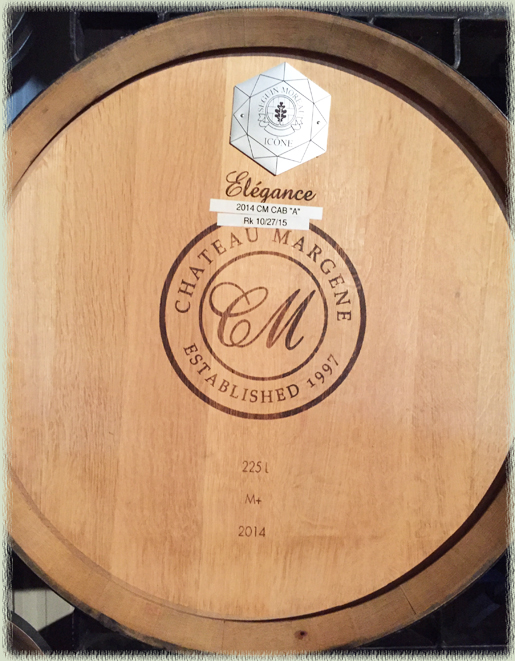 When it's time for the fermented grape juice to go into barrels, Mike selects from what he refers to as his "spice rack". Just as a chef uses an assortment of spices to flavor a sauce, Mike chooses among different barrels to add elements to his wines. Mike led us through a tour of barrels from different forests in different countries, each set having a variety of "toast" levels, ages and densities. If he wants a limited oak impact, he might choose a French barrel with a lighter toast (such as one marked M for medium toast) that has been used in previous years. Certain newer barrels with greater "toast" levels will have greater oak impacts. Mike explained that, in general, American oak tends to be heavier–handed than French oak. The tightness of the wood grain also has an impact. Life for Mike seems to be a rolling set of barrel experiments. For each vintage, he may have several barrels he is using merely to test the impact of those particular barrels on his wines. Then, he experiments with various varietal blends to achieve what he is looking for in a finished wine.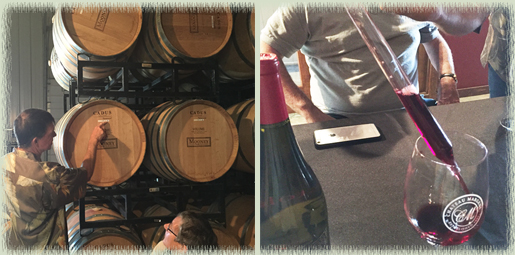 To illustrate his approach, Mike extracted some 2014 Pinot Noir (Clone Dijon 113) from a 4 year old barrel, then added a 2014 Pinot Noir (Clone Pommard 4) from a New French Oak barrel. My friend, Michael, wanted to know when he would be able to buy some of it, taking the words right out of my mouth. Mike Mooney explained that this blend will come out under his El Pistolero label soon (so it promises to be a real value buy). For a second sample, Mike extracted some 2013 Merlot from an older barrel and asked, what do you think? The answer was, somewhat muted nose and a bit of alcohol. Then, Mike added some 2014 Cabernet Sauvignon from a new American barrel, asking how about now? Wow, black currant and cedar with great balance throughout. What a transformation! Mike explained that the blending is where it all comes together.
For some of his labels, particularly the Mooney Family wine label (Pinot Noirs and Chardonnays), Mike sources grapes from the Santa Lucia Highlands, a cool–climate appellation of terraces at the Santa Lucia mountain range, overlooking the Salinas River Valley close to Monterey Bay. He also has the El Pistolero label (Chardonnay, Pinot Noir, Cab and Meritage), a label reminiscent of his bandito forefather, that he offers through a tasting room in Morro Bay. For his Chateau Margene label, however, Mike is increasingly moving to estate grapes and plans to use entirely estate grapes within about two years. To finish out our tasting, Mike poured us his 2012 Cask 4, an award winning Chateau Margene Cabernet that presents dark berry fruit with layers of coffee and spice. The oak is clearly present, but (thankfully) restrained in comparison to many leading Napa Valley Cabs these days, which is in keeping with Mike's philosophy of letting the fruit speak for itself while judiciously using oak to accent the fruit in a nuanced manner. His approach works very well, and he receives the high ratings and accolades anyway. We plan to follow Chateau Margene, Mooney Family, El Pistolero and Jon's new Rhone program, labelled "J Mooney" in the coming years, as we expect these STARS of California Wine to continue to reach even greater heights.

Disclosure: We were granted complimentary media credentials for the STARS of California Wine event and also received complimentary tastings at Chateau Margene.