Rusacks' Santa Catalina Island Wine Romance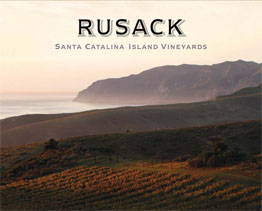 About 25 years ago, around the time Geoff and Alison Rusack first met, they flew over to Santa Catalina Island (one of the Southern Channel Islands) together and conceived of a dream project—to plant a vineyard on the island and produce wine. A romantic notion indeed! But then, as the song goes, "Twenty–six miles across the sea, Santa Catalina is a-waitin' for me, Santa Catalina, the island of romance…" Of course, it helps if your family has multi-generational ties to the island (Alison's maiden name is Wrigley, as in the gum and Wrigley Field fame). After all, they weren't completely crazy. Flash forward to today and you can now enjoy three distinctive wines that flow directly from that romantic dream. Of course, it was a long and winding road to get there. But that's another song entirely.
The first step was to establish Rusack in 1995 and build it into a premier Santa Barbara County winery. Rusack is nestled in the stunning Ballard Canyon, which you can access by driving just a few miles from Solvang on Ballard Canyon Road or by dropping roughly the same distance down from Los Olivos. It's a scenic drive and the reward for your effort is a visit to Rusack's charming vineyard and tasting room (complete with a pastoral picnic area). After nearly 30 years, they replanted the vineyards in 2003 under the direction of their then-new winemakers, husband and wife John and Helen Falcone. (You just knew this story was filled with romance, right?) In Ballard Canyon, Rusack offers up a broad range of excellent wines poured by their friendly and informative staff. Yet, the Rusacks' dream of island wine percolated until it finally took shape.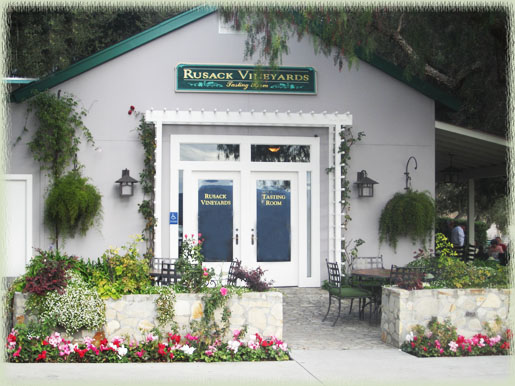 Rusack Santa Catalina Island Vineyards recently released the 2009 inaugural vintage of its wines—Chardonnay (250 cases), Pinot Noir (150 cases) and Zinfandel (75 cases)—produced from their grapes grown on the island. But this was no small undertaking. Twelve miles outside Avalon, the tourist center of the island, sits El Rancho Escondido, formerly an Arabian horse breeding ranch. Alison's family previously dedicated most of the island to the Catalina Island Conservancy and she still works with the Conservancy board to preserve the island for future generations of visitors. Having reserved El Rancho Escondido from the grant, Geoff and Alison hoped to locate vineyards there someday. Over eight years ago, they began soil testing, climate studies and all the permitting and planning required to establish any vineyard, but planting on the island posed some unique challenges. As winemaker John Falcone explained, "To begin a project like this requires a certain level of seriousness and capital investment. Geoff and Alison wanted to plant the vineyard to enhance the island and serve as an attraction, but in a way that respects the island environment. The sheer thought of planting vineyards there, giving them proper care and transporting supplies in and grapes out was daunting. It was always a high-end idea at an exotic location, but the question remained, can we make world-class quality wine there?"
The climate proved to be nearly Burgundian—great for cool-climate varietals such as Chardonnay and Pinot Noir—except that heat degree calculations revealed the annual temperature low was 42° F. John explained, "Is it cold enough for the vines to go dormant when they should? The moderating influence of the ocean meant that there was no freeze, not even frost. If it doesn't get cold enough in winter to shut down the vines, they continuously push green leaves and pruning becomes a problem, as well as uneven ripening of the fruit. For the Chardonnay and Pinot Noir, it was just cold enough. We still have some challenge with the Zin because the uneven bud break timing means that you really need trained eyes to know how to treat each vine individually so you get it right. Fortunately, we have those trained eyes at Rusack."
Another challenge for John was the salt level in the vineyard soil. "Salt is toxic to grape vines, so we had to innovate. The deeper you dig, the higher the salt concentration there. So, where any other vineyard would plant two vine rows, we scooped the topsoil out of one potential row and mounded that soil in the adjacent row where we then planted the vines. This doubled the topsoil to about four feet for the rows we planted, which proved just sufficient for the vines, which grow roots of 3–4 feet in depth. This planting pattern lowers the yield per acre, but the resulting fruit is preserved. We maintained four feet between planted vine rows, so we keep at least three feet between the vines in a single row. This is tighter than we are used to, but still less tight than much of the plantings in Napa Valley. Although we monitor the root situation, the roots generally follow water and avoid salt. They don't want to go into the salty area below, so they flatten out. Factors like rainfall levels, irrigation and soil composition also affect root growth pattern. To assist nature, we also built an extensive drainage system to help purge the soil and keep the salt moving downward."
While some challenges are constant, others depend on the particular year. "The 2010 crop, our next vintage, was impacted by yellowjackets. They wiped out 30-40% of our fruit. They aren't just a problem on the island as they also affect crops on the mainland, but they really impacted us on the island that year. So, the yield for 2010 is about half of the 2009 yield." The 2009 vintage also had its own challenges, including a plague of crickets and a late August heat wave that ripened the fruit quickly and accelerated their harvest plans. The two-day harvest for the Pinot Noir had to begin on September 1st, earlier than expected, and then the grapes had to be immediately airlifted to Rusack's winery in Ballard Canyon. The Chardonnay and Zin grapes quickly followed. John, Helen and assistant winemaker Steven Gerbac waited anxiously, but were very pleased with the characteristics of the juice.
When Leah and I visited Rusack's Ballard Canyon tasting room, we had the opportunity to taste the 2009 vintage of Rusack's Santa Catalina Island Vineyards wines. It turns out that all the challenges they encountered on the island didn't stop Geoff and Alison from realizing their romantic dream. The wines are distinctive in their expression of the island. The Chardonnay is bright and balanced. The Zinfandel is substantial and complex, but slightly restrained in comparison to other California Zins. (To address the question of whether Zinfandel vines could flourish in the cooler–climate, salty island setting, the Zin vines were reclaimed from long–abandoned growth on Santa Cruz Island, one of the Northern Channel Islands near Santa Barbara, and grafted onto rootstock that is resistant to salt.) The Pinot Noir is delicious, with lively fruit and very interesting stone and saline notes at the lingering finish (which reminds us of the finishing notes we noticed in some of the very high-end, less oaky California Chardonnays, and makes you eager for yet another sip). While the wines are not inexpensive (a set of the three runs about $250, but less for their Isla Wine Circle members), it is a value considering the uniqueness of the wines, the obvious costs to bring these wines to market and the romance of the island (or, as John says, "A place where no one else has made wine"). They are available direct from Rusack and you can also pick up a bottle at the Avalon Grille restaurant or the CC Gallagher retail shop on the island.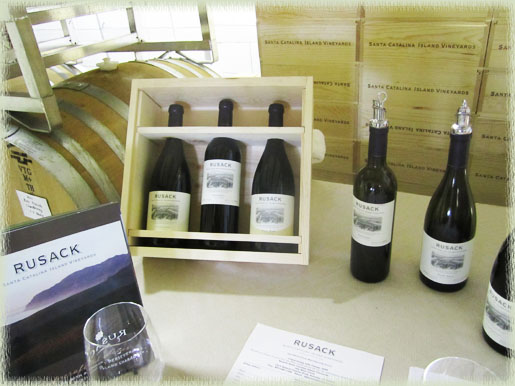 What's next for Rusack's Santa Catalina Island Vineyards? Of El Rancho Escondido's 100 acres, only six acres are planted with vines—3 Pinot Noir, 2 Chardonnay and 1 Zin—with permission to plant up to 18 acres. The long–term plan is to build a visitors' center at the ranch and, eventually, a winery and tasting room there. The island is already a great place to visit, but these enhancements will only make it more so—and even more romantic!
The aerial photos of Rusack's Santa Catalina Island Vinyards are courtesy of Jack Baldelli, with permission through Rusack. Additional details of the Rusack Santa Catalina Island Vineyards story and more of Jack's stunning pictures can be seen in Rusack's beautiful, free eBook.