Checking Out Plan Check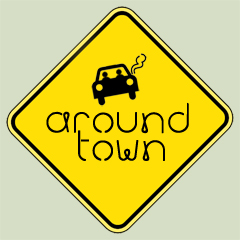 What's better than experiencing a new eatery/watering hole that actually lives up to expectations? How about experiencing it a quick drive from your home so you can easily frequent it when the mood strikes! Plan Check, located on Westside Los Angeles' Japanese restaurant strip known as Little Osaka, is the latest entry into the much–embraced pub–grub scene in Los Angeles. Playing up the theme of the nearby Department of Building and Safety with its polished industrial look; it draws inspiration for some of its menu items from neighboring Japanese restaurants. Quite a juxtaposition feat, we thought after our first visit!
Plan Check has the perfect chef on board—Ernesto Uchimura of Umami Burger fame—to fulfill owner Terry Heller's desire to offer modern American comfort food that embodies the culture of the surrounding area. He created a menu that pairs perfectly with all of their unique cocktails, craft brews and approachable wines by the glass and some high–end wine bottles. They also offer a selection of premium well spirits, like Japanese whiskeys and small batch bourbon. And don't forget to ask about their adulterated Moonshine house soda. Leah began the night with the Yuzu Moonshine and never looked back! It was quite refreshing and decidedly the perfect drink to quell those long, hot LA summer nights once they kick in!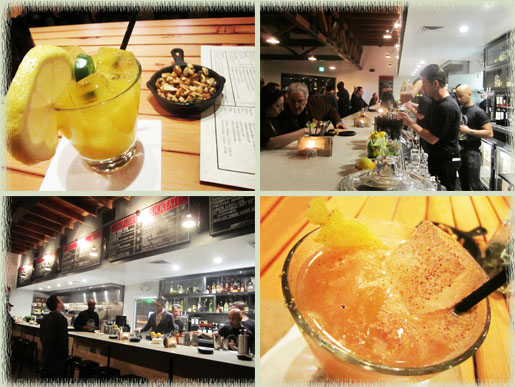 We sampled a nice assortment from the menu, all successfully paying homage to American–fare classics (with a hint of Japan thrown in occasionally). Little iron frying pans filled with nuts that are both sweet and salty with a hint of wasabi was our first taste from the Snacks/Apps menu. Next came a bag of freshly fried Veggie Chips (similar to Terra Chips, but much crispier) and a little cup of guacamole. Leah personally prefers dipping only tortilla chips into her guac, so she thought something more Americana like onion dip (even better—caramelized onion dip!) would have been more appropriate to serve with these chips. Good nonetheless.
Next up, we were asked to select from the Burgers/Sandwiches menu: either their signature PCB (Plan Check Burger) or the Bleuprint (clever naming!) Burger. This was a no–brainer, as the Wine Imbiber hates anything with the word "bleu" in it, so PCB it was! This choice consisted of akaushi red wagyu beef, "americanized" (whatever that means) cheese, ketchup leather, savory onions and mixed pickles all served on a crunch bun. Leah despises ketchup, but couldn't resist experiencing the gimmickry of the ketchup leather after hearing the description of it (think: fruit leather made with tomatoes instead of fruit). They place the ketchup leather on the bottom, between the meat patty and the bun. The heat of the grilled meat slowly melts the ketchup, preventing the fantastic crunch bun from getting prematurely soggy. It works! Someone must have stayed awake long nights thinking up that one. They also served some of their Fresh Cut Fries from Sides/Salads (skin on Kennebec potatoes, beef tallow, smoked salt) with their freshly–made ketchup alongside. Yum! Leah quickly forgot how much she dislikes ketchup.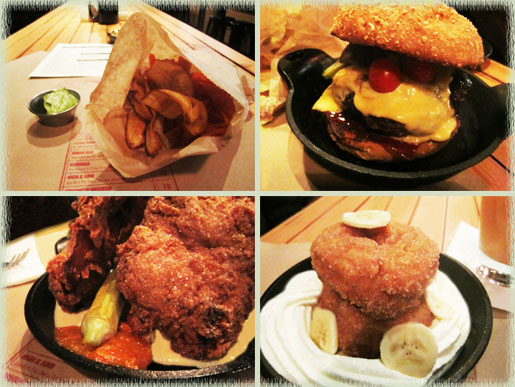 An item from their Dishes menu followed next. Smokey Fried Chicken, consisting of Jidori chicken that is deep fried (of course…this is bar food after all!), smoked milk gravy, yam preserves and a pair of spicy pickled okra (which Leah enjoyed more than her usual side fave of dill pickles).
We were quite sated by this point (and I haven't even mentioned most of our imbibing yet!). But, when the server presented the Cruller Donuts from the Sweets section to us, our appetites magically reappeared! Leah loves churros, and these are the French version of her favorite Mexican donuts. Whipped cream and sliced banana accompanied them very tastily. More please!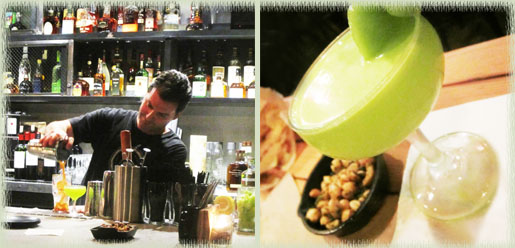 As far as the imbibing goes, let's just say they serve up some very creative Cocktails (thanks to consulting barmen Steve Livigni and Pablo Moix), a nice selection of both Draft and Bottled Beer, a respectable Wine list and some interesting–looking Non–Alcoholic drinks like house–made sodas and Margo's Bark Root Beer (who donates all their profits to help shelter dogs—something we love!). Rich especially liked the Tropic Thunder (jalapeño infused Kanon vodka, mango, lemon juice, sugar) and Leah took to the Godzilla (Pisco porton, midori, orgeat, lemon, lime) and the Little Osaka Sour (Woodford bourbon, plum wine, lemon, egg white, sugar). We both appreciated their serious approach to serving a well–prepared cocktail with perfect, full–sized ice cubes. No ice chips here!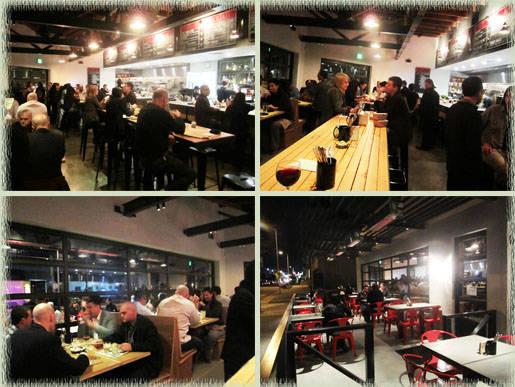 All in all, Plan Check is a major plus for the Little Osaka section of Sawtelle Boulevard. I know of a certain college spawn who will love this place once she graduates this June and returns to Los Angeles. It will certainly be a point of destination for college–types and even those with families (with older kids) should fit in, given the menu and the plentiful seating on the outdoor patio. Ch–Ch–Check it out soon!


Plan Check Kitchen + Bar
1800 Sawtelle Blvd, LA CA 90025
310-288-6500
Hours/ Sun-Thurs: 11am-midnight / Fri & Sat: 11am-2am
plancheckbar.com

Disclosure: Our evening at Plan Check Kitchen + Bar was graciously hosted by them.
Comments (2)
March 5, 2012 at 11:51 am
Oti said:
Went! loved it! Just wish it wasn't so popular already.

March 13, 2012 at 4:16 pm
Bettie
said:
We visited the Firestone Vineyard in the Santa Ynez Valley last weekend. Boy do they have some great wines. Firestone is part of the Foley Estate. They produce wonderful Chardonnays and Pinot Noir wines. One of our favorites was their 2007
Lineage "The Chairman Series. This red wine is a blend of 40% Cabernet sauvignon,20% Cabernet Franc,15% Merlot,15% Petit Verdot, and 10% Malbec. Since we were with friends who are wine club members we were treated to the wine club lounge,truly a relaxing experience. A must visit when in the Solvang area.