Cookies & Corks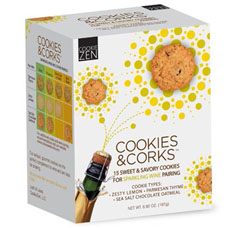 When Rich and I first began Wine Imbiber almost four years ago, our goal was to provide useful information about wine that would help our readers choose wines that not only complement the food on their plate, but also enhance it. As Chrystal and Steve Clifton of Palmina Wines believe, "Wine is an extension of the plate, a component of a meal and a means to bring people together." We were thrilled to discover this winemaker who shared our passion for pairing the right wine with food. We even attended their very first educational program that discussed Tocai Friulano, which happens to pair well with asparagus, artichokes, broccoli and Brussels sprouts (a difficult food group to contend with when choosing a complementary wine!).
Another food type that both intrigued and puzzled us when it came to finding appropriate pairing wines was chocolate. Fortunately, we discovered Chuao Chocolatier and had the pleasure of interviewing Master Chef & Chocolatier Michael Antonorsi, who co–owns Chuao Chocolatier with his brother, Richard. He elaborated on Chuao's guide to creating a perfect wine and chocolate pairing. Considering the amount of dessert recipes I've managed to post on this wine website, his insights were very useful to us for making wine recommendations.
Imagine my glee when I recently found another dessert product that not only met my picky fancy–food standards, but was also created to be enjoyed paired specifically with wine. It was like discovering a sister from another mister! And guess what…one of the co–founders of the company even shares my first name (and spells it properly, I might add!).
Leah Kuo and Laura Englander have done a great job with their Cookies & Corks product line, which are sweet and savory cookies crafted specifically for pairing with your favorite wines (red, white and sparkling). They cleverly printed pairing recommendations on the outside of each cookie box, thus eliminating the angst of which wine type to serve with your future purchase. You can also view an easy–to–read chart on their website, which is perfect for those who are wine pairing–impaired. After all, their goal is similar to Wine Imbiber's goal, which as I mentioned earlier, is to shed some light on the sometimes complicated process of wine and food pairing. Introducing people to the novel experience of cookie and wine pairing is a fun yet elegant way of learning how to pair food with wine.
We received three different variety boxes of cookies to sample, each box containing fifteen cookies of three decadent flavors. (If you should happen to discover a favorite cookie, single flavor boxes are available as well.) We shared the white and sparkling wine cookies with friends over the holidays, and found them to be quite good. We were drinking a crisp La Fornarina Prosecco from Cantine Contarini along with a toasty Thomas Fogarty 2006 Estate Chardonnay that night. The Apricot Sage cookies seemed to be the overall favorite, with Zesty Lemon ranking a close second. The fruity undertones and rich, buttery quality of these cookies really did play nicely with our wine selections. We haven't tried the red wine pairing cookie selection yet, but I'm guessing they'll be just as good considering our nice experience with the white and sparkling wine cookies.
Bottom line, baking desserts (cookies, in particular) is a passion of mine, so I don't know that I'll buy these cookies on a regular basis for consuming with wine. But, I do think they would be great additions to both wine–themed gift baskets and impromptu picnic baskets for wine country visits. And I'm sure they'd also fit right in at your next wine tasting party (great icebreakers for wine chat!). Be sure to display the cookie boxes alongside the wines so people can compare their opinions to the recommendations printed on the box. You'll find that everyone eventually ends up discovering their own favorite pairings (something Cookies & Cork encourages you to do for more fun).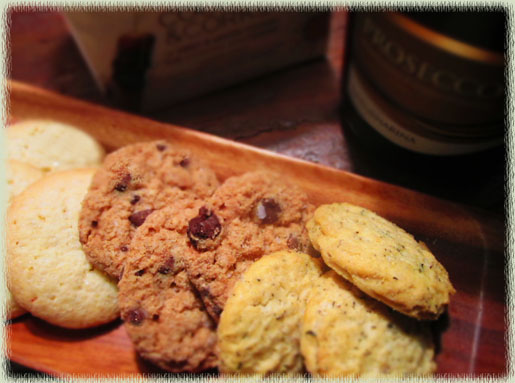 Disclosures: Box photo courtesy of Cookies & Corks. We were provided with samples of the cookies consumed for this article.