Tinta de Toro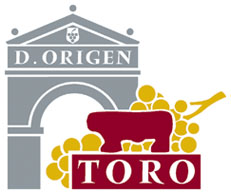 Last month, I wrote about Tempranillo, the Spanish red grape that has become popular around the world. Coincidentally, I was invited to a trade and media tasting of Tinta de Toro earlier this week. I hadn't heard much about Tinta de Toro before, so I thought it would be a great opportunity to learn more about Spanish wines. Leah and I were able to get into a tasting seminar led by Fred Dexheimer, a master sommelier who was formerly with BLT Restaurant Group and the Jean Georges Group and who more recently founded Juiceman Group, specializing in wine, beverage, hospitality and event consulting for restaurants, hotels, bars, corporate and private clients.
It turns out that Tinta de Toro is the name they give Tempranillo in Toro, a winemaking Denominación de Origen (or D.O.) in the province of Zamora in northwestern Spain, near Spain's border with northern Portugal. Tinta is Spanish for red. The grape itself is black and small, with a very thick skin, which enables wines having high structure and very deep color. The aroma in the room told us that these were the more intense Tempranillos, unlike the one I wrote about last month. Each of the 60-80 winos in attendance sat before 14 glasses, each holding a taste of the best offering of a selection of the wineries exhibiting at the event. The program began with a short presentation by Rubén Gil Alfageme, the Secretary General of D.O. Toro, followed by some historical background from Fred.
Tinta de Toro dates back to around 210 B.C. when the Romans conquered the area and promoted vineyard planting. The area's climate is known for long hot summers and cold winters at an elevation of 600–800 meters. The sand and clay soils collect and hold enough water in the rainy seasons to provide for the grapes during the growing season. Temperature variations allow the grapes to ripen well and concentrate the sugars (temperatures in the September to October harvest time can vary between 22° and 4° C daily).
Traditionally, Tinta de Toro was produced to 16% or more alcohol, but in recent years the winemakers harvest the grapes a bit earlier so that they can restrain the alcohol content to a more reasonable 13–1/2 to 15–1/2% which has made this wine a bit more approachable to a broader audience. The D.O. Toro was established in 1987, but the area's vineyards boast a lot of old vines, with about 20% being over 60 years old. In the 19th century, the area's wineries exported much of their production to France, where vineyards were being wiped out by phylloxera. Much of the Tinta de Toro vines were resistant to this plague and some of that original rootstock survives today. Today, there are about 50 wineries in D.O. Toro. This is a hearty wine for those who prefer inky big reds. D.O. Toro is also known for Garnacha, Verdejo and Malvasia wines.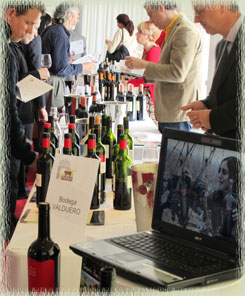 Tinta de Toro is very tannic and is most definitely a food wine, more specifically red meats and even cheeseburgers. I must admit, it was a bit of work to taste through 14 pretty intense red wines with just a glass or two of water to refresh. (The sacrifices we make!) Fred organized the tasting order by the type of oak used to age the wines. The first wine was unoaked, which enabled us to taste the grape fruit in its purer form. It was interesting to see how the peppery American oak really influenced the taste when compared to the French or Hungarian oaks. For us, one of the most drinkable wines of the group was the Bodegas Fariña "Gran Dama de Toro" 2004, produced by one of the founding fathers of the Toro region. Also worth noting is the Bodegas Francisco Casas "Vina Abba" 2007. Our standout favorite of the tasting, however, was the Volvoreta "Probus" 2009 produced biodynamically using only French oak by María Alfonso Hernández and her father in a family operation. We stopped by her table after the seminar and were able to enjoy a barrel tasting of the 2010 vintage as well. This wine has a very nice structure and balance with full red berry flavors.
The tasting event was held at the SLS Hotel, home to José Andrés' The Bazaar restaurant. The hotel provided a nice assortment of finger food during the main wine tasting exhibition, including a simply prepared watermelon tomato bite that was really refreshing. Posted below is our interpretation of it.
WI wine recommendation: Tinta de Toro (or other Tempranillo).

Watermelon Tomato Bites

Cherry tomatoes
Watermelon
Thyme leaves (or other micro–herb)
Balsamic vinegar

Cut cherry tomatoes in half and push out any seeds with your finger.
Cut watermelon into bite-sized cubes (about same width as cherry tomatoes).
Place tomato half on top of watermelon cube (cut side of tomato facing up) and skewer through top to bottom.
Sprinkle small amount of balsamic vinegar into tomato half and top with one or two thyme leaves.