Watermelon Tomato Bites
This recipe appeared in Tinta de Toro on 12 Mar 2011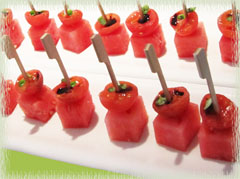 Cherry tomatoes
Watermelon
Thyme leaves (or other micro–herb)
Balsamic vinegar

Cut cherry tomatoes in half and push out any seeds with your finger.
Cut watermelon into bite-sized cubes (about same width as cherry tomatoes).
Place tomato half on top of watermelon cube (cut side of tomato facing up) and skewer through top to bottom.
Sprinkle small amount of balsamic vinegar into tomato half and top with one or two thyme leaves.
WI wine recommendation: Tinta de Toro (or other Tempranillo).