Get Your Shamrock On!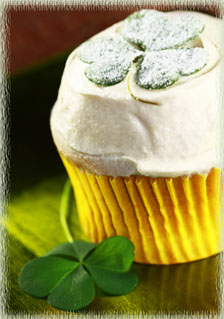 Figuring out what to make for dinner every year on St. Patrick's Day has never been a problem. Rich is Irish and takes command of our fete, beginning with a corned beef and cabbage dinner (natch!) and ending the next night with corned beef hash (made from leftovers) with poached eggs. Those dishes are always a given this time of year around our place.
What isn't a given is dessert. Typical Irish desserts are usually made with things like apples, oats and dried fruits; none of which have the same eye appeal as a something green, gold or rainbow–colored. At least that's the dilemma I was faced with when trying to create desserts that would inspire some Irish enthusiasm in our then much–younger children. I fell into the same trap as everybody else looking to become Irish for the day and used lots of green and yellow food coloring and made a lot of mint, pistachio and lime–flavored desserts. Nothing wrong with that, other than they really aren't traditional Irish flavors, just colors.
So this year I decided to consult Martha. Certainly she'd have something both tasty and eye-appealing I could try. I haven't made cupcakes in awhile, so I checked out her Cupcakes book that's been sitting on my cookbook shelf and found the perfect recipe. It didn't involve any of the obvious colors or decorations one might expect for a recipe entitled St. Patrick's Day Cupcakes (except the use of crystallized shamrocks, sooo Martha!), but I couldn't resist the call emanating from my cupboard. It was all the decorating supplies I've managed to stockpile from holidays gone by, each beckoning to be selected. I of course relented, turning Martha's simple yet charming shamrock suggestion into an exercise in Irish–themed cupcake decorating.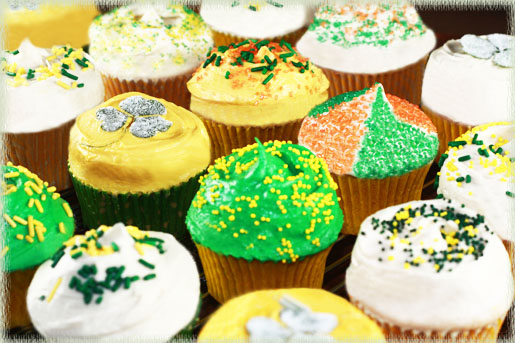 I started with the crystallized shamrocks, which dumbfounded everyone. "These things grow in our yard?" I was repeatedly asked. Teenaged boys can be so oblivious. Next was the icing—Martha's Bailey's Irish Cream Frosting (white) plus my renditions of Emerald Isle green and gold coin yellow. Jimmies, nonpareils, and colored sugars followed soon after. Every sprinkle of decoration elicited art commentary that was both amusing and insightful; something akin to a Rorschach Test. Usually, our boys are more concerned with when they get to eat. In this instance, it was more of which one each of them would get (and then when—they're always hungry!).
As I mentioned earlier, I found these recipes in Martha Stewart's Cupcakes, which is a compilation of cupcake recipes that were previously published in Martha Stewart Living along with some updates and new ideas. Being the cupcake aficionado that I am, I really appreciate this book. It features many ideas that will inspire you to experiment on your own to create cupcakes perfect for any occasion or holiday. Such was the case with these cupcakes. I loved the idea of using a real shamrock as a decoration, and crystallizing them just seemed to lend a leprechaun's magical touch to the whole look. That must have been something they decided to do for the book as the link listed above shows plain shamrocks without the sugar, and also follows a different cupcake recipe.
I really liked the combination of recipes the book suggests. The cupcake is a Brown Sugar Pound Cake, made with buttermilk (which produces a more tender crumb) and brown sugar (which provides a hint of caramel) instead of granulated sugar. The Bailey's Irish Cream Frosting has a wee bit o' Irish in it with the inclusion of the Irish cream. I didn't have any Bailey's on hand, so I used another brand and renamed both recipes with more fitting Irish themes.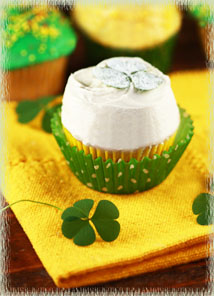 I thought these tasted heavenly when eaten slightly warm, with the icing just blobbed on from the bowl (is it obvious I couldn't wait?). Some people left comments about the pound cakes turning out too dry, which I didn't find to be the case as I was stuffing a still–warm one in my face. They do tend to dry out the longer they sit around, though, so I recommend eating them within a day or two of making them. Or, try someone's suggestion of using cake flour instead of AP flour. If you do make the crystallized shamrocks, don't forget to remove them before eating the cupcakes. (They're only good for looks, not taste.) Better yet, why not rediscover the plethora of baking decorations you probably have (like me) stashed away in your pantry. It will make you feel like kicking up your heels like a lucky little leprechaun when you discover how creative you can become with what you have on hand!
WI wine recommendation: Skip the wine and stick to beer. It's St. Patrick's Day after all! These Pub Cakes are mighty sweet, so some plain ol' bubble water might be in order (that's what we discovered anyway). A wee bit o' tea would also hit the spot with these pub cakes.

For Glenn (5/21/52 – 3/16/11)
May the leprechauns be near you,
To spread luck along your way.
May all the Irish angels,
Smile upon you on St. Patrick's Day.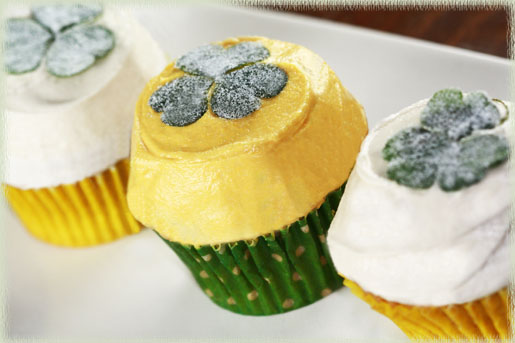 Brown Sugar Pub Cakes with Irish Cream Frosting
Brown Sugar Pub (Pound) Cakes
(from Martha Stewart's Cupcakes)
3 cups sifted all–purpose flour
2 teaspoons baking powder
1/2 teaspoon salt
8 ounces (2 sticks) unsalted butter, softened
2–1/4 cups packed light-brown sugar
4 large eggs, room temperature
3/4 cup buttermilk

Preheat oven to 325° F. Line standard muffin tins with paper liners. Whisk together flour, baking powder and salt.
With an electric mixer on medium high–speed, cream butter and brown sugar until pale and fluffy. Add eggs, one at a time, beating until each is incorporated, scraping down sides of bowl as needed. Add flour mixture in three batches, alternating with two additions of buttermilk, and beating until combined after each.
Divide batter evenly among lined cups, filling each three–quarters full. Bake, rotating tins halfway through, until golden brown and a cake tester inserted in centers comes out clean (about 25 minutes). Transfer tins to wire racks to cool 10 minutes; turn out cupcakes onto racks and let cool completely. These cupcakes are best eaten the day they are made.
Note: Recipe claims to make 28 cupcakes; I only got 22 out of it.

Irish Cream Frosting
(adapted from Martha Stewart's Cupcakes)
1–1/2 cups (3 sticks) unsalted butter, room temperature
1 pound (4 cups) confectioner's sugar, sifted
3 tablespoons Irish Cream Liqueur (Bailey's or other brand)
1/2 teaspoon pure vanilla extract

With an electric mixer on medium–high speed, cream butter until light and fluffy (about 3 to 4 minutes). Reduce speed to medium. Add the confectioner's sugar, 1/2 cup at a time, beating well after each addition and scraping down the sides of bowl as needed (about 5 minutes total). After every two additions, raise the speed to high and beat for 10 seconds to aerate the frosting. Note: If you have the patience to add the sugar in more slowly (more like a few tablespoons at a time), the frosting will turn out less grainy and will require less sugar to thicken it up.
Add the Irish Cream and vanilla; beat until combined and smooth. Use immediately or refrigerate up to 5 days in an airtight container. Bring to room temperature and beat on low speed until smooth before using. Makes enough to frost 24 cupcakes.

Crystallized Shamrocks (or Flowers)
(from Martha Stewart's Cupcakes)
1 large egg white
1 teaspoon water
Pesticide–free shamrocks (or flowers)
Superfine sugar, for sprinkling

Whisk egg white with the water in a small bowl. Working with one shamrock (or flower) at a time and holding it with kitchen tweezers, brush egg wash over entire surface of flower using a small paintbrush. Sprinkle with sugar to coat completely. Transfer to a baking sheet or wire rack; let set. Crystallized shamrocks (or flowers) can be stored up to 3 months at room temperature in single layers between waxed paper in airtight containers.