In the Wine Ghetto—Winter Style
Before we got down to business on Friday, December 3rd, Leah and I were sitting across our office table beginning to discuss the things we absolutely had to do on the impending weekend. At the time, we had no idea we'd end up in the Ghetto. The centerpiece of the plan was to put up and decorate the Christmas tree and all that comes with it. Now, that should be a fun and festive treat eagerly approached, right? Well, you have to know a little history to understand what that means at our house.
One of the great things Leah does is make the holidays—really, almost any holiday—into a visual extravaganza for the kids (and for us, too, of course). St. Patrick's Day? Wake up that morning to find furniture overturned, string wrapped around most anything, drawers emptied onto the floor and green pee (food coloring) in the toilets, sinks and showers—obviously those pernicious leprechauns gave us a visit. Easter? More eggs in our yard than a mega–corporate egg farm that just had its biggest recall in history. Thanksgiving? Out of her gourd with Fall leaves on the tables, carved wooden pilgrims, cornucopia on the doors and way too many chicly rusted metal pumpkin signs in the front yard. And the music of each holiday fills our house every day until the date passes. Fourth of July? Well, you get the idea? And all the stuff that makes each holiday so bright has to be lugged out, carefully unpacked, displayed, do its magic, and then get packed back up in special holiday–coded boxes and containers that go—where else?—back into that dubious structure we lovingly refer to as our garage.
We don't keep any cars in our garage, which is packed from front to back and top to bottom with stuff—all sorts of stuff, including the typical gardening tools, kids' discarded sporting equipment, an extensive collection of camping equipment (Leah has refused to go ever since the hand–cranked margarita blender broke), a dozen or more folding spectator chairs for soccer games, nearly every appliance we ever purchased but don't use anymore, a sewing machine (last used, I think, when Leah ran the needle through her finger), a set of restaurant shelving with stuff on it I don't even recognize, two futons, spare parts for things we haven't had for at least 15–20 years (but as soon as we throw them out, we'll need them), kids' school projects, a treadmill (make me an offer), several mystery boxes that Leah says not to open, enough Caribbean party decorations to bail out Haiti, and file cabinets full of paperwork I can't bear to discard. You get the idea. But in the back quarter of the garage is where the holiday stash lurks, which means we have to haul out a lot of other stuff each holiday to get to the particular things we need for the festivity at hand. And Christmas claims the majority of the boxes and containers from the stack on the floor to the ones perched at the very top of the shelving, way up and literally touching the ceiling—some behind a dozen hanging wicker baskets Leah is going to use someday.
So, we paused a moment to contemplate our plan. There's the tree, of course, and then the dozen boxes of decorations, but we would only have to find about six boxes of the decorations, not the really valuable ones that break when you touch them. Then, there's the Christmas card holder, the boughs for the fireplace, the table cloth, napkins and table ware, the special cocoa mugs, the countless Santas in more shapes and sizes than you can imagine, the special Christmas blankets, the train for around the bottom of the tree, the wreaths (several), the rope, bowl and other accouterments for the holiday dinner (you have to know Hungarian history for that one), the outfits for the dogs, but we don't need the Santa suit anymore because the kids figured that one out a while ago.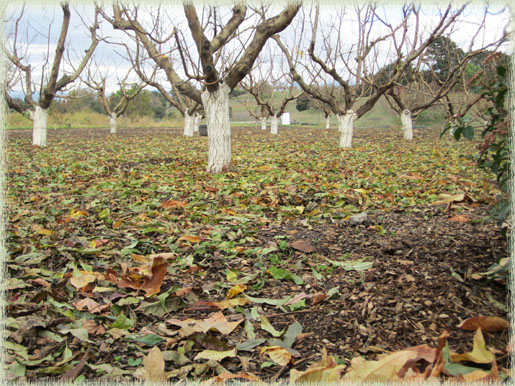 "I have an idea", I said, reminding Leah that Palmina Wines was throwing their Red, White & Green holiday party the following evening. I thought that would only distract Leah for a few moments, but she immediately plucked a paper from her piles and handed me a print out from the Sta. Rita Hills Winegrowers Alliance announcing their "Holiday Weekend in the Wine Country", running from December 2–5. And then she said the sweetest words I'll ever recall, "This only runs for two more days. I'll go, but we have to stay over Saturday night. I don't want to have to keep you awake on the drive home." I remember dialing the phone as she finished her second sentence, calling Palmina Wines to let them know we would be attending the party and I asked if they knew any hotels in the immediate area (Lompoc) that would have openings. They gave me a couple of ideas and said, "If you want to be close by and you don't want to spend a lot, the Best Western O'Cairns Inn in Lompoc is clean and nice and it has the best breakfast deal in the area". Since we would only be able to spend Saturday afternoon and evening up there and return Sunday morning, we wouldn't really be spending much time at the hotel and we thought a good breakfast would hit the spot before we hit the road home. So, we booked it (not the same as the nearby O'Cairns Inn & Suites, which has the same owner but isn't the same place). The Christmas tree was just going to have to wait a week.
We had a leisurely drive up Highway 101 through Santa Barbara and then took the San Marcos Pass (Route 154) towards Los Olivos. We decided to stop for an early lunch at one of our favorite places, the Cold Spring Tavern, located on Stagecoach Road about nine miles up Route 154. The Tavern was established in 1865 as a stagecoach stop and serves excellent food in a romantic, old world setting. It set the mood for the rest of our day.
If you haven't been to the Santa Barbara wine country in December, you've missed something special. Most people tend to visit between the time the grape leaves first appear in the Spring through the grape harvest in the Fall. This early December weekend was perfect. There weren't any crowds and the California winter scenery in the vineyards and orchards is really something to see (Leah's photos for this post give you just a sampling).
Our first winery stop was Buttonwood Winery, on Alamo Pintado Road between Los Olivos and Solvang. We like to stop at Buttonwood because, in addition to their wine, Buttonwood has beautiful grounds and lots of interesting things in the tasting room and gift shop. Out on the back patio, Buttonwood was demonstrating how to prepare pomegranate seeds for appetizers as part of their casual pomegranate festival. We even picked up some of their Pomegranate Jelly. The lady serving the wines turned out to be the wife of the chef who was preparing the food for that evening's party at Palmina, so we had a nice chat as we sampled everything. Favorite Buttonwood wines on this trip: 2008 Grenache Blanc, 2008 Devin (a blend of Sauvignon Blanc and Semillon) and 2007 Merlot.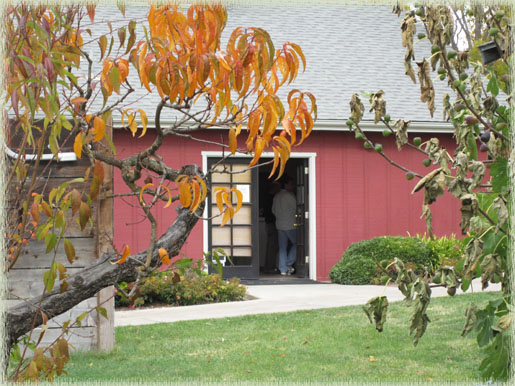 We backtracked just a little to Beckmen Vineyards on Ontiveros Road in the Los Olivos area, a favorite of ours for their Rhône varietals and Cab, biodynamic farming methods and beautiful grounds. Steve and his father, Tom Beckmen, are among the leading winemakers in the Santa Barbara wine community. Beckmen decorated their tasting room up for the holiday season, and we got a chuckle out of their t–shirt that read "I'm dreaming of a white Christmas…but if the white runs out, I'll drink the red." Favorite Beckmen wines on this trip: 2007 Purisma Mountain Vineyard Grenache, 2007 Purisma Mountain Vineyard Syrah Clone #1, 2008 Estate Syrah and 2008 Estate Cabernet Sauvignon.
From there, we headed over to Route 246 towards Lompoc, where Palmina is located. Now, we just can't drive across the 246 without stopping at Melville Winery, about two–thirds the way to Lompoc. Winemaker Greg Brewer (who also teamed up with Steve Clifton of Palmina for their really upscale Brewer–Clifton label and who also has his own diatom label) is a master at his craft (as is Steve Clifton). The winery's grounds and tasting room are a beautiful landmark in the area and a must–see for any visitor to the Santa Barbara wine country. We spent some time sampling the wines and talking with a group of friends there for a weekend reunion. Favorite Melville wines on this trip: 2009 Estate Chardonnay–Clone 76 Inox, 2009 Estate Pinot Noir–Sta. Rita Hills, 2009 Estate Syrah–Verna's.
From Melville, it was just a short hop over to Lompoc and the Ghetto—the Lompoc Wine Ghetto, that is. Just as Route 246 hits Lompoc, turn right on 12th Street (right where the 246 intersects with the Cabrillo Highway (aka Route 1). Make an immediate left on Industrial Way and you can't miss it, behind the Home Depot in an area bounded by Chestnut and Laurel Avenues and 12th and 7th Streets. We first visited the Wine Ghetto in 2005, on our first visit to Palmina Wines as they had just opened their new "enoteca" or wine tasting room at their site. Over the years, we noticed a few more wineries locating there and offering wine tasting. Mostly, they were hard to find (you had to ask someone) as there wasn't any good signage or publicity of their existence. In July 2010, the Lompoc City Council voted to permit tasting rooms to operate there without having to obtain a conditional use permit or operate a winery on site (although some still do operate wineries on the premises). Now, there are about a dozen wine tasting rooms in the Wine Ghetto (see the current Wine Ghetto Map). By the way, if you don't want the locals to look funny at you or, in the extreme, poke you in the face, remember that Lompoc is pronounced "Lom-POCK", not "Lom-POKE".
It isn't clear who coined the name, although I do remember Chrystal Clifton of Palmina using the term "Wine Ghetto" to refer to their location when we first met in 2005. Typically, a "ghetto" is a section of a city occupied by a minority group who live there especially because of social, economic or legal pressure. In this case, the buildings have an industrial storage look and the winemakers locating here undoubtedly did so because of the prohibitive cost of acquiring land in the vineyard areas. While still a minority compared to the entire area, many of the Wine Ghetto winemakers acquire grapes from the area's top vineyards, often contracting for specific blocks of vines and nurturing the grapes using methods they specify. They take the precious fruit yield and make some of the area's best wines, and you can usually sit and chat with the winemaker as you taste their wine surrounded by the winemaking equipment and barrels. The Wine Ghetto is now a true destination attraction. There are also a number of other excellent wineries in the immediate vicinity of the Wine Ghetto (including Brewer–Clifton, one of the pioneers in the Wine Ghetto that relocated a few years ago to a larger space about a mile and a half away).
When we arrived, we went straight to Loring Wine Company, owned and operated by Brian and his sister, Kimberly. I'd previously attempted to visit them at their winery facility on Central Avenue, but the timing hadn't worked out. This time, we made it to their new tasting room in the Ghetto. Loring has an impressive array of Pinot Noirs and you can experience the differences between the juices of various vineyards. As the terminator said, "I'll be back." Favorite Loring wines on this trip: 2008 Pinot Noir–Rancho La Viña Vineyard and 2008 Pinot Noir–Cargasacchi Vineyard.
Before we went to Palmina's party, we had time to stop at just one more Ghetto winery, so we picked Jalama Wines because we hadn't visited them previously. We met Mark Cargasacchi and Clinton Froehlich when we arrived. If Mark's last name sounds familiar, it may be because his family's Cargasacchi Vineyard grapes were the basis for one of Loring's Pinot Noirs mentioned above. Mark has a Jalama designated area near Point Conception where he grows his grapes. While they seem to share the chores (as most people in small businesses do), Mark tends to work the wine production while Clinton handles the front and marketing. Clinton is working on some innovative ideas on the web and produced the Wine Ghetto's first map (mentioned above). Both are great guys and the wine tasting/winery room also has some great wine dogs—Mila and Chester—a pair of friendly rat terriers. Jalama, named after nearby Jalama Beach, produces small–lot Pinot Noirs and Syrahs and a few surprises. Favorite Jalama wines on this trip: 2008 Pinot Noir–Cargasacchi/Jalama, 2006 El Capitan (we picked up one of the last packs of their 2005, 2006 and 2007 El Capitan for a later tasting).
It was time for us to get over to Palmina Wines for their Red, White and Green holiday party, named for their red and white wines, the greenery of their winery Christmas tree and the colors of the Italian flag. (Palmina specializes in Italian varietals, interpreting the Italian styles to the unique growing conditions and vineyard sites of Santa Barbara County). When we arrived, their enoteca was full of wine, food and happy people. The Palmina crew presented an endless supply of great wine and food, in keeping with Palmina's "celebration of the rich, wonderful lifestyle and attitude toward food, wine, friends and family that exists in Italy". On the family side, we hadn't seen Chrystal for a while and immediately saw that she is expecting her next child. Congratulations to Chrystal and Steve! When we finally departed (see photo below), the party was still going strong. Favorite Palmina wines this trip: 2009 Malvasia Bianca–Larner Vineyard, 2009 Tocai Friulano–Honea Vineyard, 2008 Alisos–Alisos Vineyard, 2008 Lagrein–Honea Vineyard, 2005 Nebbiolo–Sisquoc, 2006 Nebbiolo–Santa Barbara County and 2009 Dolcetto–Santa Barbara County.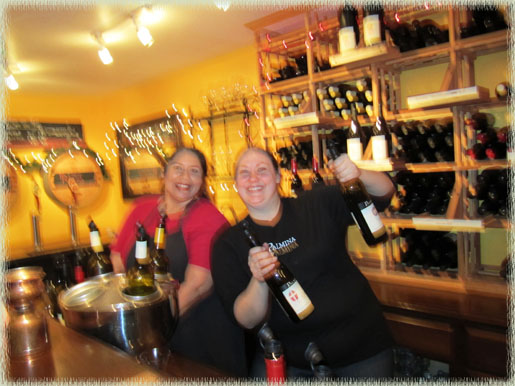 We made it over to the Best Western O'Cairns Inn and got a cheery reception. We were too late for their free happy hour (which lasts most of the evening), but we took advantage of their free movies on DVD as each room has a big flat screen TV. The next morning, we went to the breakfast we had heard so much about and we were not disappointed—a full breakfast cooked to order as much as you want and a really great variety. It was the perfect preparation for the ride home. By the way, a week later, our Christmas tree and decorations were up. We just got them back into the garage this week.
P.S. It's not too late to experience winter in the Santa Barbara wine country. Bud break shouldn't happen for a month or two.