TJT: Roasted Persimmon Crostini with Burrata & Pom Seeds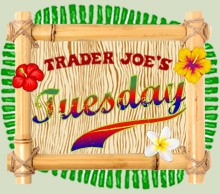 For the final Trader Joe's Tuesday post of 2010, Wine Imbiber is thrilled to present a dish that was created for a winemaker dinner by one of our favorite California wineries—Palmina. Located in the wine ghetto area of Lompoc (just north of Santa Barbara), Palmina describes itself as "a Californian celebration of the rich, wonderful lifestyle and attitude toward food, wine, friends and family that exists in Italy." Winemaker Steve Clifton and his wife, Chrystal, consider wine to be equally as important as the food in a meal, or as they put it, "an extension of the plate and a means to bring people together." This philosophy is the impetus behind their interpretation of traditional Italian wines, and we couldn't agree with it more.
We've been following Steve and Chrystal's winemaking career ever since Leah read a Lettie Teague article about overly–maligned Pinot Grigio in Food & Wine magazine years ago. Since it was one of our favorite sipping wines at the time (and we were wondering what the hell a "wine ghetto" was), we promptly planned a visit to their tasting room to see what all the fuss was about.
That visit remains one of the most memorable wine tasting experiences we've ever had. Discovering this young and wonderful winery located in the middle of an industrial park (the now highly–acclaimed wine ghetto) and its equally charming and talented creators was the highlight of our tasting trip. Steve and Chrystal's enthusiasm and passion for their wine craft was in great evidence that day. So much so, we inquired about signing up for their wine club. They were still settling into their new ghetto abode and hadn't completely established one, so we became their first official wine club members. We'll never forget Chrystal sharing slices of prosciutto (that she had just brought back from Italy) while Steve stole time away from his busy winery doings to tell us stories about anything we requested. The time we spent with them totally exemplified their vision of creating a California–style Italian wine experience. And since we hadn't yet been to Italy yet (or even created this here little wine blog), we knew traveling to Italy someday and experiencing its culture would fulfill our every expectation. Chrystal and Steve practically guaranteed it!
This recipe came packed in this month's wine club shipment. It's perfect for a TJT post (and this time of year) as all of the ingredients can easily be found at Trader Joe's. Though I'm not a fan of the Burrata cheese they carry (we buy ours at Bay Cities, home of the famous Godmother Sandwich and the best Italian deli and bakery in SoCal in our opinion), you could substitute just about any neutrally–flavored, creamy–white cheese. Burrata reigns supreme in our world, though, and if you have a good source for it, then I'd recommend buying it over TJ's Burrata (sorry, Joe!). It's just a little too rubbery and tasteless for our palates.
We had this for a Christmas appetizer this year, so the Fuyu persimmons were readily available. I don't know how much longer they'll be around this season, but I'm guessing you'll still be able to make this for your New Year's celebrations. The fresh pomegranate seeds are in the produce section, just waiting to be used in this recipe. The contrast of the red, white and orange colors looks beautiful on a holiday buffet, so don't wait too long to make this (or you might miss out on persimmon season!). I had to improvise a little as the recipe left out what to do with the honey, but my version created such a delicious sauce, I couldn't resist drizzling it over the finished crostini. I even think the roasted persimmons, sauce and pom seeds would make a great ice cream topping.
WI wine recommendation: Of course, we're going to recommend the wine that this recipe was created for (it did taste oh so good with it!). So, if you can find it, try the Palmina 2009 Malvasia Bianca from Santa Ynez Valley). The wine notes describe it as a "bone–dry wine with hints of ruby grapefruit mingling with apricot and lychee with hints of honeycomb and textural reminders of Hibiscus tea."


Roasted Persimmon Crostini
(adapted from Palmina Wines)

2 Fuyu persimmons, sliced into 1/4″ wedges (skin on, but core and top removed)
1 tablespoon honey (I used Acacia honey from Italy)
2 tablespoons extra virgin olive oil, divided
1 teaspoon sea salt
1 baguette, sliced into 1/2″ slices (then grilled or toasted)
1 lime, cut in half
1 container Burrata
Seeds from one pomegranate

Preheat oven to 400° F.
Mix the honey with one tablespoon of the olive oil, the sea salt and juice of one–half of the lime. Toss the sliced persimmons in the mixture until evenly coated.
Pour the persimmons into a baking dish and roast them for about 20 minutes (or until the slices are slightly soft).
Top the toasted baguette slices (to cover) with the roasted persimmon slices (one or two slices, depending on the size of your crostini). Top the persimmon with spoonfuls of Burrata, then sprinkle on the pomegranate seeds.
Squeeze the remaining lime half over all the crostini. Drizzle remaining olive oil and the juices from the roasted persimmon over everything and then serve immediately.
Comments (4)
December 30, 2010 at 10:59 am
Ed said:
Great post and fantastic photos. I'm going to try this recipe on Friday night!!!

December 30, 2010 at 11:11 am
Christina
said:
What a gorgeous looking appetizer! Thanks so much for sharing the recipe!

December 30, 2010 at 11:40 am
shannon
said:
Great use of persimmon in a unique way. Congrats on food buzz top 9!!

January 3, 2011 at 7:37 pm
Jason Burke said:
Amazing photos!