2007 Solus from Baehner Fournier Vineyards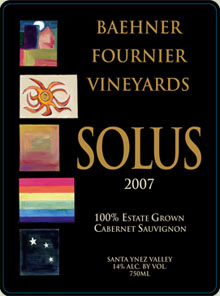 I love it when I discover something that most people don't know about. I first met Bob and Vickie Baehner over a year ago at the Santa Barbara Celebration of Harvest in October 2008, where I tasted their first wine—the 2005 V3, a Bordeaux–style blend of Cabernet Sauvignon, Merlot and Petit Verdot. I really enjoyed the wine and thought of it periodically during the year. The next time I encountered a wine from artisan micro–producer Baehner Fournier Vineyards was at the Santa Barbara Vintners' Festival in April 2009. That time, they brought a mini–barrel and wine thief to the Festival to provide barrel samples of their 2007 Solus, the inaugural vintage of this Estate Grown 100% Cabernet Sauvignon. "Solus" is Latin for "only" or "unique" or, in old theatre parlance, "standing alone on stage". Based on the barrel sample, I inquired about futures on the spot and signed up to purchase a case!
Well, not long ago, my case of Solus arrived (it had been delayed a bit by the September heat wave that disrupted the shipping schedules of a lot of California wineries). Inside the box, there was a note from Bob and Vickie recommending that it is best to let the wine age awhile. Fortunately, there was also a comment that I could decant the wine if I really had to open a bottle now. Well, I couldn't wait long. So, I recently opened a bottle and poured the wine through an aerator.
As their website states, "The wine has an almost bluish–purple hue. The nose opens with sour cherry and cranberry fruit. Following notes include tanned leather, wood smoke, sweet tobacco, mint and rose petals." As winemaker Drew Horton explains, "At first the flavors are a little tight and edgy. But the wine has solid acidity and a firm backbone of tannin, and softens easily with decanting and aeration in the glass. I feel this wine has the stuffing and structure to age well and for quite a long period." This is one thoroughly enjoyable Cabernet and I can't wait (but I'll have to) to see how it improves further with age.
For those of you who enjoy vineyard details, I got some from Bob, who used to be a professor of Medicine at USC Medical School. Bob and Vickie acquired 17 acres of undeveloped land with steep hillsides and killer views in the Eastern foothills of the Santa Ynez Valley. Bob told me, "The hillsides were perfect for planting our favorite Bordeaux varieties—Cabernet Sauvignon, Merlot and Petite Verdot. In 2001, we planned and planted five vineyards, about 1 acre each, according to the mini–climates of the property. The varietal clones were carefully selected to harmonize with the gravely clay, mineral rich soil and location for each variety. The vines were planted in a north–south direction to take full advantage of the sunny hot days in the Eastern valley, where daytime summer temperatures average 90 degrees and night temperatures run in the mid 50's. The afternoons often produce high winds causing the vines to struggle resulting in deeply colored, intensely flavorful small berries. The hand picked fruit is crafted into dark rich wine. The 2007 SOLUS was made from grapes harvested from our most southerly vineyard appropriately named Sunshine." As to how they named Solus, Bob explains, "We wanted to distinguish Solus as a 'stand alone 100% Cab' as opposed to our V3 blend of 3 grape varieties. The Sunshine Vineyard appears as one of our five flags on the front label—the others are Rainbow, Misty, Moonglow and Northstar."
Great wine from great people. A relatively new winery, this is one to watch over the coming years. If you love Cabernet Sauvignon or full—bodied reds in general, you should try the wines of Baehner Fournier Vineyards. Solus 2007 is available in some restaurants and shops in the Santa Barbara wine county and also direct through the winery's fulfillment website. At $28 a bottle ($280 a case), it presents a real value. Their other wines, the original 2005 V3 and their newest vintage, the 2007 V3, are also available through their website. I hope Santa is listening!