Christmas Cookies…Mmm!!!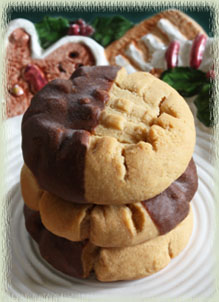 I haven't officially begun my holiday gift–baking yet (I just bought all of my supplies today), but I did manage to try out a couple of cookie recipes recently that I found worthy of mention. Both of them are traditional cookie recipes, but with slight twists that make them snazzy enough for your holiday cookie tray or food gifts (if you manage to have any left, that is). Hopefully you don't have the same problem as I do this time of year—too many quality control elves in the kitchen!
The first cookie comes from Giddy Gastronome. Upon first inspection, it looks like a typical peanut butter cookie that has been partially dipped in chocolate. Wrong! Well, not entirely wrong. It is a peanut butter cookie and it has been dipped in chocolate, but not just any chocolate. This chocolate happens to be melted Reese's dark chocolate peanut butter cups! As Nazarena (the creator of the recipe) commented, "PURE SINFULNESS!" She also adds an unusual ingredient—lemon zest—that really makes your cookie taste buds go, "Hmm, what is this flavor in my peanut butter cookie?!"
I highly recommend this cookie for one of your holiday cookie pleasures. I couldn't find the dark chocolate Reese's, so I just used regular chocolate peanut butter cups. Also, these cookies bake up BIG. I tried making a few of them at half the recommended size and they turned out perfectly fine. I almost like them better small (you don't feel like such a cookie–porker while eating them).
The other cookie comes from Cook's Illustrated (via RecipeZaar). I changed it up a bit to reflect the holidays and swapped out the raisins for dried cranberries and also added white chocolate chips. What makes this cookie take a departure from the norm is the addition of nutmeg (instead of cinnamon, which most oatmeal cookie recipes like to include). You don't really notice it, other than it does a good job of transforming an ordinary cookie into something special–tasting for the holidays.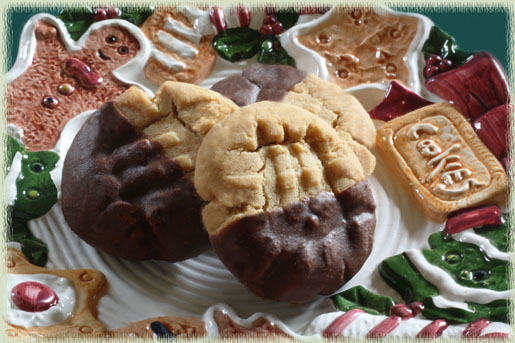 Chocolate Peanut Butter Cookies
(adapted from Giddy Gastronome)

8 oz unsalted butter
2/3 cup brown sugar, minus 4 tablespoons
2/3 cup granulated sugar, minus 4 tablespoons
2/3 cup natural peanut butter
3 teaspoons pure vanilla extract
Zest of half a lemon
2–1/2 cups all purpose flour
1 teaspoon baking soda
1 bag Reese's miniature peanut butter cups (dark or regular chocolate)
Cream or milk (about 1 tablespoon)

Preheat oven to 350° F.
Cream the butter, both sugars, peanut butter, vanilla and lemon zest until pale. Set aside.
In another bowl, sift the flour and the baking soda together. Carefully add the flour to the butter–sugar mixture, omitting some of it if you see that the dough is becoming too stiff. The dough should be somewhat stiff, yet very pliable.
Measure out the dough (1 tablespoon for small cookies; 2 tablespoons for large cookies) and roll into balls. Space the dough balls 2 inches apart on baking sheets.
Mark each dough ball with a criss–cross pattern by using a fork or potato masher.
Bake for 20–25 minutes or until lightly golden brown. Allow the cookies to cool on their baking sheets for 2 minutes before removing to wire racks to finish cooling.
Meanwhile, melt about half the bag of Reese's peanut butter cups with a little cream or milk (about 1 tablespoon; add a little more—only if necessary—to achieve a smooth consistency). My chocolate set up a little on the soft side, so I'm guessing that I used too much milk.
Dip half of each cooled cookie in the chocolate mixture.
Place dipped cookies on waxed paper to dry. Note: Don't use wire racks for the drying process—the melted chocolate tends to seep through the wire and leave imprints on the cookie bottoms.
Makes 26–27 cookies (if using 2 tablespoon–sized dough balls).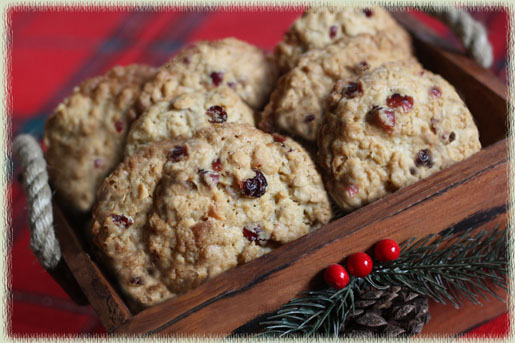 Chewy Oatmeal–Cranberry White Chocolate Chip Cookies
(adapted from RecipeZaar)

1 cup unsalted butter, softened but still firm
1 cup light brown sugar
1 cup granulated sugar
2 eggs
1–1/2 cups all–purpose flour
1/2 teaspoon salt
1/2 teaspoon baking powder
1/4 teaspoon freshly grated nutmeg
3 cups rolled oats
1 cup dried cranberries
1 cup white chocolate chips

Adjust oven rack to middle position and heat oven to 350° F.
Beat butter until creamy. Add sugars and beat until fluffy, about 3 minutes more. Beat in eggs one at a time. Set aside.
Mix flour, salt, baking powder, and nutmeg together. Stir flour mixture into butter–sugar mixture.
Stir in oats, cranberries and white chocolate chips.
Form dough into sixteen 2-inch balls, placing each onto one of two parchment paper–covered, large cookie sheets.
Bake until cookie edges turn golden brown, 22 to 25 minutes. Note: I baked these for the minimum recommended time and they still came out quite hard and crunchy; not chewy as described. Next time I will start checking them at 19 minutes. (The edges should be brown but the rest of the cookie should still be very light in color.)
Slide cookies on parchment onto cooling rack. Let cool at least 30 minutes before serving. If you don't use parchment, let the cookies cool directly on the baking sheet for two minutes before transferring them to a cooling rack.
Comments (2)
December 17, 2009 at 4:43 pm
jo
said:
Who can go wrong with added this cookie with your Christmas array. I love this.

December 17, 2009 at 10:02 pm
Jay B. said:
The chocolate peanut butter cookies look delicious!
I also like the plate that is used for the picture.
Thank You for another good-looking recipe.