Scratch the Surfas
I've got a problem. I collect recipes. I have more than I'll ever be able to cook in a lifetime (even if I made 10, no, 20 of them a day). In fact, I'll probably end up someday being one of those people that you read about in the newspaper: Woman found suffocated under piles of recipe print-outs and cooking magazines. Fallen cookbooks to blame for knocking her unconscious and causing her to plunge into stacks of hoarded recipes.
It's not my fault, actually. I have the best intentions (and excuses). Really, I do! One of my favorite excuses for never getting around to making recipes is "Well, I couldn't find a certain key ingredient at any grocery store." Or, "How am I supposed to make that without a (fill in the blank)?" Shameful, isn't it? You'd think I would just throw the recipe away and move on to the next one. But I don't. I always hold out hope that by some miracle of miracles I'll stumble across that missing ingredient or cooking supply somewhere, sometime in the future.
Well, the future is now, baby! I'm going to reveal to you the secret weapon that has been helping me succeed in exorcising my recipe-excuse demons. Its name is Surfas. Surfas is a restaurant supply warehouse extraordinaire, located here in southern California (Culver City, to be exact). They've been in operation since 1937, providing professional chefs and plain old foodies like me with just about anything our culinary imaginations can dream up. I liken it to a Toys 'R Us for cooks of all experience levels.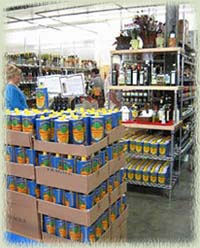 It's impossible to run into Surfas to pick up just one or two items. You'll find yourself wandering the aisles like a kid in a candy shop (they sell candy, too); filling your basket with things that you never realized you needed. Really! They keep an inventory of over 14,000 products, and doubled their store size to 18,000 square feet a couple of years ago in order to stock them all. They've even been praised in Food & Wine magazine and Bon Appetit for their vast and varied product selection.
I can hear you all now. "Well, that's just peachy for you, Leah, but what are the rest of us who don't live in the Los Angeles area supposed to do for help with fighting our recipe-excuse demons?" Fear not, my blogging buddies, there's still hope for you, too! Surfas also has an online catalog to help fulfill your epicurean pursuits. Granted, it's not as fun as warehouse-cruising (and not as extensive, either) but hey, when you are experiencing a recipe emergency it can be a great alternative resource. Unfortunately, you won't have the pleasure of rewarding yourself for a successful shopping experience at their next door café, Café Surfas (see the related Spotlight box).
To illustrate how I make use of their extensive product lines, I'm including two recipes this week. The first recipe requires almond paste, which many people often confuse with marzipan. Click here to understand the difference between the two. My recipe specifically notes not to use marzipan (which is readily available at most of my usual grocery haunts). I couldn't find almond paste anywhere (even at several specialty stores) and grew totally frustrated telling the store workers that marzipan is not the same thing. Surfas, on the other hand, stocks two varieties: premium and natural (one of them processes the paste with the almond skins in; the other leaves them out).
The other recipe has white chocolate chips as an ingredient. You may be thinking, "So what? All grocery stores carry those!" My response to that is you are probably assuming that they are white chocolate chips (because that's what the photo on the bag looks like). Did the bag actually say white chocolate chips or something else, like white vanilla chips or white baking chips? Ah ha! I thought so. Click here to see what real white chocolate chips are all about. Those other chips are a blend of shortening, milk solids, sugar and vanilla flavor (no cocoa butter found here, folks!). Only products containing cocoa butter can claim to be chocolate (even if it's white). The others are inferior in both flavor and mouth feel and I never use them in any of my recipes. Occasionally, you'll find a chain grocery store that carries premium quality white chocolate chips, but I've yet to find one around here. So, it's Surfas to the rescue again! They carry two-pound bags of Callebaut White Chocolate Discs (which are about the size of regular chips, just flatter) with a minimum cocoa butter content of 25.9%. Since they need to be at least 20% cocoa butter to qualify as chocolate, these more than satisfy the requirements.
It's no wonder Surfas refers to itself as a "Chef's Paradise". To further quote them:
"At Surfas, we know that great meals start with superior quality ingredients. Locating these ingredients is our business, sharing them with you is our passion." Gotta love &#8216em for that sentiment!
WI recommends: In addition to their small but excellent selection of wines from around the world, Surfas offers a wide variety of food items that will complement your wine choice. Check out their caviar case and sample their olive oils. They even have Farchioni's Il Casolare extra virgin olive oil that was recommended to us in a little grocery store in Tuscany when we asked a little old Italian lady which one was the best.
Limoncello Almond Pound Cake
Recipe adapted from Bon Appetit magazine (March 2006)

Baker's notes: This cake's texture isn't like that of a traditional pound cake (do to the amount of almond paste in it). I find it tastes best served the next day, after the limoncello has had a chance to completely soak in. I also like to serve the slices warm (a 15 second zap in the microwave does the trick). I highly recommend serving with whipped cream and fresh berries, but a dusting of powdered sugar will also do.

3/4 cup all purpose flour
1 teaspoon baking powder
1/4 teaspoon salt
3/4 cup sugar
1/3 cup light olive oil (alternative: lemon-flavored olive oil)
5 tablespoons unsalted butter, softened
10 ounces almond paste (not marzipan), finely crumbled
2-3 tablespoons finely grated lemon peel
4 large eggs
1/3 cup limoncello liquer
Whipped cream
Assorted fresh berries

Preheat oven to 325° F. Butter and flour a 9-inch springform pan.
In a small bowl, whisk together flour, baking powder and salt.
Using electric mixer, beat 3/4 cup sugar, oil and butter in large bowl until light and fluffy (about 3 minutes). Add the almond paste and lemon peel. Beat until smooth. Add eggs one at a time, beating well after each addition. Add flour mixture; stir to blend. Transfer to prepared pan.
Bake cake until golden brown on top and tester inserted into center comes out clean, about 45 minutes. Cool cake completely in pan on a rack. (Can be made one day ahead. Cover and store at room temperature).
Remove pan sides from cake and transfer to serving plate. Poke holes all around top of cake with a wooden skewer and slowly brush the limoncello over the top, allowing it to completely soak in.
Cut into wedges and serve with a dollop of whipped cream and fresh berries.
Lime, White Chocolate & Macadamia Nut Cookies
(from Nicole at bakingbites.com)

Baker's notes: This is my new favorite cookie recipe! The raw dough even smells heavenly sitting there in the bowl. The only thing I would consider changing is the amount of white chocolate chips and nuts—I'd up each of them to one cup (because they taste sooo good!). Also, my cookies started browning nicely after just 9 minutes, and, I ended up one cookie shy of 4 dozen using my tablespoon-sized cookie dough scooper.

2/3 cup butter, room temperature
1 cup white sugar
2 large eggs
1 tbsp lime zest (1 large lime)
2 1/4 cups all purpose flour
1/2 tsp baking powder
1/2 tsp baking soda
1/2 tsp salt
3/4 cup white chocolate chips
3/4 cup chopped, toasted macadamia nuts

Preheat oven to 350° F. Line a baking sheet with parchment paper.
In a large bowl, cream together butter and sugar until creamy. Beat in eggs, one at a time, followed by lime zest.
In a medium bowl, whisk together flour, baking powder, baking soda and salt.
Stir flour mixture into the butter mixture, mixing only until no streaks of flour remain. Stir in white chocolate chips and macadamia nuts.
Drop dough by tablespoonfuls onto prepared baking sheet, making approximately 1-inch balls and leaving some room for the cookies to spread.
Bake for 10-12 minutes, until cookies begin to brown slightly around the edges.
Cool for 5 minutes on baking sheet and remove to a wire rack to cool completely before storing.
Makes about 3-1/2 dozen cookies.
Comments (5)
August 18, 2008 at 7:36 pm
Rachel said:
Ooooh…I love Surfas too! I can't tell you how many times they've saved me on hard-to-find recipe ingredients. I especially like their assortment of spices. I've got to try that cookie recipe. My lime tree is getting heavy with fruit and a person can only make so many margaritas! Thanks for sharing it.

August 19, 2008 at 9:54 am
Jesse said:
You're quite right about the almond paste. A lot of stores don't know the difference between it and marzipan (especially if they're not specialty stores). I have to plan ahead during the holidays or I run in to trouble finding enough of it. My pignoli cookies wouldn't be the same without it!

August 19, 2008 at 4:01 pm
Raelle said:
Mmmmm. What a great photo of that cake! I can almost taste the berries. Does the limoncello really add much flavor to the finished cake? I'm wondering if it would still appeal to those who prefer desserts without alcohol in them.

August 19, 2008 at 5:24 pm
Leah
said:
We've got a lime tree, too (right next to the afore-mentioned Meyer lemon tree). I've started a lime recipe file just as I did for lemon recipes. This cookie recipe is the prize of the lime file!

August 19, 2008 at 5:43 pm
Leah
said:
Hey Raelle, thanks for the photo compliment. To answer your question, the limoncello does add a specific flavor to the cake, but it would certainly taste fine without it. I personally like the flavor of the cake better after it has sat for a day as the alcohol taste tends to mellow out. After adding berries and whipped cream to the scene, you certainly won't miss the limoncello if you want to avoid using alcohol.