My Old New Discovery
Last week, I went to visit some close friends in Sparks, Nevada (near Reno). During my visit, they opened a bottle of the most delightful Cabernet Sauvignon from a winery in Napa Valley. I was hooked. Why had I never been to this winery? I realized I would be traveling to the San Francisco area in two days, so I figured I could stop by Napa Valley on the way. I called and made an appointment. I am embarrassed to say it. Okay, I'll say it. I just discovered one of Napa Valley's oldest wineries. Well, sort of.
Vine Cliff Winery sits proudly along the Silverado Trail. The original winery was established in 1871 at the current site, once part of the original George C. Yount estate (does Yountville sound familiar?). It later became part of the old Napa Valley Wine Company. Around the turn of the century (around 1900) the winery phased down after phylloxera destroyed the vineyards.
The Vine Cliff Winery website recounts the dawn of a new era for the winery in the mid-1980's. "The original winery tunnels and masonry foundation were all that remained when Charles and Nell Sweeney purchased the estate in 1985. Their oldest son, Rob Sweeney, took on the job of vineyard manager.
From the early days when his parents first acquired the ranch, Rob spent long hours gaining an intimacy with the property that has now been terraced and planted with 24 acres of Estate grapes." By the 1990s, the winery was in full swing.
Today, Vine Cliff Winery is a world-class producer of artisan wines, using principles and practices of sustainable biodynamic viticulture. This means, natural farming without commercial pesticides, herbicides or artificial fertilizers. It can result in more vibrant taste and better expressions of terroir. Judging from the wines I sampled at Vine Cliff, it is all true. The Vine Cliff grounds are beautiful and I'll refer you to their website photo gallery because they have captured the key elements.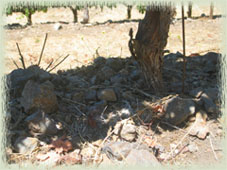 The terraced vineyards consist of a very rocky soil. My tour guide, Wendy, noted that the winery has a lot of shovels with the blade points totally worn off. The rocks in the accompanying picture were not placed there—they occur naturally. This gives the vineyard great drainage. From all appearances, everyone involved in the winemaking process at Vine Cliff pays meticulous attention to detail. They appear to have invested in some of the best, advanced equipment for very careful grape handling and processing. The end result is excellent wine.
I sampled their 2005 Chardonnay, which uses Carneros estate fruit and 100% malolactic fermentation. During our tour, we encountered Rob Sweeney,
who invited us to taste the upcoming Chardonnay, which was also delicious. I also sampled their 2005 Cabernet Franc Napa Valley, 2005 Cabernet Sauvignon Napa Valley, 2005 Cabernet Sauvignon Oakville, all of which are very good and available through their website. At the winery, you can also purchase what they refer to as their "Private Stock" series of Cabernet Sauvignon. My imbibing buddies had poured me their 2002 Private Stock Cabernet Sauvignon "16 Rows", which started me on the road to Vine Cliff. At the winery, I was able to purchase their 2004 Private Stock Cabernet Sauvignon "Pickett Road Vineyard". I haven't tried it yet, so I can't tell you how excellent it is, but I am sure I won't be disappointed.