Lime, White Chocolate & Macadamia Nut Cookies
This recipe appeared in Scratch the Surfas on 18 Aug 2008

From Nicole at bakingbites.com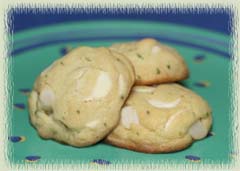 Baker's notes: This is my new favorite cookie recipe! The raw dough even smells heavenly sitting there in the bowl. The only thing I would consider changing is the amount of white chocolate chips and nuts—I'd up each of them to one cup (because they taste sooo good!). Also, my cookies started browning nicely after just 9 minutes, and, I ended up one cookie shy of 4 dozen using my tablespoon-sized cookie dough scooper.

2/3 cup butter, room temperature
1 cup white sugar
2 large eggs
1 tbsp lime zest (1 large lime)
2 1/4 cups all purpose flour
1/2 tsp baking powder
1/2 tsp baking soda
1/2 tsp salt
3/4 cup white chocolate chips
3/4 cup chopped, toasted macadamia nuts

Preheat oven to 350° F. Line a baking sheet with parchment paper.
In a large bowl, cream together butter and sugar until creamy. Beat in eggs, one at a time, followed by lime zest.
In a medium bowl, whisk together flour, baking powder, baking soda and salt.
Stir flour mixture into the butter mixture, mixing only until no streaks of flour remain. Stir in white chocolate chips and macadamia nuts.
Drop dough by tablespoonfuls onto prepared baking sheet, making approximately 1-inch balls and leaving some room for the cookies to spread.
Bake for 10-12 minutes, until cookies begin to brown slightly around the edges.
Cool for 5 minutes on baking sheet and remove to a wire rack to cool completely before storing.
Makes about 3-1/2 dozen cookies.