Look for Greeks Bearing Grapes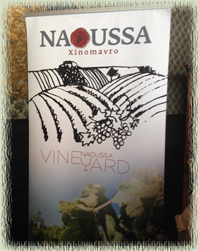 Until today, my experience with Greek wines was, well, somewhat ancient. I hadn't had Greek wine since about 40 years ago in my youth. So, when I received the invitation for trade and media to experience "ancient and indigenous varietals of Greece", I couldn't pass up the opportunity. Based on my decades-old experience, I told Leah that my expectations weren't high. Leah said I need to keep a more open mind and age more gracefully, like a fine wine, and she was right. Today, I discovered some grapes and wines that rank among my favorites.
The wines poured at this intimate event at Faith & Flower restaurant in downtown LA were predominantly crafted from the Xinomavro (pronounced Ksee no' ma vro) grape, which hails from Macedonia's Naoussa appellation, the first Greek protected designation of origin, located on the southeastern slopes of Mount Vermio in northernmost Greece (bordering on the Balkans). The generous tannins in these red wines bear out this black grape's name, which means "acid black" or "sour black". If you read our articles, you know I enjoy fine Chiantis and other full–bodied Italian reds. These Greek wines now challenge their Italian cousins and likewise have some real ageing potential. Most of the wines poured at this event were very good. Some of our favorites, just to name a few, were the Domaine Foundi 2007 Naoussea Foundi Estate and 2008 Naoussea (The Lady of Naoussa), the Estate Chrisohoou 2008 Estate Chrisohoou, the Dalamara Winery 2011 Paliokalias and the Domaine Kelesidi Merchali Red. These wines had very nice structure and balance, each with its own distinctive style.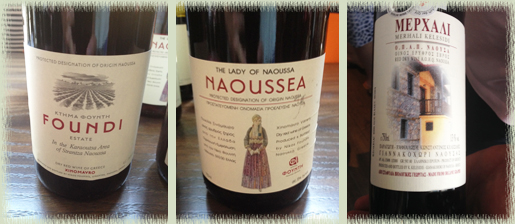 There were also three lighter red varietals that we enjoyed from Domaine Porto Carras, including their 2011 Limnio (entirely from the Limnio grape, with notes of pepper and cherry), 2005 Chateau Porto Carras (a red blend) and 2010 Magnus Baccata (another red blend). This winery also poured the only whites of the day and we especially liked their 2012 Assyrtiko (entirely from the Assyrtiko grape) and 2013 Malagouzia (entirely from the Malagouzia grape). The reds were fresh with nice fruit and the whites were elegant and refreshing with nice fruit and acids. Great wines for sipping outside in the summer. The wines of Porto Carras are imported to the USA by Old World Vines.
Folks, it's time to get your Greek on and try these wines. I think you'll really enjoy them.
Disclosure: We were granted complimentary media credentials for this event.