On the Road Again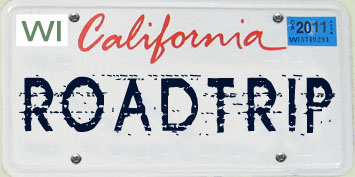 Wow! We've been busy and a bit under siege the past several months. From work to illness to getting two more into college and handling a variety of extended family matters, we've had quite a year so far. Yet, we managed to work in some very nice wine and food travels despite the challenging times. In particular, we rewarded ourselves with a wine and food tour around the occasion of our 30th wedding anniversary in late March, and we'll be posting a series of articles about that experience. Leah pretty much guessed where we were headed for our actual anniversary night, but that is the subject of the next article. We start off the series with the very beginning and the very end of our trip and, in the process, give you some information on two great places to stay the next time you journey mid–way between the Los Angeles and San Francisco areas. And you'll never guess what these seemingly disparate places have in common.
We decided to depart Los Angeles the day before our actual anniversary, to get part way up the state so that we wouldn't have to get on the road so early on our special day. One of our sons will be attending Cal Poly San Luis Obispo this fall, so we opted to drive about half the distance towards Napa Valley and spend the night in Paso Robles. We've written about the Paso Robles Wine Festival, which is happening again this week on May 15–18th, and some of the Paso Robles Pioneers. Since we'll be visiting the area more often in the coming years, we decided to look for new and better places to lodge. And we found some.

Paso Robles is a quiet town with a nice pace of life. There are some quaint places to stay overnight there, but we were looking for something bigger, clean, comfortable, convenient, friendly, quiet and reasonably priced. We searched online and found The Oaks Hotel right near the main 24th Street Paso Robles exit off Highway 101 at the end of Highway 46. It had great reviews on Yelp and Trip Advisor (who raked it #1 in Paso Robles). Although the immediate surroundings are a tad light–industrial looking, this hotel stands out as an oasis. It isn't on the main square downtown, but it isn't far away either. And it's a quick walk up Riverside Avenue to the Paso Robles Event Center. The hotel, completed in the fall of 2012, is the lifelong dream of proprietors Phil and Mary, who turned over the reins of their Southern California escrow business in order to be hoteliers. The operation is a family business, as their daughter, an educated chef, has the helm of their on&#8211premises restaurant, Indulge, where you can dine at night or just enjoy the full breakfast that comes with the lodging. We enjoyed both, not to mention the wine bar on the other side of the lobby, serving a wide variety of local wines (with generous pours) and some great appetizers. They also keep a constant supply of freshly–baked cookies in the lobby that rivaled any good cookie franchise you can bring to mind.

Phil and Mary and their staff aim to please in every respect. While we didn't have time to take advantage of the pool or the fitness room, our bedroom suite was large (with a somewhat separate sitting room and two flat screen TVs) and very pleasant. The best thing about the lodging, however, was the bed. We are fans of pillow–top beds, but this one was so fantastic that we're going to get one for ourselves. We had the best night's sleep ever and Phil promises to give us the information we need to duplicate that experience at home. Whether you are visiting Paso Robles or nearby San Luis Obispo, you owe it to yourself to stay at The Oaks Hotel. A good value for high–end treatment!

We said our goodbyes the next morning after the great breakfast at Indulge and hit the road for Napa. Flash forward about a week and we found ourselves on our way home, having decided to book two nights at The Casitas Estate, a B&B in Arroyo Grande, which is less than one hour south of Paso Robles along Highway 101. We booked it based in part on the wonderful reviews they received on Yelp and Trip Advisor (who ranked it #1 in Arroyo Grande). Just outside the cute town of Arroyo Grande, not far from Pismo Beach, it is a glimpse of what heaven must be like.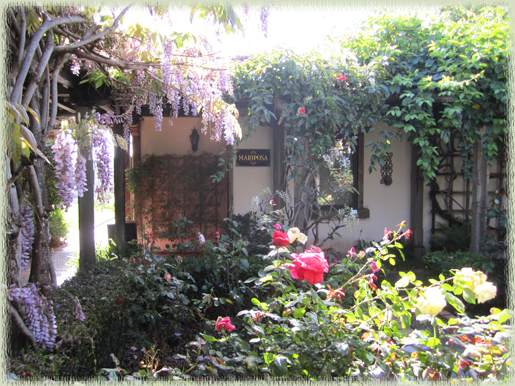 Proprietors Pat and Tony (and their ambassador/dog, Kona) welcome you to their hacienda home atop their seven acre estate and escort you to your own Spanish–style casita (or "smaller home") on the property. There are only four casitas, so you are a very welcome guest in an intimate atmosphere with your own mini–home, consisting of a large bedroom with a Kiva fireplace, refrigerator, roomy bathroom and your own secluded patio looking out over serene vineyards and the rolling hills in the distance. The panoramic views are stunning and very reminiscent of our trip to Tuscany.
We lived in the Mariposa casita, but the other three were also attractive. Tony asks for your coffee/tea preferences and food restrictions when you arrive. Early each morning, the coffee and tea service arrives on your patio without a sound. When you awake, it is ready to enjoy as you survey the morning vista. At a pre–agreed time, Tony delivers your breakfast to enjoy in your casita. The morning meal varies daily, from crepes to Tony's famous egg soufflés with all the appropriate accompaniments and extras. It's a great way to start the morning and prepare for some winery tours in the immediate area, showcasing wines from the Edna Valley and Arroyo Grande AVAs along Highway 227 back towards San Luis Obispo. We visited several area wineries, but that is a topic for another article.
The Casitas Estate is a family–run place, infused with a lot of thoughtful care. Offering one of the best sleeping beds we've experienced—other than The Oaks Hotel, which was also great— it provided a fitting end to our anniversary journey. We should mention that the bed linens they use are also remarkable for their comfort. So much so, we plan to order a set for our own new bed at home. This gem is perfect for a romantic getaway or a wedding party (not to mention a wedding), but it really offers a lot for anyone on any occasion. We can't recommend it highly enough!
The Arroyo Grande area offers a number of excellent dining alternatives. We only had time to experience a small sample and stumbled upon Ember, a new restaurant that only opened this February. It is definitely a destination to visit. Chef–owner Brian Collins is a local who trained at Alice Waters' Chez Panisse and was the chef at some local establishments before launching his own place. It was busy, but we quickly secured two seats at the bar. The wine selection and the appetizers (such as the prosciutto–wrapped artichoke, the gourmet pizzas, wood–fired anything) were very good. Next time, we'll plan ahead and get a table for dinner. Another fun place for a sweet treat is Doc Bernstein's Ice Cream Lab. Their original location is right in downtown Arroyo Grande; they also have stores in San Luis Obispo and Orcutt, not far away. Don't be surprised when they grow and expand.
In between our stays at The Oaks Hotel and The Casitas Estate, we spent the week in Napa Valley and Healdsburg. Stay tuned for those stories.
Note: Photos of The Oaks Hotel are courtesy of The Oaks Hotel.