Beekeeper Cellars Buzz
We were invited to attend a recent wine tasting hosted by Ian Blackburn, founder of Learn About Wine, a premier source for wine education and events in Southern California, hosting unique classes, events and tours. Unlike most wine tasting events, this one was to celebrate the inaugural release of a new winery label, Beekeeper Cellars, founded by Ian. His first release is a beautiful 2009 Zinfandel (actually 81% Zinfandel and 19% Petite Sirah) from the Madrone Spring Vineyard in the Rockpile appellation of Sonoma County. That evening, Ian was busy pouring his wine and greeting guests, so it was a few days before we had the opportunity to talk in detail about Beekeeper Cellars.
I asked Ian what sparked his interest in the subject of wine. Ian explained, "I was inspired to learn about wine when my parents would come to the table with a bottle of wine. My parents had no money growing up, so every bottle was special. One day, my Dad got a raise at work and came home with a gift wine—dated 1840—that really captured my imagination. I couldn't imagine something with that much history! I still have the bottle."
I first met Ian some years ago when his business was taking off and he had recently begun working towards his Master of Wine, so I asked him what prompted him to start "Learn About Wine" and why he chose to enter the Master of Wine program. "I love to tell stories, and share my passion. Learn About Wine is the perfect spot for that. I get to be an educator and share my passion and improve the wine market one class at a time. As I was the first to graduate college on the Blackburn side of my family, I didn't have the wisdom to push for a Master's Degree. The Master of Wine became a great target. I want to initiate change and improve the wine business and the MW title can help distinguish me among a large pool of those who teach."
Was the idea of producing your own wine a natural evolution for you? "To really learn, I need to do. As a student in the Master of Wine program, I really want to understand winemaking and have a working knowledge. This project gave me that opportunity and continues to feed me." How did you choose to produce a Zinfandel? "Zin truly is one of my favorite wines of California. I think it ages as well as Cab or Pinot, if not better, and it is a true translator of California terroir. I think it's also special because nowhere on the planet do you see the quality of Zin shine so brightly. There is room for great quality improvements inside the set of wines available."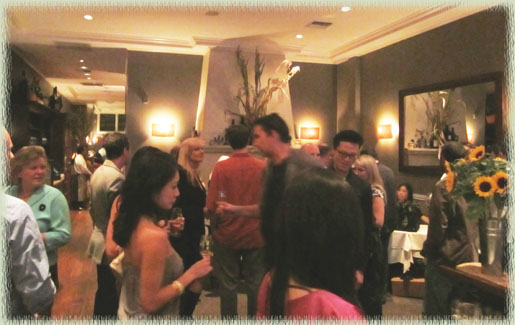 I understand you are co-winemaker with Clay Mauritson. How did you meet Clay? "Clay is a great friend. We met in late 1990s and in 2001 spent three weeks together touring France. It was the trip of a lifetime and Clay's career and life were just about to take off. Clay has matured into being a wine figurehead for Sonoma County—a great winemaker and a great winery owner. It helps that he has an incredible family around him and a loving wife. His vineyard holdings are very special and he and I discussed making a wine together years ago. Due to work conflicts, I couldn't do that as an employee of a large wine corporation so the timing wasn't right until now. The 2009 vintage also brought new challenges with the economy, so I liked the window of opportunity it presented."
Beekeeper Zin is a vineyard designate wine. Can you explain that for us? "At 1,500 feet elevation, Madrone Spring is one of the best vineyards in the Rockpile hillside appellation of Sonoma County. When you think of great Zin, you're going to want to grow in a great spot like Rockpile and Clay's family owns a great percentage of Rockpile. When one of Rockpile's finest offers you a great vineyard, you don't ask too many questions. One of our goals is to develop a greater consumer understanding of vineyard designation inside Rockpile." Do you work in the vineyard? "I enjoy the vineyard, but I leave the hard work to the Mauritson team of specialists and learn from them on every visit. What makes this 'my wine' is the blending process. As a blender, I have style preferences and ideas that make my wines different and, I hope, better. Having the luxury to blend with Petite Sirah from the same vineyard is like having both salt and pepper available to enhance flavor. To make the best wine possible, we use top notch ingredients—grapes, wood, etc. Petite Sirah works nicely and is probably in most Zinfandel wines in California without getting much credit. Few Zin's are pure Zin; most are blends of who knows what, but Zin can be accentuated with the proper balance and that is what we look for."
What has been your biggest challenge and what has been the high point for you personally? "Up until now, it was just getting everything approved. It's amazing how many permits, licenses and fees you need to pay. I am saddened by how difficult our government makes this process, but now that I'm through the process, I'm very happy to be able to focus on telling the story of the brand and letting people taste and enjoy the wine—putting the pain behind me and moving on is part of the joy. I only made 124 cases of the 2009, so it is not inexpensive at about $60 per bottle. But this is really a premium wine and watching my guests try my wine for the first time is the best. I love to pour something I am really proud of and have people say, 'You nailed it'. Watching experts like James Suckling tell me 'what an intelligent wine, very thought provoking, really well done.' It was like taking a test and having a Master tell you 'I approve.' Having my parents and friends tell me that they love the wine is also a treasured moment, as I seriously made it as a way to celebrate all that they did for me and how much I love and enjoy them. They now have a wine they can call their own."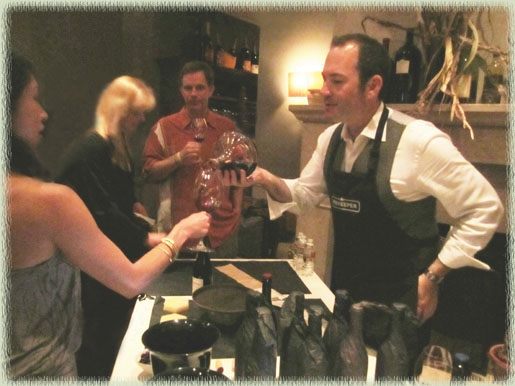 Looking forward, how is the 2010 vintage shaping up? "So far 2010 is jumping out of the barrel. It was a warmer year than 2009, thanks to a huge heat spike right before harvest. So, the wine is thicker, more intense and more extreme. We will have to see about the release date as we are looking to bottle a little earlier because with all those extremes in place it is really extracting the wood character at a faster pace, so we will let it rest in the bottle until it's time to go." I purchased your 2009 through Wine Cloud Inc. Is that part of your business? "It's my future wine store and we are creating a wine sales experience that allows for a story behind every bottle and every gift. Kind of a wine lifestyle store with glassware and wonderful wine products that improve the tasting experience as well as introducing people to new brands and stories about regions, wines and varieties. It will allow me to ship you a bottle of wine and a class with it if you desire to learn. We aren't going to be the biggest wine sales website—more of a specialty spot for the small guys and the artists."
You have so much going on. Do you think you'll ever have enough time to complete the Master of Wine program? "The answer is yes. Starting a wine brand, running a wine education business and online wine store—I do all these things in parallel with the Master of Wine. Luke Skywalker didn't become a Jedi without practice. The truth is, I'm not in a hurry. Just getting there is the important part, and continuing to improve, continuing to make progress is all that matters to me. They say 'those that can't do, teach'. I want to teach and do. That is why I started Beekeeper."
As you can tell, Ian's Beekeeper is no ordinary Zin. The tasting notes reveal "Deep black, blue and red fruit skins, massive structure, dense concentration, intense color and lavish richness. The inky foundation provides layers of aroma, bouquet and complex flavor—black cherry, chewy black raspberry, cassis, black pepper, Asian plum, vanilla custard, dark chocolate, and robust coffee funnel into a long finish of fruit, spice and tannin." I would only add that the wine is very smooth and balanced, and a joy to drink. Ian is on to something really good! Beekeeper Zin is certainly on my Christmas wish list.
Comments (2)
November 29, 2011 at 10:03 am
Rich
said:
Thanks, Bettie. I can tell you the wine is great and Ian is an interesting guy. I hope you are doing well these days in your business. Take care!

November 29, 2011 at 1:20 pm
Bettie
said:
Very interesting article. Will have to add this to my list of wines to try. Thanks!