PAW It Forward
Let's face it—what's more constant than good wine and our canine companions? It's not every day that you can enjoy wine and, by doing so, support man's best friend. And this is the season to sit by the crackling fire in your most comfy chair, sipping the good stuff and petting your trusted Fido. That's where Cru Vin Dogs Wine Group comes into the picture.
Cru Vin Dogs is a charitable wine brand that has launched a new series of wines to benefit man's best friend. Their "Loyal Companion Series" (TLC) dedicates part of the proceeds from each bottle to local animal shelters and rescue groups that help find homes for orphaned dogs. As you know, we promote dog-related charities and feature a Wine Dog of the Month from time to time, so it was only natural that we should sample the new releases from Cru Vin Dogs' PAW Program (Partners And Wine). As Cru Vin Dogs president Mary Snellgrove says, "The series was inspired by a desire to give back to local shelters and rescue groups all over the country. We're excited to offer The Loyal Companion wines that are more affordable than ever to enjoy great wine and support dog rescue organizations at the same time."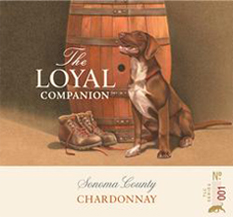 We recently sampled their Sonoma County Chardonnay and their Sonoma County Red Wine (both are from their TLC Series Lot #2; the pictured label is from Lot #1, but the illustration is the same). The TLC Chardonnay is crisp and tastes lightly oaked, with nice acids and full flavor that commands attention. The TLC Red Wine is a breeder's mix of Syrah, Cabernet Sauvignon, Malbec and Zinfandel that opens up nicely in the glass (and it doesn't roll over). The bottles sport artist Jay Snellgrove's illustration of Chica, a seven month old shelter dog that was up for adoption at the time.
And these are just their entry level wines. In addition to The Loyal Companion (TLC) series, they also have a Puppy series, a Portrait series and a Best in Show series. All wines are either made by their winemaker, Tony Wasowicz, or sourced from "prestigious vineyards and good friends we've known over the years" with the goal of providing exceptional quality wines that far exceed the price point. Each wine label bears the illustration of a unique dog with its own story, which you can read on their website. Their wines are available through their online store or by phone for $12.99 per bottle. For the TLC series wines, you can direct a $1 donation per bottle to the charity of your choice at checkout. Purchasing the other wines also generates a donation to charity and is described for each wine. (Shipping is free on orders of 12 bottles or more, even mix and match.) The wines are also available in some restaurants and retail stores in California and Colorado. They donate 50 cents per bottle back for each bottle sold in those venues (and some venues match the donation).
The wines we sampled are really nice wines for drinking every day, and now we're anxious to sample their other offerings, such as, for example, their Best in Show Pinot Noir (Russian River Valley) featuring an award–winning Airedale Terrier ($45), their Best in Show Cabernet Sauvignon highlighting an award–winning German Shorthaired Pointer ($75), or their Puppy series 2010 Sauvignon Blanc (New Zealand) spotlighting an eight week old West Highland Terrier ($16.99). (Prices are for the wines as the dogs are no longer available.) By making these wines your holiday and special occasion gifts, you can "pour it forward" by spreading the word to everyone on your gift list directing a donation at the same time. They have a listing of the dog charities they currently support through their PAW Program, and you can even email them your favorite animal shelter or rescue group to add to their list.
Their website also has wine gift packs, special wrapping and even marble dog coasters and other gift items available. Whether you order for yourself or for a friend (of the human kind), you are supporting some great charities in the process. Woof!

Disclosure: We were provided with a sample of the two wines described above.