The Doctor is In
It's been a very busy month or so. First, there was the Easter break at school and we took the boys up to see Grandma C in Menlo Park. Next was the changeover in web site hosting and some conversion that diverted me from the usual posting schedule. Throw in the day job and, well, time flies—whether you're having fun or not. We've been to some wine tastings in the past month that I'm itching to relate to you, but first things first. I really like doctors who keep telling me to drink wine for my health. I like even more those doctors who actually own and operate wineries. When we were in Menlo Park, we had to steal a few hours to visit the doctor's office. In this case, no one was ill. This particular doctor owns a nearby winery up in the Santa Cruz Mountains west of Stanford University, where he still teaches.
When we visited Santa Barbara in mid–April, we saw our friends Bob Baehner and Vickie Fournier of Baehner Fournier Vineyards. During a previous visit with Bob and Vickie at their home set in their vineyards, I mentioned that there was a winery near my home town owned by another doctor, Thomas Fogarty (photo above courtesy of Thomas Fogarty Winery). I had learned about Thomas Fogarty Winery from one of our readers (thanks, Susan!). Bob smiled knowingly and told me that he and Bob had been college roommates. Bob went on to specialize in pediatric blood diseases, while Tom pursued vascular surgery. Bob recalled, "Tom was one of the brightest people I've ever known. He was always prepared for exams, even though he didn't need to study that much. Problem was, Tom would sometimes sleep in or forget to go take the test. He was always thinking of something else." Tom went on to invent the Fogarty embolectomy catheter, revolutionizing vascular surgery (and likely making Thomas Fogarty Winery possible).
So, we piled into the car and headed up into the Santa Cruz Mountains from Sand Hill Road, taking the twists and turns up Old La Honda Road (click for the video ride) until we reached Skyline Boulevard (Highway 35). From there, it was a short distance to the winery. In terms of history, Tom Fogarty had a long–standing interest in making wine and planted his first vines on his 325 acre estate in 1978. He established the winery as a commercial enterprise 1981 and now has 25 acres under vine. I had visited the winery previously, but this time Leah and the boys joined me. The estate is picturesque and has an unmatched view of the entire San Francisco Bay Area. The grounds are extensive and are available for weddings and other events, but the draw for me is the wine. Tasting room manager Rick Davis was on hand to pour samples of a range of Thomas Fogarty wines, from Chardonnay to Pinot Noir to Barbera to Cab. The wines are quite good and we picked some up for taking home. We especially enjoyed the prescription for his 2006 Albutom Estate Vineyard Chardonnay.
I told Rick Davis what I had learned about Dr. Tom from his college roommate and Rick had a similar story to tell. He recalled, "You know that Albutom Chardonnay you're tasting? Well, Albutom is a vineyard right here on the estate. In fact, it was the first one planted. Tom had asked a bunch of his close friends to come over one day to help him plant the vineyard. Trouble was, when they arrived, Tom wasn't here. They went ahead with the planting and eventually learned that Tom had decided to go fishing that day instead, forgetting all about the planting event. So, his friends said everyone planted the vineyard—well, all but Tom–hence the name Albutom." At least's Tom's consistent, and so are his wines.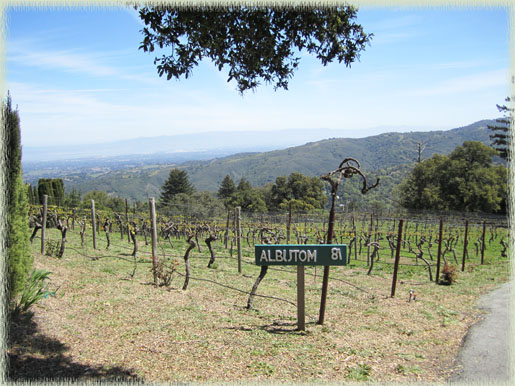 After a nice stroll around the Fogarty grounds, we drove down Skyline Boulevard to its junction with Highway 84, where we stopped for a late lunch at Alice's Restaurant, a landmark in the Santa Cruz Mountains. It's a favorite place for a wide variety of people—from bikers to bankers—set amid the tall trees in the mountains.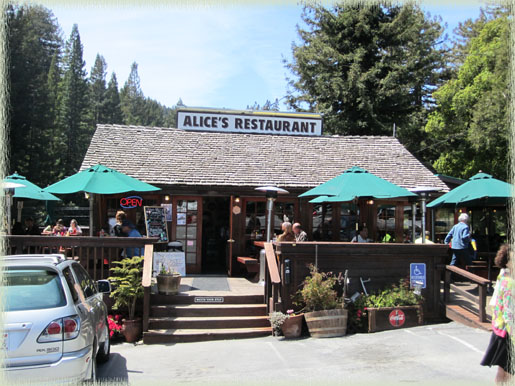 After lunch, it was a quick drive back to Menlo Park. Thomas Fogarty Winery wasn't open to the public until I had already moved to Los Angeles, but now I have a favorite local winery to visit when I visit Mom. Have a happy and safe Memorial Day this weekend!