Italian Style…American Soil
On our recent trip to the Oregon's Willamette Valley wine country, we sampled a lot of really excellent Pinot Noir and some very nice Pinot Gris. (People said those grapes would not do well in the Pacific Northwest, but visionaries like David Lett of Eyrie Vineyards proved them wrong.) Along the way, we encountered a few nice Syrahs, but not many other red wine varietals as most wineries in the area produce Pinot Noir exclusively. We found some Chardonnays, Viogniers and Pinot Blancs, but those are all white wine varietals and, frankly, the ones we tasted were not remarkable. Is that it for Willamette Valley? Well, not exactly. Thanks to another visionary, there is more to talk about.
Gino Cuneo of Gino Cuneo Cellars is a man on a mission, but he's no Don Quixote. He's already become a success story by being different in a business where being different can be very good or very bad. Having grown up in the San Francisco area, Gino headed north to Seattle and eventually settled in Oregon's Willamette Valley, where he has one foot planted—the other foot is planted in Washington, with a toe or two in various parts of Italy. He dabbled in amateur winemaking until 1993, when he and his wife, Pam, bought a small winery called Hidden Springs in the Valley's Eola Hills area—"the best area for Pinot Noir" in Gino's opinion—and Cuneo Cellars was born.
In addition to producing Pinot Noir and some Bordeaux–style blends, Gino pioneered the production of Italian varietal wines—Nebbiolo and Sangiovese—from grapes grown in Oregon and Washington. "Our 1997 Nebbiolo was the first Nebbiolo produced outside of Italy that I felt was a typical expression of Nebbiolo." Being meticulous, Gino arranged for the first import of Brunello–clone Sangiovese vines (VCR6) into America and contracted with Jim Holmes of Washington's Ciel du Cheval Vineyard to grow it for him because the cooler Western Oregon weather was not as hospitable to these vines as the warmer, sunnier microclimate of the Red Mountain AVA in Eastern Washington. Although he studies Italian vine planting and winemaking methods, Gino isn't trying to make "me too" Italian wines. "I don't try to recreate the exact taste of an Italian wine made from the same grapes. What I do is create a valid expression of the Italian grape varietal as grown in American soil, with its own unique terroir. I say, "Italian style—American soil." This makes for something comfortably familiar, but interestingly different.
Partnerships are a way of getting things done that you couldn't do by yourself, but not all partners work out over time. Gino took on financial partners in his Cuneo Cellars operation and, over time, that led to some interference in his winemaking plans. As a result, in 2007, Gino moved on to his current namesake, Gino Cuneo Cellars, bottling wine under his "Tre Nova" label. This time around, however, the winemaking business is vintage Gino. The arrangements he makes now are with third parties to create what he calls his "virtual winery".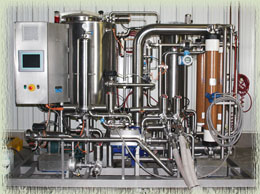 "The idea is to control, but not own, every aspect of the process, using the best of the best." A lot of winemakers, particularly smaller volume producers, can't control all aspects of winemaking because they can't afford to do things the exact way they would prefer—often because they can't find or acquire the particular land with the best microclimate or afford the most expensive machinery and equipment. Gino decided to "partner" with people who had what he needed and to do himself what he does best. "I pick the clones; I contract with vineyards in the best locations to grow the grapes to my specifications; I contract with a state–of–the–art facility where I bring the grapes and oversee the processing and make the wine I want to make."
The facility Gino uses is owned by Corus Brands, who built the facility with extra capacity so that a winemaker like Gino could take advantage of the choices it offers. One side of the plant is for making super–premium wines and the other side is for ultra–premium wines. "This gives me access to equipment I could never get on my own. When I want to bear the added expense of labor–intensive, manual grape cluster pre–sorting, gentle de–stemming equipment and individual grape sorting to make ultra–premium wine, I have that available to me." Whatever Gino is doing is working well. We tasted three of his current releases—2008 Tre Nova Rosato, 2007 Tre Nova Bonatello and 2006 Tre Nova Secopassa. Gino also produced a 2007 Tre Nova Bonatello Riserva (which is sold out) and he has a 2006 Tre Nova Dolcepassa (a Recioto–style dessert wine which we hope to taste sometime).
The Rosato is a serious Rosé made with Sangiovese grapes. Darker than most rosé wines (including those made in Tuscany from the same grapes), it has a pleasing aroma and a dry, fresh flavor with good acidity. The Bonatello is 100% Sangiovese possessing a beautiful dark red color with a delightfully deep fruit flavor. The Secopassa is produced using the Venetian appassimento process—a desiccation process used to produce Amarone and Recioto, in which the grape clusters are individually laid out and dried on racks for about four months under controlled temperature and humidity conditions until their weight is reduced (in the case of Secopassa, by about a third) through evaporation. Made from equal amounts of Sangiovese and Barbera, the result is a powerful wine, elegant and nicely balanced. The intense fruit flavor shines through, so you can't tell that the alcohol content is relatively high (like Amarone, where the dried grapes contain so much sugar that the resulting dry wine has a correspondingly high alcohol content).
What's in store for the future for Gino Cuneo Cellars? "More great wines and wider distribution, beyond Oregon into Washington and then California most likely." After tasting his wines, we think (and hope) this will happen even sooner than Gino anticipates!