A Tale of Two Cities: Ghemme & Gattinara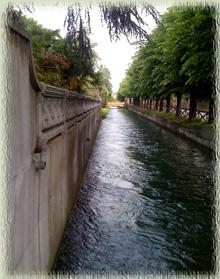 Have you ever had to decide between two people, places or things? Which do you like the best? What makes one better than the other? Is declaring a "tie" just taking the easy way out? If "delicious" is "great", what is better than that? These are the questions I ponder, especially when I'm tasting two wines that I really enjoy, and particularly when I forget to spit for awhile. And then, after some reflection, I seem to come back to the same conclusion—does it really matter? Well, if you live in a certain area of Piemonte, Italy on one side of the Sesia River or the other, it matters a lot. I was fortunate to spend some time in the "small" towns of Ghemme and Gattinara, situated at the foothills of the Italian Alps. I put the word small in quotation marks, because they are only small in the sense of square kilometers. They are truly "big" in the sense of wine, food and way of life.
These two towns are separated by the Sesia River (a tributary of the Po River), which originates at Monte Rosa, the second highest mountain in Western Europe at over 14,000 feet tall. Gattinara is located on the west side of the river in the
Vercelli province and Ghemme is located on the east side of the river in the Novara province, though the two towns are only about 8 kilometers (less than 5 miles) apart. Located just inside the Piemonte region near the Lombardia region border, they are northeast of Torino (Turin) and northwest of Milano (Milan)—actually, closer to Milano than Torino—and only a short distance from Lake Orta and Lake Maggiore to the north. Vercelli is the rice capital of Europe and the area produces some wonderful rice used in local dishes such as paniscia (similar to risotto and using local salami, beans and herbs). Interestingly, there is an aqueduct called Canale Mora (see top image), the size of a large garden wall, that carries water from the Sesia River straight to the rice paddies—an aqueduct designed by none other than Leonardo da Vinci, who favored the area near Milano as a retreat site!
As with many "small" places, there is intense pride from winemaker to winemaker, both between these two towns, but also between winemakers from one town or the other. Both Ghemme and Gattinara wines are made primarily from the Nebbiolo grape (their local name for Nebbiolo is Spanna). Many people are familiar with the Nebbiolo grape when it takes the form of Barolo or Barbaresco, which are produced in the area around Alba, just south of Torino (Turin), a drive of about 140 kilometers (85–90 miles) from Ghemme and Gattinara. Gattinara wine is somewhat better known than Ghemme, but they are both less famous today than either Barolo or Barbaresco. This wasn't always so. A century ago, the wines of this area, especially Gattinara, were more plentiful and more highly regarded than either Barolo or Barbaresco. As workers moved to the textile factories following World War II, there was a gradual decline in viticultural notoriety of this area. In recent years, however, the area has been undergoing a viticultural revival, and this change in circumstance makes Gattinara and Ghemme wines a real price/quality value in comparison to Barolo and Barbaresco today. That difference will not last forever, as the pricing will eventually catch up to the increasing quality of these wines.
If you are a Barolo or Barbaresco fan, you really owe it to yourself to experience Gattinara and Ghemme. To immerse myself in these wines, I visited the regional enoteca (wine bar) in Gattinara, whose very gracious hostess helped us sample many of the local Gattinara Nebbiolo wines with local salumi and cheeses. I also dined at some wonderful restaurants in both Ghemme and Gattinara, all the time sampling the wines of the area. Just as you can distinguish the difference between a Barolo produced from grapes grown in one sub–area or another, you can tell the differing impact of terroir when comparing Gattinara to Ghemme. To really test this out, I visited the Torraccia del Piantavigna winery in Ghemme, which produces both of these wines using their vineyards located around these two towns. Torraccia del Piantavigna winery is owned and managed by a family group headed by Alessandro Francoli, who started the winery in 1977 and separately operates the Luigi Francoli grappa distillery whose family roots extend back to 1875. But that is another story for another time.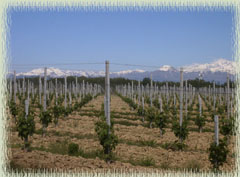 Ghemme DOCG wine is produced in the hilly region around Ghemme that has alluvial soil, rich in clay and with a low pH that produces the nice acidity of the wine. Ghemme's entire DOCG vineyard planting area is 65 hectares (160 acres) and Torraccia's share is about 6 hectares (15 acres). The climate is quite cool because of the influence of Monte Rosa, which is only 50 kilometers northwest of Ghemme. The DOCG rules require this wine to be at least 75% Nebbiolo, with Vespolina and/or Bonarda Novarese making up the remainder. Torraccia's 2004 Ghemme is 90% Nebbiolo and 10% Vespolina. The wine is aged for three years before bottling and then aged another nine months in the bottle prior to release. Torraccia also produces a 2004 Ramale, which is essentially the Ghemme wine produced from young Nebbiolo vines. While it isn't as high a quality as the Ghemme, it is a good value at about half the price of the Ghemme.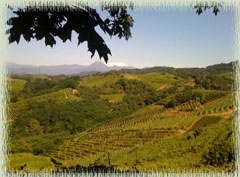 Gattinara DOCG wine is produced in the hilly region around Gattinara that has a volcanic soil and also a low pH. Gattinara's entire DOCG vineyard planting area is about 95 hectares (235 acres) and Torraccia's share is about 4 hectares (10 acres). The microclimate of Gattinara is a little warmer than that of Ghemme because the high hills on the northern side of Gattinara protect the area from the chilly winds originating from Monte Rosa. The DOCG rules require this wine to be at least 96% Nebbiolo with up to 4% Vespolina and/or Bonarda di Gattinara. Torraccia's 2004 Gattinara is 100% Nebbiolo. The wine is aged for three years and, although not required by the DOCG rule, most producers (including Torraccia) age the wine in the bottle at least another six months before releasing it.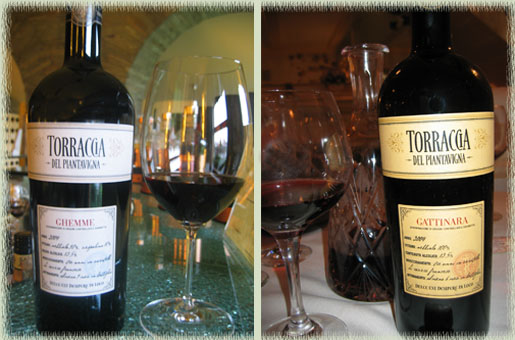 So, which wine is better? One way to measure quality is to look at the awards a wine receives. The leading Italian wine evaluation body, Gambero Rosso, puts about 25,000 wines each year through an extensive evaluation and eliminates more than 10,000 of them from consideration, eventually giving the rest of the wines awards ranging from zero glasses up to the prestigious three glasses (or tre bicchieri)—three glasses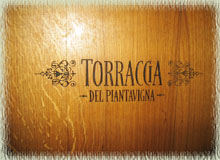 are awarded to only about 300 wines annually. Torraccia received the Gambero Rosso Tre Bicchieri (3 glasses) award for its 2004 Ghemme and its 2004 Gattinara received 2 glasses. The wines are very good. So, which is "best"? I can't answer that for you. I can only answer it for myself. Both wines are great expressions of the Nebbiolo grape, with the classic ruby red (but not opaque) color and interesting bouquet of roses and violets. I think the main difference for me is that the Ghemme is what I would call a smoother wine from start to finish, whereas the Gattinara is a bit more complex, but very drinkable as well. I personally enjoyed the complexity of the Gattinara enough to give it a slight edge for me. Someone with a more sensitive pallet (and many people, particularly the average woman, have a more sensitive pallet) would maybe prefer the Ghemme slightly. Both wines are very good and, as I mentioned above, represent a real value in comparison to most Barolos.
The even better news is what is coming along in future years. At the winery, we were invited to the winery's tasting room (which is located in the Francoli Center next door and is nicer than most wine bars I've visited) to taste the unreleased 2005 vintage of both wines. In the winery's barrel room, we also had a barrel tasting of the 2006 vintage with the winemaker. Based on those tastings, it appears that the 2005 and 2006 vintages of both Ghemme and Gattinara will be even better than the 2005 vintage, which itself is very good. That's the kind of trend a winemaker dreams about!
In case you visit Ghemme and Gattinara, the restaurants we enjoyed were Trattoria Gufo Nero in Ghemme, Ristorante Nuovo Impero in Gattinara, and Ristorante Impero in nearby Sizzano (which served the wonderful paniscia and other delights). They are all quite excellent. We stayed at the Hotel Barone di Gattinara, which was also excellent. Torraccia's wines are imported to the USA by Francoli USA.
Comments (1)
May 19, 2009 at 10:02 pm
Gregg Paulson said:
Sounds like a draw to me. I guess Ill just have to check them both out this summer while I'm "doing research" on the best Italian wines!