Moraga's New Release
This past Friday afternoon, the temperature in Los Angeles was well over 90 degrees, but that didn't discourage us from attending Moraga Vineyards' annual release party. It's hard to believe that in the midst of massive urban sprawl,
there is such a tranquil winery and vineyard in the hilly Bel Air section of Los Angeles. If you ever visit the Getty Museum, you can see the vineyard down below, across the freeway. It is quite unusual to find agriculture practiced on such a large scale on some of the most expensive real estate in California. This is possible because Tom & Ruth Jones, Moraga's owners, had a dream to produce excellent wine right where they live.
As Moraga's web site explains, the microclimate and soil are similar "…to that found in the Bordeaux region of France…", differentiating Moraga "…from other California appellations. Submerged under the Pacific Ocean for millions of years, the Los Angeles basin was thrust upward to create its current topography…Moraga has deep gravel beds in the canyon bottom and hillsides composed of an ancient seabed containing marine fossils and shells—ideal for growing high quality wine grapes."
The terraced vineyards of Moraga surround the winery operation (the site of the release party) and the Jones' home. The winery also includes a cave, dug into the hillside, where Moraga houses barrels of their red (a blend of Cabernet Sauvignon and Merlot with a small amount of Cabernet Franc and Petit Verdot), which begins fermentation using native yeast. They punch down by hand and use new French oak barrels, where the red undergoes malolactic fermentation and aging for 18 to 22 months and then receives two years of bottle ageing before release. Moraga's white (Sauvignon Blanc) is primarily fermented in stainless steel barrels that maximize lees contact, though about 20% of the juice is fermented in new French oak barrels in the cave and is then used to top the stainless steel barrels as fermentation progresses (with no malolactic fermentation).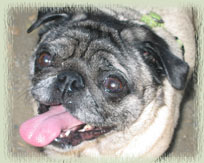 Friday's celebration was for the release of Moraga's 2004 red and 2006 white. We were serenaded by a musical group that accented the festive nature of the party and served as a nice complement to the warm weather. The tasting tables were quite busy as the guests returned constantly for more of the good stuff. Pugsley (not his real name), a Moraga aficionado and friend of the Jones' pugs, seemed to favor the table with the red, which offered a full and stimulating nose of cedar, spices and smoke and a wonderful black cherry jam taste that lingered for a pleasantly strong finish. In its second year as an estate wine, the white presented complex fruit and floral aromas (including pineapple, honeysuckle and jasmine) and a structured flavor of pineapple, nectarine and other fruit. Moraga's 2004 red and 2006 white surpass their immediate predecessors.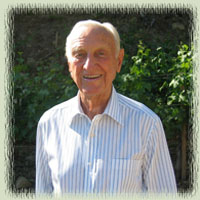 Moraga also provided a barrel tasting sample of their 2005 red and 2007 white, which appear poised to extend Moraga's track record of excellence. I had an opportunity to talk with Mr. Jones, who explained, "Our goal is to produce wines that are elegant and balanced, with a sense of place." He is a true believer in letting the wine tell you the story of the grapes and terroir. "The vines tell you right away whether they like it here or not." From what we could tell, the vines are very happy right where they are.
Comments (2)
March 13, 2009 at 6:16 pm
gail basse said:
we have been enjoying the fine MORAGA wines for about 10 years now and we intend to continue long into the future. Thanks so much to Tom & Ruth and all the people who make this special wine possible.

March 13, 2009 at 7:53 pm
Rich
said:
Yes, they are special people who make special wine. We hope to see you at this year's release party.