Memorial Day Thanks
It is only fitting that we pause today to remember all those who have fought so hard to preserve our freedom. Whatever your opinion about war, you should raise your glass to everyone in our military (past and present) and to our allies around the globe. We're taking this opportunity to honor our fathers, who were part of the Greatest Generation.
Leah's father, Jerry, started in the Army but was immediately transferred to the Air Corps. He had some difficulty landing the PT-17 biplane (an open-cockpit, two-wing plane), so the Air Corps trained him as a radio observer. The mission was to guide pilots to shoot down German bombers before they reached England. His fighter squadron trained and waited, but they were never deployed in England.
One of the pilots in his squadron adopted a stray dog they named Radar, who flew on all of their training missions. Most every night, Radar would go with them to one of the local bars where they set up a special bar stool at bar level. The bartender would mix Radar a drink in his special bowl and Radar would imbibe from time to time. Some nights, Radar drank a little too much and spent most the next day's flight sleeping in the cockpit. Jerry was discharged (nothing to do with Radar) in March 1944 after serving two years. He married and they eventually settled for a time in the San Francisco Bay Area. They now live in the Willamette Valley wine region of Oregon.
My father, Joe, was in the Army infantry for four years, stationed first in North Africa and later in Italy. He was literally a GI Joe and, when the time came to force Hitler north and liberate Italy, Joe's division departed North Africa for the southern tip of Italy and began marching north, eventually breaking through Hitler's last major defensive line and reaching Milan. He spent a lot of time in Tuscany, first near Pisa and later in a small town named Monticello near Florence, where he got to know the local mayor. I asked him what was his best memory of Monticello and he said, "They had very nice wine."
In 1945, the German forces in Italy surrendered in late April and Germany itself surrendered on V-E Day in early May. While in Africa, Joe remarked that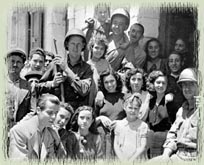 the weather was perfect and a fellow soldier said it was just like his home in the San Francisco Bay Area. After his discharge in October 1945 after more than four years of service, Joe married the woman who had waited for him, finished school and moved to a suburb of San Francisco, less than an hour from the Napa Valley wine region.
We are able to enjoy our freedom today because of our fathers and so many people like them (and our mothers who gave them so much support). For that, and their decisions to eventually settle in and around some of the greatest wine regions in the world, we can't thank them enough.
Note: Joe passed peacefully on March 24, 2009 at age 88.
(Photos courtesy of Warbird Alley, National Archives and Owens Archive, respectively.)