San Diego County's Orfila Vineyards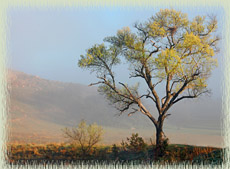 California's San Diego County isn't at the top of most wine enthusiasts' list of wine country touring areas, but serious oenophiles sometimes have to sacrifice convenience for quality. It was a year ago on Thanksgiving weekend that our family spent a little time in the rustic area around Descanso (near the town of Julian), about 30–40 miles east and slightly north of San Diego in the Cleveland National Forest. For those who haven't been there, it's a peaceful area with beautiful sunsets and mostly acre–or–more lots whose human occupants are partial to horses and other large critters—similar in that respect to the Los Olivos area of Santa Barbara county, but more hilly, more trees and more rustic.
While San Diego County promotes its wine country, the vineyards are somewhat far apart and not as numerous as the more popular wine areas of California. While we were there, we had planned to do some winery touring, but the challenge of time and distance worked against us. In particular, we had wanted to visit Orfila Vineyards & Winery, which is close to the town of Escondido, about 30 miles due north of San Diego and a bit inland from the coastal town of Oceanside (we only later learned that Orfila has a second tasting room near Julian). Unfortunately, we never got there on that trip. So, it was a pleasant coincidence when Orfila sent me some of their wines one year later to taste and, potentially, review.
In 1994, Alejandro Orfila and his wife Helga Leifeld acquired the winery operation that is now known as Orfila Vineyards & Winery, following his long career as an Argentine diplomat, capped by his service as Ambassador Extraordinary and Plenipotentiary of Argentina to the United States and two terms as Secretary General of the Organization of American States. When they purchased the winery, they had the good fortune to retain Leon Santoro as their winemaker and general manager.
Born into a family of winemakers and chefs near Rome, Leon earned his chemistry degree in New York after his family emigrated to the United States and started his career as a research chemist. On a trip to Tuscany, Leon and his wife were enjoying some Vernaccia over picnic sandwiches near San Gimignano. He observed that the people who made the wine must be happy people. When he returned to New York, he was intrigued on learning that Napa Valley had beaten Bordeaux in the famous Paris wine tasting.
By 1978, Leon was in Napa Valley working his first grape harvest at the iconic Louis Martini Winery before joining legendary winemaker Warren Winiarski at Stag's Leap Wine Cellars. After some successful years assisting Winiarski, Leon started Quail Ridge Winery in Napa Valley as co-owner and winemaker, modernizing the winery, replanting the vineyard, increasing varietal and volume production and wine distribution. He eventually took the winery public on the Toronto stock exchange in early 1978, but the winery was later taken over by Christian Brothers following the collapse of the Toronto stock market in late 1987. Next, Leon joined a small winery in San Diego County that eventually became Orfila.
Focused on sangiovese, syrah, merlot, viognier and roussane, Orfila uses sustainable farming methods and has won many awards for its wines. I sampled Orfila's 2005 "Heritage" Syrah and 2005 Estate Sangiovese "Di Collina". I enjoyed both wines. Grown from Napa clones, the Syrah has a rich, dark red color and a very pleasant dark berry nose. With nice tannins and very good structure, this Syrah is lush with blackberries, currants, tart cherry and some wood. It is rich, but thankfully not jammy; nicely dry at 14.6% alcohol, the tannins let the fruit taste through for a lingering finish. This Syrah has a price point of $35 at the winery.

I am partial to Italian Sangioveses, so I approached the Orfila Sangiovese with caution. The dark garnet color and aroma certainly reminded me of many Italian Chiantis. The classic cherry–berry flavor reminded me of a Chianti Riserva or a Rosso di Montalcino. I later read that this wine is from a Tuscan clone and that University of Rome and Brunello di Montalcino yeasts were used in its production. The wine waited 10 months in new and old French and American oak, so I would have expected it to be heavily oaked, but it is nicely balanced. I really enjoyed this Sangiovese and, with a price point of $24 at the winery (the website quotes $22 but indicated "sold out"), it presents a real value. A winery representative informed me that Orfila is almost out of the 2005 Sangiovese, so they limit purchases to one bottle per person at the winery. Fortunately, the 2006 Estate Sangiovese "Di Collina" has been bottled and is scheduled for release later this month.
Of course, the 2006 Sangiovese won't be the same as the 2005—it might be even better. I asked Leon why the 2005 Sangiovese has a whopping 16.1% alcohol, even though the high alcohol content didn't detract from this wine. Leon responded very candidly, "Contrary to the teasing that I have been getting from my friends in Napa, we get grapes with high acid and low pH. Their point has always been that I would have to deal with flabby high ph wines. Not true. As a consequence I have pushed the grapes to hang on the vine to try to soften the acidity and increase the pH. This is especially so in the Sangiovese varietal. The high acidity, the tannins and the alcohol, though, achieve a certain degree of balance. I also admit that, like most California winemakers, I have pushed the ripeness issue too far! Starting with the 2006, I have backed off a bit." It will be interesting to see how much better this makes the Orfila 2006 Sangiovese, since the 2005 Sangiovese is very good.
(Photo courtesy of B&H Ranch, Descanso, CA)
Comments (1)
February 28, 2009 at 7:57 pm
Stock Photo Research
said:
Stock Photo Research…
Excellent post…..