Codorníu Cava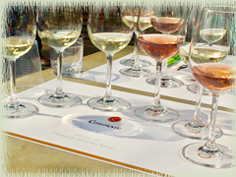 At the tail end of January, we enjoyed a tasting of Codorníu, who pioneered cava sparkling wine in Spain, tracing its winemaking roots back to 1551. The tasting was guided by Matthew J. Kaner, who did a superb job of blending percentages of history, humor and wine. Anna di Codorníu married Miguel Raventós in 1659 and Josep Raventós produced the first sparkling wine in Spain using the traditional method in 1872. Their "new" cellars were completed in 1915. Their first Anna di Codorníu cava was produced in 1984. As you soon realize, history is very important in learning about this producer.
A short train trip from the Catalan port Barcelona on the Mediterranean Sea takes you to Codorníu, but you can get there in your mind simply by tasting their cavas. Codorníu has three estates—La Pleta (producing Chardonnay grapes in varying diurnal temperature of the D.O. Costers del Segre in the province of Lérida), El Tros Nou (producing Pinot Noir grapes in the calcareous soil of D.O. Conca de Barberà in the north of the province of Tarragona) and La Fideuera (producing Macabeo, Xarel.lo and Parellada grapes in the gravely limestone terroir of D.O. Penedès in the Catalan region of Penedès). These variations in soil, microclimate and grape variety enable Codorníu to produce some stellar sparkling wines.
We had attended a Codorníu tasting in May 2017 and so we can confidently say that their cavas are consistently good over time. Some are relatively expensive, such as their 2008 "457" Gran Reserva Brut (typical retail $200), which is 45% Chardonnay, 45% Pinot Noir and 10% Xarel.lo, with only 100 cases produced from three different terroirs and climates. This cava builds in the mouth with a focused flavor that is lightly citrus. Their stated goal was to make the top cava in the world and it really is very good. The designation "457" comes from the fact that this was part of the 457th vintage produced by the family, although they don't make this cava every year.
Yet, some of their cavas are quite inexpensive and present a stunning value proposition. Two of our favorites that day were their 2015 Gran Codorníu Pinot Noir Brut (typical retail $20) and NV Anna de Codorníu Rosé Brut (typical retail $16). The Gran Codorníu Pinot Noir is 100% Pinot Noir and is new to the US market (we were the first group in the US to taste it). It has a beautiful color and minerality. At 11.5–12% alcohol by volume, you would never realize it has 6–8 grams of residual sugar because it is so balanced. The NV Anna de Codorníu Rosé is 70% Pinot Noir and 30% Chardonnay and is the best value in sparkling wine that we've tasted in a long time. While it is slightly lighter and less complex than the 2015 Gran Codorníu Pinot Noir, you can't beat the price.
The tasting event took place at E.P. + L.P.'s rooftop bar. It's an Asian eating house with Chinese, Fijian and Vietnamese influence. The food was absolutely delicious and it went so well with the cavas on hand.
We also tasted their 2009 "Finca La Pleta" Brut (typical retail $125) which is 100% Chardonnay with very nice acidity and depth of texture, their 2013 "Jaume Codorníu" Gran Reserva Brut (typical retail $90), named after Jaume himself (Anna's ancestor, the pioneer who started making wine in 1551), which is 42.5%Chardonnay, 42.5% Pinot Noir and 15% Xarel.lo and a bit lighter than their Finca La Pleta, and their NV Anna de Codorníu Blanc de Blancs Reserva (typical retail $16), the blanc counterpart to her rosé.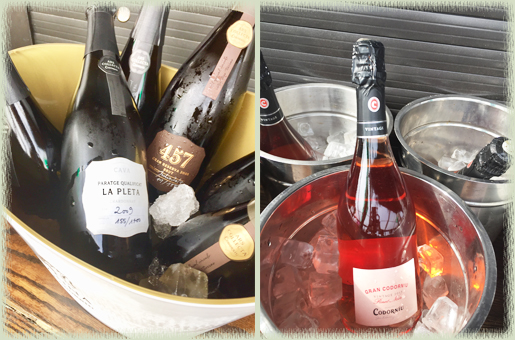 If you haven't experienced cava, Codorníu is a great place to start. On the other hand, if you are already a cava fan, then you know what we're talking about.

Disclosure: We were granted complimentary media credentials for this event.