Lodi in Los Angeles (Again)
Just last month, we attended the trade and media session of the Lodi in Los Angeles wine tasting event hosted by Ian Blackburn's wineLA organization at the Marina City Club in Marina del Rey. We had attended the first Lodi in LA event a year ago and we loved the wines we tasted. This year's event started off with a very informative seminar presentation given by Stuart Spencer, winemaker at St. Amant Winery, after which we joined the broader group to sample many of the wonderful wines Lodi has to offer.
Stuart gave us a wealth of interesting information. Lodi Wine Country lies between the San Francisco Bay Area and the Sierra Nevada Mountains a short drive south and slightly east of Sacramento. Lodi has been producing wines for more than 150 years (first vineyard planted in 1850), so it boasts a number of 4th and 5th generation wine grape growers and winemakers. During Prohibition (1920–1933), Lodi grape growers remained successful by shipping grapes to home winemakers, creating the first vineyard–designated labels for wine grapes (pictured below). Today, with over 750 grape growers farming 110,000 acres of vineyards, Lodi is North America's top producer of Cabernet Sauvignon, Merlot, Zinfandel, Chardonnay and Sauvignon Blanc, among others. In fact, Lodi now farms over 100 varieties of grapes, and Lodi grape growers historically supplied some of today's top name wineries in Napa, Sonoma and elsewhere. Today, more and more Lodi grape growing families have successfully transitioned into the winemaking and wine marketing businesses, making Lodi an exciting wine area to visit.
Enjoying a Mediterranean climate (ideal for wine grape growing), Lodi has a diversity of soil types and grape varietals and the cost of land in Lodi is not as expensive as it is in Napa and Sonoma. This gives Lodi winemakers the freedom to experiment with grape varietals and winemaking techniques and styles that winemakers in Napa and Sonoma can't afford (because their heightened economics force them to produce from a limited number of varietals and employ market–driven winemaking styles. Stuart poured us eight Lodi wines blind and asked us to identify each varietal. Of course, this was an impossible task because of the great number of varietals grown in Lodi. Some of the seminar attendees did eventually guess some of the varietals, a couple of them on the first guess. The one uniform conclusion among the group was that all of the wines were very, very good.
As we mentioned, we had attended the first Lodi in LA event a year ago and we loved the wines we tasted. This year, a different group of winemakers attended and their wines were also great. Lodi wines, in general, are very fruit forward and not heavily oaked, so you can really enjoy the beautiful fruit they offer. One of our favorite wineries at this year's event was LangeTwins Family Winery and Vineyards, founded in 1974 by identical "mirror image" twin brothers Randall and Brad Lange, whose ancestors had been farming the Lodi area since the 1870s. As Kendra Lange explained to us, mirror image twins are identical twins from a single egg that splits late enough to give the twins reverse asymmetric features. (It must make them easier to distinguish from one another, as long as there are no mirrors in the room.) Five generations of the Lange family have farmed the land and the latest generation committed to work together to establish their winery in 2006. We enjoyed their LangeTwins 2017 Sangiovese Rose and 2014 Cabernet Sauvignon (both having SRP under $15).
Lorraine Paskett of Paskett Vineyards & Winery poured us her 2015 Paskett Estate Charbono and 2016 Verdelho, both of which were excellent (both having SRP of $28). We had enjoyed the 2016 Verdelho from Bokisch Vineyards at the seminar and sampled their 2016 Albariño (and we had met them last year when we especially enjoyed their 2015 Albariño). We also loved the 2017 Albariño from Oak Farm Vineyards (SRP $17).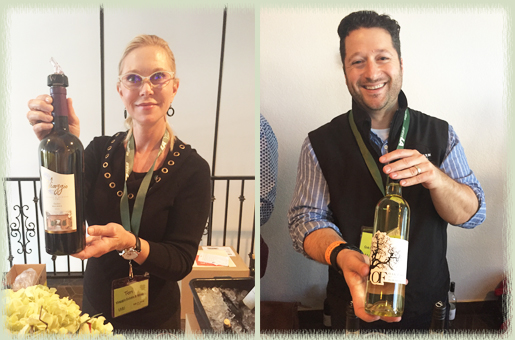 Stuart Spencer's St. Amant Winery poured a terrific 2015 Lodi Native Marian's Vineyard Zinfandel, a wine he describes as "the 4th vintage of a collaborative project I started with five other local winemakers to shine the spotlight on Lodi's historic Zinfandel vineyards. We each choose an old Zin vineyard, and make the wines in a non-interventionist style to highlight the unique attributes of each site." (The SRP is $35 and well worth it.)
Heather Pyle, winemaker for Paskett Vineyards & Winery, pointed us to Teri Lawrence, co–owner/winemaker at Viaggio Estate & Winery, who dazzled us with her 2014 "Outlaw" Malbec. (SRP $24). The winery's tasting notes state, "This wine starts with dark cherry and a hint of pomegranate on the nose. As you taste the flavors of plum and spice tickle your tongue with light tannins, the jammy spice finish will give your mouth a feeling of Christmas."
Lodi is a wine area to visit and to watch in the coming years and decades as its diversity and experimental spirit should yield some more very exciting and interesting wines. Visit the Lodi Wine Country soon, while their wine prices are still very reasonable. If you want to know more about this wine area, a good place to start is the Lodi Winegrape Commission site.

Disclosure: We were granted complimentary media credentials for this event.