Rosé & Bubbles Festival

This past Saturday, we attended the afternoon installment of the Rosé & Bubbles Festival hosted by Ian Blackburn's wineLA organization. As with his other events of late, this gala was held at the Leica Flagship Store & Gallery in Beverly Hills and was preceded by an interesting and informative rosé tasting seminar led by Jennifer Simmonetti–Bryan, complete with exquisite paired hors d'oeuvres created by Petrossian Restaurant of West Hollywood.
Jennifer Simmonetti–Bryan is an engaging speaker and blends a wealth of wine information with a great sense of humor and practicality. She is the fourth woman and one of only 30 people in the USA to attain the title of Master of Wine (MW), which is the world's highest and most esteemed wine title. Her guest speakers included Steve Veytia, co–founder and CEO at Coeur Clementine in Provence's "Golden Triangle", and Roman Roth, partner and winemaker at Wolffer Estate of Long Island, New York. Jennifer explained that rosé's color can result from the type of grape used and from the way the grapes are pressed. The press can be direct (if the particular grape juice has the desired color), or the crushed grape skins can remain in the juice for a short period of time to impart color (a process called maceration), or some of the pink juice can be set aside (or "bled off") during the pressing of red grapes (the saignée method).
Very few wineries in Provence produce a sparkling rosé, but Steve Veytia poured his Coeur Clementine La Pétillante Brut Rosé, NV, produced from Grenache, a lower acid wine. Steve explained that the longer the juice is in the tank, the smaller the bubbles are in a sparkling wine. His sparkler was double fermented over several months, producing a light and effervescent result, with only 3,000 cases produced. Later in the tasting, we also sampled the Coeur Clementine 2016 Rosé AOC Côtes de Provence, a delightful still rosé. Roman poured his Wolffer Estate 2016 Grandioso Rosé, a direct press blend of Merlot, Cabernet Franc and Chardonnay with a little Gewürztraminer and Riesling, a nicely balanced expression of fruit flavors with a creamy texture from its time on the lees (which is the process of letting the wine age for some time before being separated from its yeast and sediment). After the seminar, we also sampled his Wolffer Estate 2016 "Summer in a Bottle" Rosé, which lives up to its name, and his very unique and refreshing rosé cider.
Jennifer also invited us to sample the AIX 2016 Coteaux d'Aix en Provence Rosé, produced by 30% bleeding and 70% direct press. This beautiful wine blends Grenache, Syrah, Cinsault and a hint of Carignan grapes from relatively high elevations, so it has less salinity being further from the ocean water, but Jennifer explained that it still gets some salinity from the vineyard soil. We also sampled the Mateus "The Original Rosé", NV, which we remember from our very early days. Since we had not tasted Mateus in about 45 years, we were pleased to find that it is still very nice today.
The main tasting event room was filled with a wide variety of summer rosés and bubblies, with something for everyone, from traditional to experimental, light to darker, foreign to domestic. There were too many wines to sample them all, but we definitely tried to do our best. In the sparkling category, there were widely known favorites including the Veuve Cliquot Rosé NV, Piper–Heidsieck Rosé NV, Louis Roederer 2011 Rosé and Taittinger 2006 Comtes de Champagne Rosé, to name just four. For something different, we sampled the Vina Sympatica Sparkling Red (Cabernet Sauvignon) and Sparkling Violet (French Colombard), which were bursting with flavor, a great way to start a summer yard or pool party. We also enjoyed the Jacquart Brut Mosaic NV and their Brut Rosé Mosaic NV as well as the JCB No. 21 Crémant de Bourgogne Brut (No. 21 is the French government's "department" number for the Côte d'Or) and No. 5 Provence Rosé (No. 5 is Jean–Charles' sister Nathalie's favorite number), and the Hillersden sparkler from New Zealand mentioned below.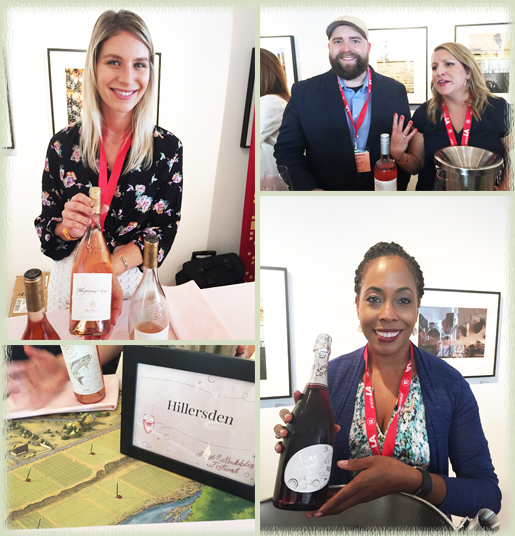 In the still wine category, the Château D'Esclans 2016 Whispering Angel Rosé presented a classic dry rosé that we really liked. We also really enjoyed the Kessler–Haak Vineyard 2016 Pinot Rosé and 2016 Syrah Rosé. New Zealand was represented by Hillersden, the first family–owned winery in the Upper Wairau Valley on the edge of Marlborough's wine growing region. Winemaker Adam Kubrock, who grew up in Walla Walla Washington (and producing premium Syrah there), was on hand to talk about his vineyards, his methods and his wines, accompanied by Amy Bates, who represents the wines in the USA. Walla Walla (where Adam grew up) is a Native American expression that means "many waters". Wairau (the name of the Valley where Hillersden is located) is a Maori expression for "one hundred waters". Adam certainly was destined to end up making wine in New Zealand! The Hillersden 2017 Rosé, Marlborough stood out with its nice acidity and New Zealand characteristic hint of jalapeño. We also liked their 2017 Sparkling Sauvignon Blanc, Marlborough. It's always nice to have a chance to talk at length with the winemaker to learn their background and winemaking philosophy and approach. These events present a great opportunity to do just that.
Summer is still in full swing and the weather this summer has been particularly warm and inviting. There's still plenty of time to enjoy rosé, still or sparkling, in the yard, by the pool or at a picnic or BBQ, so get going!

Disclosure: We were granted complimentary media credentials for this event.