ROCK Stars of Wine

Earlier this week, we joined the celebration at the ROCK Stars of Wine tasting event at the Leica Flagship Store & Gallery in Beverly Hills, hosted by Ian Blackburn's wineLA organization. This event brought together some of the best and most interesting wines from a variety of locations.
This event, co–presented by wineLA, Tasting Panel, Somm Journal, and Los Angeles Magazine, promised 100 wines from 30 "Rock Star" wineries and delicious appetizers from Petrossian, as well as entertainment by rockin' DJ John Wig and both silent and live auctions to benefit the T.J. Martell Foundation (the music industry's largest foundation that funds innovative medical research focused on finding cures for leukemia, cancer and AIDS). The wines on hand hailed from all over California (Monterey County, Paso Robles, Napa Valley, Sonoma County, Santa Barbara County, Santa Ynez Valley and the California Central Coast) as well as a variety of German wines presented by Rudi Wiest Selections and even some wines from Spain and Argentina. The music rocked the audience and the appetizers pleased, but the wine was the star of this event.
Most of the wines at this event were premium, small lot production wines poured by the winemakers or winery owners. We didn't sample all of them, but the wines we tasted were excellent. (Prices shown are suggested retail prices stated in the event program.) One of our favorite Pinot Noirs of the evening was Challen Winery's 2014 Pinot Noir Zotovich Vineyard ($60), poured by Challen Cates. This wine boasts excellent fruit from a premium vineyard in Sta. Rita Hills. It is very balanced and thoroughly enjoyable. Challen's 2014 Pinot Noir "Scarlett" ($38) was also very good, and so was her 2015 Chardonnay ($46; also from Zotovich Vineyard). Another favorite Pinot Noir was the 2014 Pinot Noir Marine Layer ($50) poured by Katie Boyer, representing Banshee Wines. Banshee's 2016 Sauvignon Blanc was also very good and presents a good value at $20.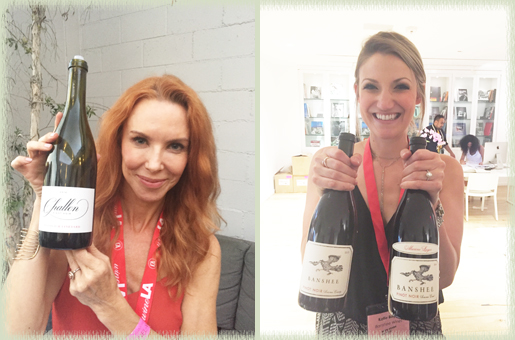 One of the best Sauvignon Blanc expressions was poured by winemaker Morgan Mouréze of Marciano Estate. His 2015 Sauvignon Blanc Massiglia was virtually perfect, and at $75 is a special occasion bottle. Erick Allen (winemaker) and Lisa Dinsmore of Ascension Cellars poured their delightful 2015 Silver Blanc Chardonnay Blend from Paso Robles ($36).
Jessica Edson, Director of Hospitality for Tuck Beckstoffer Estate from St. Helena, was on hand to pour their outstanding wines. Our favorite was their 2014 Amulet Bordeaux Blend ($150), which was balanced and elegant, perched on the wall between strength and restraint. Their 2014 Mockingbird Red Label Bordeaux Blend ($240) was bold and beautiful. We also liked their 2014 Melée Grenache ($36; from vineyards located in Mendocino and in the Central Coast).
We are fans of Spanish varietals and discovered a recent entry into the wine industry. Mindy Oliver of Croma Vera Wines from Paso Robles did not disappoint that evening. She and her husband, Chris Steins, only founded Croma Vera in 2014, so if you haven't yet enjoyed their wines, that may be the reason. But now that you know about them, you have to try their wines. All of the wines Mindy poured were very good, including their 2015 Tempranillo from Kiler Canyon Vineyard in Paso Robles ($45; our favorite), 2016 Albariño from Spanish Springs Vineyard in San Luis Obispo County ($26), 2015 Grenache from Kiler Canyon Vineyard in Paso Robles ($42), and 2015 Revelacíon blend ($38; Tempranillo, Grenache and Cab) from Kiler Canyon and Plummer Vineyards in Paso Robles. We intend to follow this winery because we can expect greatness in the years to come.
This event rocked in terms of the ambiance and, of course, as evidenced by the wide variety of fantastic wines. The Rolling Stones said, "You can't always get what you want." That evening, however, we did!

Disclosure: We were granted complimentary media credentials for this event.