Friday Night at the Andes
The Andes mountain range runs for over 4,000 miles up and down the western edge of South America, running through Argentina, Chile, Bolivia, Colombia, Ecuador, Peru and Venezuela. They boast some of the highest mountains in the world outside Asia as well as two particularly stellar wine producing countries, Argentina and Chile, where wine production dates back to the 1500s. Argentina and Chile are long countries that geographically take up most of the southern part of South America, with Chile to the west and Argentina to the east. Argentina is very dry (except sometimes when El Niño conditions prevail), but the Andes provide plenty of water to the vines as the considerable snow pack melts and quenches the thirsty foothill vineyards. While Chile's latitude is equivalent to Southern Spain and North Africa, the Pacific Ocean influence gives Chile a climate more akin to Bordeaux or California. Argentina and Chile are unique in that their vines don't suffer from phylloxera due to a mix of geographic and climate conditions, so they predominantly have ungrafted rootstock. Europe's phylloxera epidemic led to significant migration of winemakers to South America in the 1800s and both Argentinian and Chilean vineyards and wine production were influenced by the French, Spanish, French and Italians. Both countries have wide diurnal temperature variations, ideal for growing wine grapes.
Earlier tonight, we ventured from our home in Los Angeles to the heights of the Andes—well, sort of. Actually, we drove up Pico Boulevard and were lifted to the high elevation atop Mr. C in Beverly Hills for James Suckling's "Great Wines of the Andes" master tasting event. James and his team spent this April sampling 1,300 wines (about 700 from Argentina and 600 from Chile) and brought his top 100 picks (and many more of the best of the best) for us to enjoy this night. Suckling boasts that "this event is the single best consumer tasting in the world to focus on the Andes" and that's certainly the truth. As James' claimed, "You won't find downers by the bottle at this event", as he rated every one of the wines on hand at 90 points or higher (two of them were rated at 100 points and did not disappoint). James wrote, "When a wine speaks to you, you'll never forget it." Well, the wines were speaking to us tonight.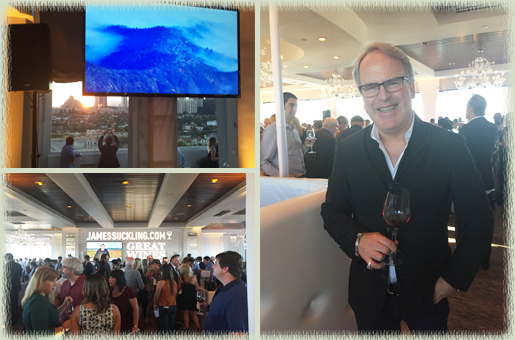 We won't repeat Suckling's list of the top 100 Andes of 2016 here as you can view it on his website. What we want to do here is to encourage you to sample these terrific wines (and many others beyond these first 100) whenever you get the opportunity. Many of them retail for $15 to $35, though some do top $100. The wines of Argentina and Chile continue to be a bargain value in light of their high quality. Most of you are familiar with Malbec (the most widely planted grape variety in Argentina), but you'll also find Bonarda (known as Douce Noir in France and Charbono in California and Italy), Cabernet Sauvignon, Syrah, Terrontes, Chardonnay and others, together with blending varieties such as Cabernet Franc, Petit Verdot, Merlot and others. If an Argentinian wine label bears a grape varietal name, it must be contain at least 80% of that varietal; the rule is 85% for Chilean exports (75% if consumed in Chile).
The wines of Argentina and Chile drink well now and many of these wines will age very well. You can expect Argentinian and Chilean wines to increase in price over the coming years as their popularity increases worldwide, so now is the best time to acquire them.

Disclosure: We were granted complimentary media credentials for this event.