It's Rosé Time
We're in the thick of summer and the weather is hot all around. And so, it's high time to break out some great Rosé wines. Fortunately, back in mid–May, we ventured to the Skybar at Mondrian LA for the La Nuit En Rosé wine tasting organized by Ian Blackburn's wineLA. There was a huge selection of great Rosé's on hand to sample at the event, which took place on a warm sunny afternoon, a perfect setting for Rosé tasting!
One of our very favorites at this event was the Domaine de Camaïssette 2015 Rosé of Mourvèdre and Cinsault, which was very nice fruit and was nicely balanced. Another favorite was the Fattoria Sardi Rosé, which is 90% Sangiovese with some Merlot and Ciliegiolo. It was very pleasing with nice acid and flavor. Fattoria Sardi also poured their Le Cicale (also mostly Sangiovese), which was also delightful. Sometimes, Rosé made from Sangiovese can be heavy–handed, but the ones from Fattoria Sardi are nearly perfect. We can highly recommend these wines.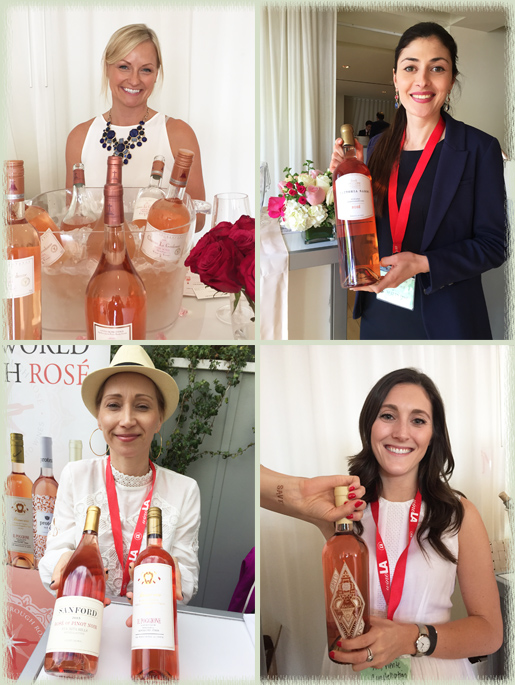 In the category of "different in a good way", the Barton & Guestier 2014 Passport Rosé d'Anjou, also very good, gave a nice sensation of sweetness at first, but it is a very dry wine. It is very interesting and very nice. The Château D'Esclans 2014 Les Clans Rosé uses equal amounts of old and new oak and is only very slightly oaky and quite pleasant.
In the "sparkling" realm, the Ferrari 2008 Perle Rosé was excellent (dry with nice bubbles, great fruit and pleasant acids), the Gérard Bertrand Thomas Jefferson Crémant du Limoux Rosé (slightly tart), and the Ruffino Sparkling Rosé (Glera and Pinot Noir) was also very nice.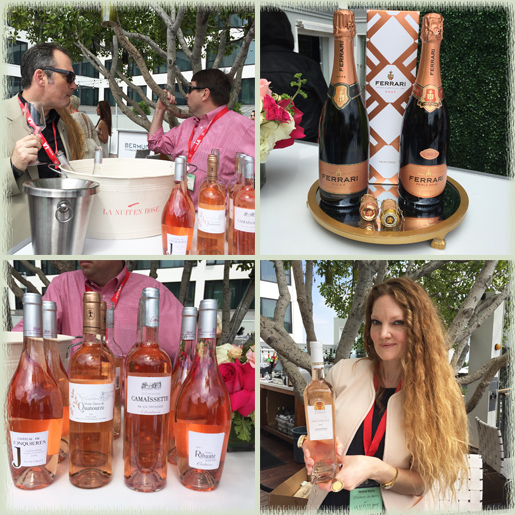 Other very good Rosé's included the elegant Chateau Léoube 2015 Secret de Léeoube (40% Grenache, 40% Cinsault and 20% Cabernet Sauvignon), the Gérard Bertrand 2015 Gris Blanc Rosé (dry and medium bodied), the Sanford 2015 Rosé of Pinot Noir (nice fruit and acid), the Le Petit Français 2015 Rosé (half each Grenache and Syrah) and the Il Poggione 2015 Brancato (Sangiovese).
There were many more Rosé's at this event that were very nice and even some we didn't get a chance to sample. And, although it may be a bit awkward to mention a wine that was not poured at the event, we just have to tell you about another near–perfect Rosé we discovered recently. You really should try all of the Rosé's we mentioned above, but you should also not miss the many other great Rosé wines on the market this time of year, including the Margerum 2015 Riviera Rosé Reserve made of Grenache from both Santa Barbara County and San Luis Obispo County. It is 98% stainless steel fermented and it has everything from the color, bouquet and flavor that you can ask for in a Rosé. We sampled it at another event and had to get a case.
So, there you have it. There isn't much better than a nice Rosé and some small food bites on the patio or at the beach this time of year. Get some great Rosé while the weather holds over the next couple of months and enjoy the summer. I know we will. And if you missed La Nuit En Rosé this year, make sure you don't miss it next time around.

Disclosure: We were granted complimentary media credentials for this event.