May The Rosé Be With You
If you can't get tickets to the opening of Star Wars this week, you are in good company. But don't despair—you can avoid the crowds and pick up some great sparkling rosés for this holiday season. Two days ago, we attended The Tasting Panel Magazine's Annual Champagne Tasting event, which showcased nearly 50 sparkling wines, all rosé except for one stray blanc de noirs. What we found was an excellent array of sparklers for this holiday season. While we didn't care for a very select few, we found the rest of them to be good and we really liked about one–third of them, which speaks very well for the assembled rosés. The suggested retail prices (SRPs) listed at this event varied from $11 to $450 and we list the SRPs of our favorites below as an indication of what you can expect (though you will undoubtedly find them at varying prices across retail stores).
The event was hosted at Sotto located on LA's Westside. The scene was festive and the assembled group was eager to sample the rosés on hand. The sparklers were presented in ice buckets next to the data sheets.
Can you find good champagne and sparklers at under $20? Yes, you can. At $11, the Charles de Fère NV Cuvée Jean–Louis Brut Rosé is a pleasant aromatic sparkler that delivers more than its price suggests. The Charles de Fère NV Réserve Rosé ($15) is nicely balanced with a light toast, again representing good value. We also enjoyed the Grandin NV Brut Rosé ($15) and the Gruet NV Brut Rosé ($18). Special recognition goes to the Le Grand Courtâge NV Grande Cuvée Brut Rosé which, at $18, is a fantastic value—the best value we could find that day. It has red berry and floral aromas and a delicately balanced fruit flavor. It is a great sparkling rosé to start off your party this holiday season.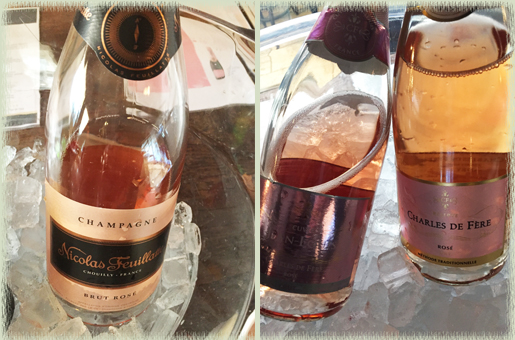 Moving on to those priced above $20 and under $100, the Gruet 2010 Grande Rosé ($33) was very nice, as were the Champagne Nicolas Feuillatte NV Brut Rosé ($53) and Lanson NV Brut Rosé ($60). The Frank Family Vineyards 2011 Brut Rosé ($45) is a very good value with its tart fruit being crisp and refreshing. The Bernard Rémy NV Brut Rosé ($44) has nice toast and we also liked the refreshing Veuve Clicquot NV Brut Rosé ($69), the Champagne Duval–Leroy NV Prestige Rosé ($80) and the Ernest Remy NV Rosé de Saignée ($80). The best of this group was the Champagne Taittinger NV Prestige Rosé ($84) which has great balance, nice red fruit flavors and very fine bubbles. This one is a substantial champagne.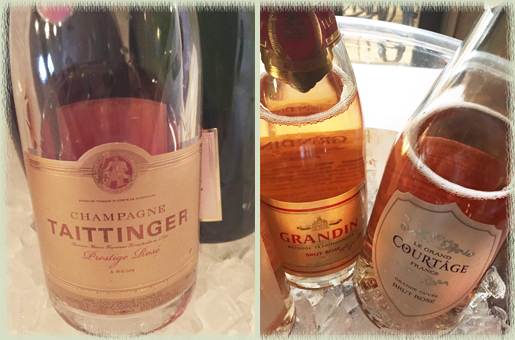 For those who have money to burn, each of the three most expensive rosés was unique in some respect. The Perrier–Jouët 2006 Belle Epoque Rosé ($300) is a complex full–bodied champagne with a great deal of toast on the palate. It comes in a lovely hand–painted floral bottle—an artwork in itself. This is a special occasion champagne—we brought a bottle of Belle Epoque and four matching hand–painted flutes on our honeymoon in 1984, and we toasted from the glasses on our 30th anniversary when we stayed in the same B&B room from our wedding night.
The Dom Pérignon 2004 Rosé ($320) is a classic and is, as expected, very good. This champagne definitely has its time and place for big celebrations.
Last, but not least (expensive), the Armand de Brignac NV Rosé ($450), the self–proclaimed "Ace of Spades", is quite different and really doesn't fit in with the rest of the rosés. It has a deep, almost–orange color and an intense, almost–still–wine flavor despite the bubbles. In fact, it is blended with 10-12% still Pinot Noir wine (a process called "assemblage"), which adds intensity to the color and heft to the palate. It is a label produced by Champagne Cattier and comes in a very distinctive metallic bottle with an "Ace of Spades" logo. Armand de Brignac champagnes gained notoriety in the USA in 2006 when rapper Jay–Z, who had previously preferred Roederer's Cristal, got peeved when Roederer's managing director generally dissed hip–hoppers' association with Cristal and so he decided to waive off the Cristal and instead feature Armand de Brignac's "Ace of Spades" in one of his music videos entitled Show Me What You Got. Jay–Z must like the stuff because he bought the brand (which is still produced by Cattier) a little over one year ago. Whether it's the pricing or the flavor profile, this champagne isn't for everyone. I guess that's the point.
Stock up on some sparkling rosé and have a fantastic holiday season. And, of course, may the Force be with you!

Disclosure: We were granted complimentary media credentials for this event.